In 1987, Mr Kerkar asked me to look at the French restaurant Rendezvous, which probably was the best classical French restaurant of the Taj. His take was that we should create a restaurant which was a unique blend of opulence and distinct culinary creations. The world was changing and along with it the customers' palate. Nouvelle cuisine was emerging and French chefs had started moving out of France in search of greener pastures and exceptional innovations.
Mumbai was and continues to be the economic capital of India. A very cosmopolitan city where people appreciate global flavour. My search and research took me across the continents to look for an answer. Paris, London, New York, California and Hong Kong were emerging as ultimate gastronomic destinations. Gaddi's, Normandie, Taillevent, Roux Brothers and Mossimann's were some of the few top restaurants where I dined to gain inspiration. In an effort to understand and bring forth these unique trends to the country, I had two of my senior chefs trained in London and Hong Kong for a month. My thought process was very clear―I wanted to give Mumbai a unique restaurant with a unique menu and distinct flavours.
We started our menu trials with all the chefs in October 1988 and it was only in November 1989 that we started the restaurant. Credit to the team for having so much patience. We were of the opinion that all the chefs should be able to make the dishes blindfolded. The ingredients were a big challenge those days.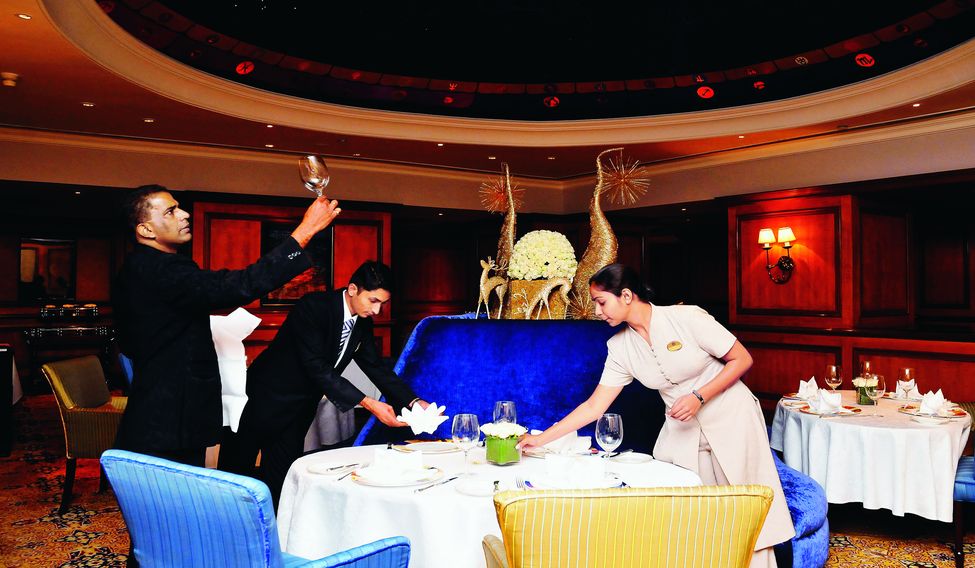 Quality was key when it came to the produce that was used and everything was imported. Right quality of camembert for the the evergreen camembert dariole, fresh herbs, foie gras, venison and five varieties of caviar from London for the caviar menu were some of the salient features. To top it all, we started the restaurant with a unique 'pay as you like' concept. We wanted guests to tell us what our food and service were worth and the response was impeccable.
Christofle cutlery, show plates, Riedel glassware, specially tailored Simon Jersey uniforms and a carefully selected range of the best wines from across the globe were all curated for one purpose and one purpose alone―to enhance our guest's experience. The Zodiac Grill is all about quality, a luxury indulgence of food and service. Glitterati from practically every part of the world have been dining here for decades. It has stood for quality with innovative menus. The high quality and impeccable service remain unchanged even as the menus evolved with every season.
Twenty-five years later, and the tradition of creating unmatchable opulence continues. To celebrate our 25th anniversary, we crafted a unique menu which left me with an immense sense of pride in my team and in the Zodiac Grill. Thanks to their patience, hard work and dedication, the restaurant has been able to continue its legacy of pure indulgence. We had a 25-course menu for vegetarians and non-vegetarians, without repeating a single ingredient or flavour. Ensuring that all the courses were served in unique crockery and there was no repetition of the presentations was a daunting task, but was executed with finesse by the team. It's so easy to open new restaurants but very difficult to sustain them in today's world. For me the formula was "once the recipes are finalised and if you make a change you will get a change". Probably that's the mantra of a successful restaurant.
We might be a little expensive but everything good and luxurious in life most often is!