When I was young, I asked my mother, "What will I be? Will I be a doctor? Will I be an Army officer?" I never said chef, but became one. Enough is said about passion and creativity, but what goes in making a chef is a lot of hard work, long hours, no family life and plenty of physical and mental stress. But the fruit of labour is like a mother delivering a healthy baby after nine months of labour, pain and love. The joy of cooking, creativity, innovation and the joy of seeing a smile on a customer's face is all a chef needs. That smile is bliss.
Of course, my four decades have been full of fun and joy after long hours and hard work. The innumerable incidents that used to happen on a day-to-day basis among the staff and with the guests made the workplace interesting and joyful. Sometimes, some senior staff would wait at the entrance of the hotel while the boss would come through the back door or vice versa, which would give such a kick to the other staff who would laugh at their expense the whole day.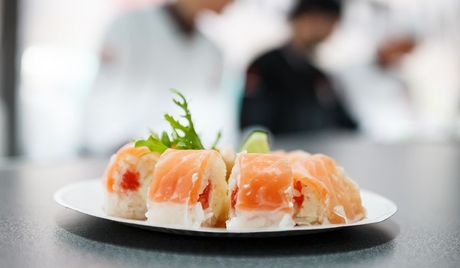 Imagine a server coming to a chef with a can of tomato juice and asking him to heat up the same. "Hot tomato juice?'' wonders the chef. "No, chef," says the server. "Hot tomato soup. I already gave one and the guest enjoyed it and he wants a repeat order." Aghast and fuming, the chef asks, "Why did you do that?" The server replies: "Sir, when it is cold, it is juice and when it is hot it is soup."
We also get orders like pepper steak with no pepper sauce, fish and chips, but no fries, lamb shanks (boneless) and no rice in the sushi please (It is so fattening!). On the other hand, a guest asks for Silver Needle white tea, but is told: "We use only steel [needles] in India." Another guest says, "Get me a half-boiled egg." The reply: "Sorry sir, we give full egg, not half." Outside a Connaught Place restaurant, a driver was heard telling another about how his memsahib had gone for a salad lunch with her friends to Nirula's and had told him to pick up butter chicken, naan and dal makhani from Kake Da Hotel. She would have the same on her way home.
Once, my food and beverage manager and I were dining at a Paris restaurant that had three Michelin stars. Suddenly, my colleague got very excited on seeing a beautiful champagne chiller, a flambé trolley and the table setting, and started taking pictures (Kodak moments) till a gentleman came rushing and asked for the film roll. He thought we were snooping on him and his companion. We were let off only after we convinced him that we were just hoteliers from India.
Imagine a fine dining situation where the servers parade food covered with cloches on top, then remove the cloches in style and, alas, there is no food on two plates! Amusing and embarrassing situations in the hotel industry but become jokes afterwards. There was this chef (from the ranks) who, during an interview with an English daily, was explaining how we make fresh curd in India: "Sir, boil milk, put khatta, sleep night, morning tight." A perfect recipe! Some of these incidents and situations we remember and enjoy because it makes our lives interesting. Sometimes you laugh at yourself, sometimes at others. There are no dull moments in our industry.