Penang is not exactly quite well known or as famous as other destinations, but is drawing a lot of attention these days. It is one of the destinations of the future, definitely. This small island was part of the sultanate of Kedah till the English East India Company occupied it in 1786 and made George Town its capital. In fact, it was only in 1946 that Penang became a part of Malayan union and, finally, in 1963 a part of Malaysian kingdom. Penang has an area of about 300km and is connected to the mainland by a 17km-long sea bridge. It is a city which has retained its heritage and is proud of that. Penang has a population of about seven lakh. The inhabitants have the influence of Malay, Thai, Chinese and Indian cultures.
I was invited to Penang as a guest chef at the World Curry Week. I cooked a three-course meal for 250 guests. This was the perfect time to explore the local food and the best way is to eat the street food. The local cuisine of Penang is probably one of the most diversified foods in the world with the influence of Malay, Indian, Chinese and Thai flavours. The ingredients used vary from lemongrass, galangal, shallots, chillies, cumin, cloves and cinnamon. Penang, probably, has the best street food in the world and you can be sure of the quality. There is a saying that no one falls sick after eating street food in Penang!
You can have ayam laksa in Kedai Kopi, established in 1906, or in the food stalls in the market. Penang Rojak (rojak means mixture) is a mixture of vegetables and fruits with cuttle fish, tofu puffs and a thick prawns sauce. Rendang is a spicy dish made of chicken or beef. Nasi lemak is a fragrant rice dish in pandaan leaves, served with hot spicy sauce, peanuts, eggs and vegetables.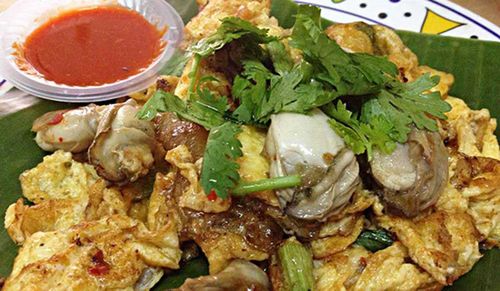 Oyster omelette is a delicacy of Penang. Popiarolls are made fresh and Padang seafood popiahare is very famous here. It has a nice filling of crab meat, beans, shallots, eggs, chilli and plum sauce. Sambal udang is a perankan dish created in 15th century by Chinese immigrants.
Char kuey Teow―stir-fried rice-cake strips―is a kind of national dish of Malaysia and is eaten at any time of the day. Hokkein mee are the famous prawns noodles and meegoreng is made of yellow noodles with beef or chicken, vegetables and soya sauce. Chee cheong fun is steamed rice rolls topped with spicy sauce and shrimp paste. In the hawkers market, you come across buffet where you may choose spicy fried fish, fried chicken, stir-fried spicy haricot beans, steamed rice, beef rendang and chicken malay curry for a mere 3-4 dollars per person. Not to forget the Indian influence of roti with chicken, vegetable or fish curry. And, of course, a Nasi biryani with a boiled egg!
Satay still remains the most popular street food in Penang. Cendal, gula melaka and ice kachang are the favourite street food desserts.
It is amazing to see the passion of the local people to produce home-style food in all the stalls. It is being done fresh. You may stay at Eastern and Oriental hotel, one of the oldest in Penang. It has retained its heritage and the rooms have furniture from the 19th century.