My heart goes out to the victims of the devastating earthquake in Nepal that took so many lives. My prayers are with the families of the victims and those who have been affected. I hope the relief work makes a difference to those who have lost everything they had.
On the other hand, I feel happy about the eagerness with which people and organisations joined the relief efforts. Coca-Cola, for instance, immediately provided drinking water in the affected areas. Though it will take time, I hope that such initiatives will help rebuild the communities impacted by the disaster.
I have fond memories of Nepal. In 1996, I performed for King Birendra's 50th birthday celebrations. His entire family was in attendance. The rulers of Nepal always honoured artists—Omkarnath Thakur got the Sangeet Mahamahodaya award from the king in 1930.
I recently performed in Singapore, at the beautiful Esplanade Theatre. I had played at this venue on many occasions earlier, but what made this concert very special was the collaboration with three young and talented Chinese artists of the Ding Yi Music Company. One of Singapore's most prodigious Chinese chamber music ensembles, Ding Yi has captivated audiences with its distinctive approach to music and dedication to showcase a vast repertoire that ranges from traditional Chinese music to contemporary interpretations and cross-genre works.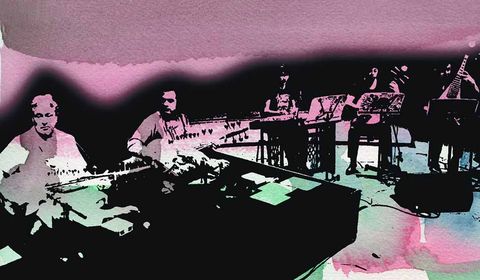 I performed three pieces with Kenny Chan on ruan, Chua Yew Kok on pipa and Yick Jue Ru on yangqin. These beautiful instruments have a fascinating history. Ruan, an ancient four-stringed, moon-shaped lute with long and straight neck and various number of frets, is dated back at least to the Qin dynasty (around 200 BCE). It used to be called pipa or qin-pipa. Since the introduction of the odd-like lute through the silk route in the fifth century, pipa gradually developed into the current form, and the old form of pipa with straight neck and round body got the name ruan, after a master player of this instrument, Ruan Xian.
The more popular pipa is a traditional Chinese stringed instrument with a history stretching back more than 2,000 years. Yangqin is important in instrumental ensembles for its crisp tone quality, wide tonal range and chord, quick arpeggio capability and timbre. It is popularly used for ensemble music playing as well as accompanying—very similar to santoor.
On Hanuman Jayanti, I had two memorable concerts. The first under the auspices of Morari Bapu, renowned ramkatha scholar and exponent of Indian classical music, who associates music with divinity. He lent his unconditional support, inspiration and blessings to organise a four-day conclave. The second concert was in the holy city of Varanasi at the Sankat Mochan Hanuman Temple. The temple organises a five-day classical music and dance festival called Sankat Mochan Sangeet Samaroh every year. It is a night-long music festival for four nights. I had the privilege to be on stage at 3am, after a ghazal by Ghulam Ali.
music@sarod.com