I was honoured this month to return to Grande Auditório Gulbenkian in Lisbon after two years to perform my sarod concerto, Samagam, with the Gulbenkian Orchestra, conducted by Pedro Neves. The concerto was performed for two days at this wonderful venue. It was a delight to work with the young and brilliant Neves, who is the principal conductor of the Espinho Classic Orchestra and was recently appointed as the invited conductor of the Gulbenkian Orchestra.
Samagam was written for the Scottish Chamber Orchestra in 2009. It premiered at Orkney Islands and went on to tour Europe and India. Over the years, the concerto has been performed with many orchestras, including the Taipei Chinese Orchestra, Britain Sinfonia and the Stanford Philharmonia Orchestra. And, in 2011, World Village released the recording of the concerto.
Last November, the concerto was presented by the Orchestre d'Auvergne in Clermont-Ferrand, France, and by Orchestre National d'Ile de France in Paris, conducted by Kaspar Zehnder.
The aim of these collaborations is to preserve the essence of both Indian and western traditions, and let them flow into each other without artistic compromise. The concept is to joyfully explore the common musical DNA of both traditions.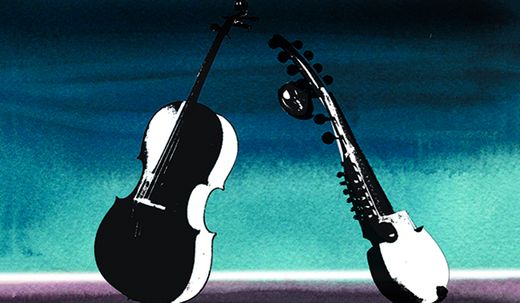 I was recently invited to give a recital as part of a festival called Zwischentöne (which means 'nuances') at Alte Oper in Frankfurt. It is a festival which combines concerts by western classical/contemporary artistes and non-western artistes. Part of the festival were Jordi Savall and Hespérion XXI from Spain, Hossein Alizadeh and Madjid Khaladj from Iran, and the Ensemble Modern from Cologne―all artistes of the highest calibre.
Germany has been an epicentre for music. In fact, the inspiration to convert my ancestral home in Gwalior into a museum came from Germany, when I visited Beethoven's home in Bonn.
In most countries, I have come across small museums and memorials built in memory of their great musicians, artists and writers. Admirers and connoisseurs could get an insight into the life and times of the legends and pay homage.
The Sarod Ghar Museum of Musical Heritage has been a unique project close to my heart. It is my humble tribute to my father and guru, Haafiz Ali Khan, and the sarod, an instrument my ancestors developed from the Afghani folk instrument rabab.
The building was remodelled in 1996. We reinterpreted the rich vernacular architectural traditions of Gwalior to create a meaningful building that would seamlessly blend into its historical milieu.
Starting with my personal collection of instruments that belonged to my ancestors, we were able to collect from donors a rich array of instruments belonging to some of the greatest past masters of Indian classical music. We have also collected and displayed a large number of photographs of legendary Indian musicians.
Sarod Ghar is still in its infancy, and we have a lot more to accomplish. Right from the beginning, we have wanted it to be a living institution, not merely a repository of artefacts. And, as music is an art to be experienced, we would like the museum to be an enlightening experience for the visitor.
One great experience has been the presenting of Haafiz Ali Khan awards, instituted in 1985. They are given to musicians who have become pioneers and icons. We will always be indebted to sociopolitical stalwarts such as Vijayraje Scindia, Arjun Singh, Sonia Gandhi, Madhavrao Scindia, Digvijaya Singh, Krishan Kant, Pranab Mukherjee, Atal Bihari Vajpayee, Manmohan Singh and A.P.J. Abdul Kalam who have visited the museum and honoured musicians with the award.
This year, the award went to two legendary artistes: kathak exponent Roshan Kumari and violin maestro L. Subramaniam.
music@sarod.com