On July 26, after fasting for 16 years to protest the Armed Forces (Special Powers) Act, Irom Sharmila, 44, said she would end the hunger strike on August 9. The decision shocked her family as well as her legions of supporters throughout the country.
THE WEEK contacted her through one of her aides, who quoted Sharmila as saying: "I have had enough of it. Nobody is awakened after seeing my protest. Even my people, for whom I am fighting, sound morbid. It was not what I had been fighting for so long. So, I decided to end it for the time being." Does that mean she could resume the fast? "Yes. I could," she said.
Her lawyer, Ch Momon Singh, was not consulted before taking the decision. Said Singh: "The fact is she wanted to end it and it was her decision. Everyone should respect that."
In March 2015, THE WEEK had met her at her prison ward at the Jawaharlal Nehru Institute of Medical Sciences in Imphal. Sharmila had then said that she wanted to get married to Desmond Coutinho, a Goa-born British national, and start a family.
She had been upset that Manipuris were only mute spectators to her anguish and were not willing to join her. "All of them wanted me to die for their cause," she had told THE WEEK.
Since then, she has maintained her distance from influential Manipuris who wanted her to continue fasting. Said K. Mani, her former lawyer and human rights activist: "I felt it was not the Manipuris, but Coutinho who was influencing her. So, I decided to quit early this year."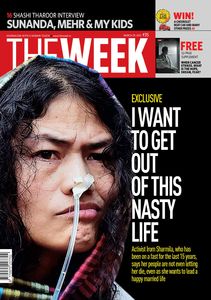 Lashiram M. Devi, who campaigned for Sharmila's cause, told THE WEEK: "I am deeply shocked. I thought she would not do it before fulfilling the dream of millions of Manipuris. I cannot accept her decision. Even people of Kashmir looked up to us, thinking that AFSPA would go one day."
In a message through a close aide, Sharmila told THE WEEK that her health was worsening. "My health cannot tolerate everything these days," she said. "I am not finding enough support from the people in my close circle. I will now fight AFSPA, but in a different way."
This new direction, she said, would take her into politics. She said she would contest the Manipur assembly elections due in March 2017 and "would definitely consider" forming her own party.
Onil Ksheitrimayum, a human rights activist and one of Sharmila's close aides, told THE WEEK: "It is her own decision. She began it and she herself is ending it. Manipuris should not show their displeasure."
Her decision has disappointed her family. Sakhi Devi, her mother, last saw Sharmila just after she began the hunger strike. Her elder brother Singhajit Singh told THE WEEK: "My mother would die if I tell her about this decision. She supported the cause and was even ready to accept her death. But she would never accept that Sharmila would come back without being victorious. We all feel let down. I will meet her in a few days and ask her why she did it. If I don't find the reason valid, we will not be able to forgive her. The interest of Manipuris is supreme."
TIMELINE
* Irom Sharmila began her fast against the Armed Forces (Special Powers) Act on November 2, 2000
* Arrested three days later and charged with "attempt to commit suicide", which was then unlawful
* Kept alive using nasogastric intubation—a feeding tube was inserted into her nose
* Released from judicial custody in March 2016
* On July 26, she said she would end her fast on August 9