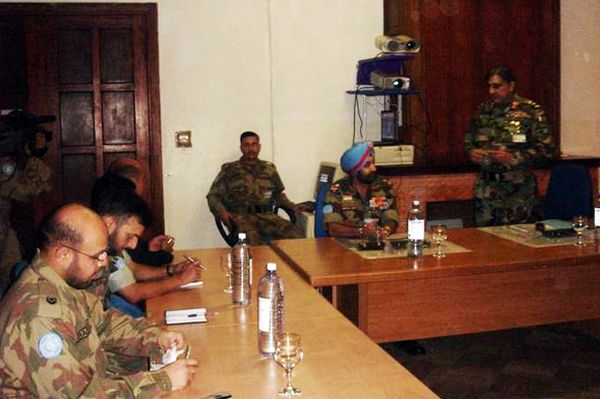 Ever since General Qamar Javed Bajwa was appointed as the 16th Chief of the Pakistan army, I have been flooded with queries on him. We served together in the United Nations Organisation Mission in the Democratic Republic of Congo (MONUC). The fundamental concern of all has been regarding his leadership attributes and how these would influence the future of India-Pakistan relations.
I know General Bajwa since 2007-08, when he commanded the Pakistani brigade in the multinational 'Eastern Division' that I was heading. His brigade had been mandated to ensure peace and stability in the South Kivu province in the eastern region of the Democratic Republic of Congo.
As a sound professional, he ensured the accomplishment of the assigned tasks with focused commitment and his overall performance in MONUC was marked by a positive attitude and unflinching allegiance to the United Nations' core values. In the larger interest of international peace, he willingly accepted additional responsibilities and maintained the highest standards of military decorum during all interactions.
That was General Bajwa in the international environment. Surely, over the last eight years, he has transformed into a strategic military leader with mature conceptual skills developed while tenanting various appointments both overseas and in Pakistan. He is accredited as a Kashmir hand owing to the extensive command and staff experience in 10 Corps, Pakistan army's largest formation, which is deployed along the Line of Control (LoC).
To get the Pakistan army to accept the primacy of civil authority and develop respect for the democratic institutions, General Bajwa would have to change the very culture of his institution, which traditionally has enjoyed a special domestic status with sweeping powers. Cultures are created over decades and cannot be changed in three to four years tenure of any Army Chief. Moreover, any move that may impinge on the current privileged status is bound to invite stiff resistance from both the serving and retired military fraternity in Pakistan. Would General Bajwa like to create such turbulence, when his hands are going to be full with operations against Tehrik-i-Taliban Pakistan on the western borders, insurrectionist movement in Balochistan and uncertainties on the eastern borders with India?
He would also not like to antagonise Lashkar-e-Taiba (LeT) and Jaish-e-Mohammad (JeM), terrorist groups that have been nurtured by the Pakistan army for years to fight proxy war against India. These outfits receive political patronage and over the years have also earned a great degree of respectability and relevance in the Punjab province. Any inimical move against these outfits would prove detrimental to Pakistan army's interests. Therefore, a laissez-faire policy of the past will persist, giving a free hand to these terrorist outfits to continue with their asymmetric operations on the LoC, hinterland of Jammu and Kashmir and other parts of our country. However, the Pakistan army will have to ensure that their activities do not breach the Indian threshold of tolerance. Surely, he is privy to the Indian response post Uri incident.
I doubt if General Bajwa, notwithstanding his apolitical, democratic and amenable credentials, would be able to transform Pakistan army into an accountable and truly apolitical institution of the state in his tenure of three years. Unless that happens, we should not expect any substantive developments in our bilateral relations. LeT and JeM with Pakistan army and Inter-Services Intelligence's support will continue to derail various bilateral initiatives.