Drawing, writing and painting are like a circle for me," says Swedish illustrator, painter and writer, Stina Wirsen, 50, who has worked for newspapers, books, magazines and animated films in Sweden, Finland, Germany and Japan. Currently in Goa for her exhibition 'Drawings in Water', curated by Siddharth Dhanvant Shanghvi, she tells us how "Siddharth wanted to make a more slim exhibition, where I would have the possibility of expressing something new."
"Abstract watercolours, he felt, were new for the audience and also new for me," she says, informing us about the theme—water and watercolour—as she hands us a catalogue designed by her daughter, featuring some of her art from 'Drawings in Water' alongside her other works. "It is the bugs and the abstracts that have the focus here."
About her art, Wirsen says that she has no memories of not drawing. "When I was around four, we moved from our first flat in Stockholm and a lot of my drawings were found under the furniture because I had been lying under the furniture, making drawings, without telling anybody," she says. Calling drawing her second language, she says she is "very dependent on it". Most members of her family attended art school, and "there was a lot of paint and paper and everybody understood the need for it," she says. "It has always been my passion. Now, it has become my profession and it is also my therapy, so I really need it." Having worked with her father, mother, sister and daughter on art projects, Wirsen considers it "a wonderful way for generations to continue to play".
Wirsen's work takes her to exhibitions, workshops and book fairs around the globe. It is her first time in India and she admits that her love for the country is very new. "We were bowled over by the colours. Just the shapes of the leaves are so beautiful, the colours and combinations are very inspiring," she says.

Wirsen's interest in fashion is well-known. Some of her paintings in the catalogue show a transition from the abstract to the concrete. "This is somewhere in between," she says pointing at a few, which she did for the Indian Harper's Bazaar. Then, there are the bugs. "Bugs are also like fashion, a lot of nature is more beautiful than fashion. Fashion tries to imitate nature. If you look at a bug, it's all the beauty you can have, and the combinations of colours, textiles and structures, you have it all in nature," she says.
And who better to understand colours, textiles and structures than Wirsen who has also been illustrating fashion for several magazines in Germany and Norway. "Photos are great, but it can be very interesting when you draw fashion. You can be even more distinct than a photo because you can choose to capture what you find to be the most interesting aspect. You go to a catwalk, or the studio of a special designer whose work you like, or an atelier, and you draw fashion," she says, explaining how a long time ago it was common to sketch fashion in Europe because the photos—the prints in newspapers—could be a little bit soggy and hard to see.
Another feather in Wirsen's cap came when she was called to do artwork for one of Sweden's largest lifestyle stores. "They were renovating their store, housed in a big, beautiful 1960s bungalow, and they wanted to add something modern. So, they asked me to do a 25m-long street fashion drawing, a portrait of Stockholm, which I made on tiles. It was very complicated to do because with tiles, it's clay. I burnt the clay, dipped it and then put it up on a wall that was leaning a bit. I stood and did the painting and then burnt them in the oven before putting it up. It is a lot of handicraft which I love," says Wirsen.
She also had the honour of designing a collection of postage stamps in Sweden. "That was 10 years ago. These days, people do not use as many stamps in Sweden. But, there are many collectors and it is special in a way, something that you are asked to do," she says.
Life, art, design and travel inspire Wirsen. "I often go to flea markets. Sometimes, you can get more inspiration from a flea market than from an art gallery. So, when I go to Portugal or Finland or wherever, I go to flea markets because it tells a lot about the country as well," she says.
Wirsen works hard and says that doing so has become second nature. She loves that her work is growing. "It is like being on different journeys. When you do your own work in one sense, it is very egoistic and you do it because you need it. Then, when you understand that somebody else is getting something out of it, that is the best of gifts," she says.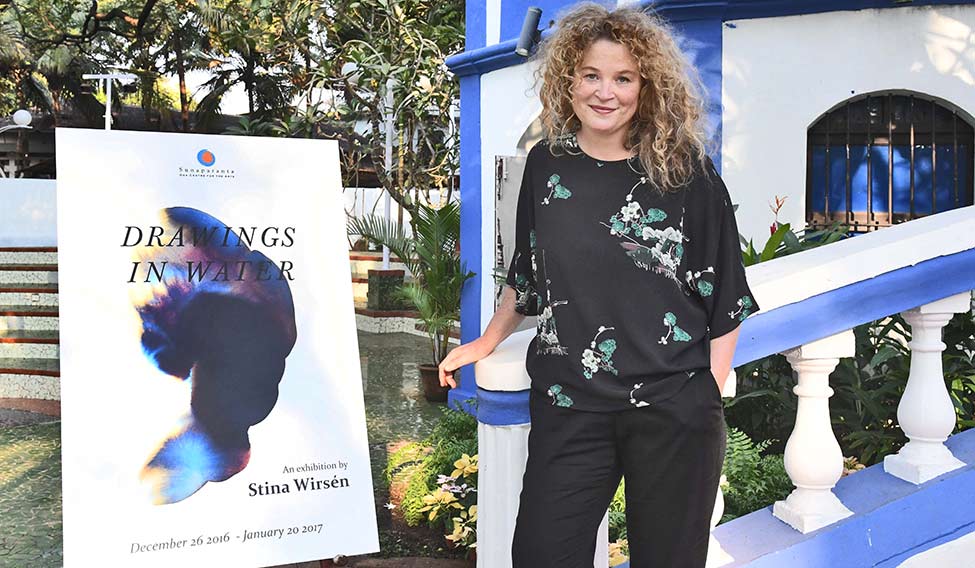 Wirsen recently conducted a workshop with 150 children in Goa. She says she finds them to be the same all over the world. "It is just that culture shapes them," she says, but not before adding how "creative" and "polite" the Goan children were.
Her children's books mostly deal with themes such as child rights, specifically the girl child's rights. "I try to show that we all have all kinds of emotions. Even if you are a little girl, you could be very angry and that could be a good thing; or if you're a small boy it is okay to cry and to have big emotions. I am just trying to show a broader palette of emotions that exists in all of us, because I think sometimes fairytales for children are too moral. They are like 'this is good' and 'that is evil' and I understand the symbolic value of those stories, but I feel that if you only get to hear those kind of stories, life is too black and white and all the grey scales disappear," says Wirsen.
Once she returns home, she will put up an exhibition up north in Sweden, and a new book will be out soon. "The book is special," she says "because it is my own poetry and the illustrations are about big emotions in childhood."