Dia Mehta Bhupal, 32, hails from one of the oldest and most reputable diamond families of India and is married to Krishna Bhupal, grandson of the leading industrialist G.V.K. Reddy. She's a stunning beauty, a style icon and, to top it off, an artist, too. She nurtured her love for photography at the Parson's School of Design in New York, where she studied art and design. Armed with her camera, she travelled far and wide—trekking to the Himalayas, melting into the crowd at the Kumbh Mela, exploring the distant shores of foreign cities.
But home is where the heart is, and her heart belongs to Hyderabad, where she lives with her family. A few years ago, she found her niche in art: making life-size installations of public spaces like libraries, pharmacies and supermarkets and exhibiting images of these installations. She spends hours in her studio, cutting out strips from magazines, newspapers and old cardboard boxes and rolling them into the building blocks for her installations.
"Close inspection of the images reveals the intricate details," she says. "Each roll of paper comes with its own text to create myriad stories from different cultures, periods and genres."
Some installations have taken her years to complete. For the installation of the bookstore, she created all 2,888 books from repurposed paper, no mean task. She says she finds the process calming. "It dissociates me from the virtual world of gadgets, the internet and other frivolous worldly distractions," she says. "The intensity and meticulous nature of the process takes me to a deeper realm, keeping my mind engaged and alert and yet, at the same time, relaxing it."
After taking photographs of the installations, she does the seemingly unthinkable; she destroys the sets. Only her close friends and family had seen them until recently when, at the third edition of the Kochi-Muziris Biennale, she exhibited an installation of a public washroom along with prints of a bookstore, a pharmacy, an airplane and a waiting room.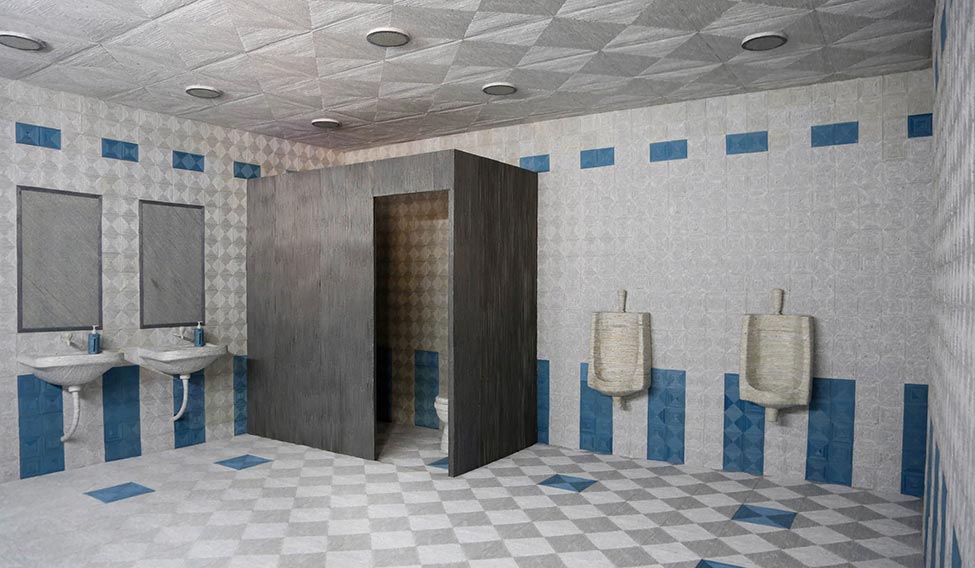 What impresses one upon seeing the installation is the minute detailing on each tile, composed of stories culled out from newspapers and magazines. Weddings, accidents, terror attacks, achievements, discoveries… all swarming in the recreated space. Bhupal says she's trying to create a contemplative experience to observe, reflect and experience basic realities. "Although people are figuratively absent, what remains are images which facilitate the memory, experience and contemplation of these moments," she says.
Her work approximates reality without being real itself. The spaces are captured at oblique angles, inducing one to look upon ordinary scenes in a new manner 'so that nothing and yet everything escapes the naked eye'. All of us have inhabited these public places as a matter of routine, without meditating upon their existence—the millions of people who have visited them before, the unwritten stories on the walls.
She says her art is at the core of her existence. "When I'm not working, I'm busy with the commitments of any other mother, wife, daughter or friend," she says. On her social media page, she describes herself as 'visually creative, vintage camera hoarder, spiritually curious and boho soul'—the many shades of Dia Mehta Bhupal.