"In 2012, Shivpal said Akhilesh should be made chief minister only after the 2014 Lok Sabha polls. Had I listened to him, I would have become prime minister" - Mulayam Singh Yadav, Samajwadi Party chief
The political waters in Uttar Pradesh are roiling. Every time the ripples seem to fade away, another issue breaches the surface. After spending six years in the political wilderness, Rajya Sabha member Amar Singh is now back in the thick of things. Samajwadi Party supremo Mulayam Singh Yadav reportedly sent a handwritten note to him on September 20, appointing him national general secretary of the party. Singh had fallen out with Mulayam earlier and was dismissed from the SP. He was recently re-inducted.
And, Mulayam had been able to force a truce in the battle between his youngest brother Shivpal Yadav and son Akhilesh Yadav, the chief minister. Both sides compromised. For example, Akhilesh does not like Amar Singh and had stopped taking his phone calls. So, Amar's appointment as national general secretary is being seen as a reward for his loyalty to Mulayam and Shivpal.
And, Akhilesh was forced to take back one of the two ministers he fired for corruption—Mining Minister Gayatri Prajapati. The minister comes from the most backward class, a vote bank that Mulayam wants in the SP's kitty. The other fired minister was Raj Kishor Singh.
Strengthened by Mulayam's support, Shivpal has been taking swipes at Akhilesh. "While sitting on the chair of the chief minister, Akhilesh should listen to everyone," he said. "He should take everyone along with him. In this state, I have seen many chief ministers who sit on this chair and start revolving. You are here to serve the people. You should not be proud. Akhilesh lacks experience, so he should take [counsel from] the experienced."
But, UP watchers feel that long-term gains were made by the Akhilesh camp. He was made head of the state parliamentary board, the apex policy-making body of the party. Among other things, the board has the final say on distribution of tickets for the upcoming assembly polls. Though Shivpal became state chief of the party and now holds a total of 13 portfolios, Akhilesh took the public works department from him. The department is considered a "milch cow" by political parties.
Another coup by Akhilesh was the shunting out of controversial chief secretary Deepak Singhal. The 1982-batch IAS officer was replaced by Rahul Prasad Bhatnagar from the 1983 batch. Singhal, who was considered to be Shivpal's man, had held the post for just around two months.
But, Shivpal seems to have upset the delicate balance again when he fired seven state leaders close to Akhilesh on September 19. Among the seven, Sunil Singh Sajan, Anand Bhadauria and Sanjay Lathar were members of the legislative council. Mohammed Ebad was state chief of the Mulayam Singh Youth Brigade, Brijesh Yadav was state chief of Samajwadi Yuvjan Sabha, Gaurav Dubey was national head of the Youth Brigade and Digvijay Singh was state head of Samajwadi Chatra Sabha. Shivpal's move led to other pro-Akhilesh youth workers and leaders quitting the party. The chief minister has now appealed to all supporters to exercise restraint and not resign.
Akhilesh told party workers and the media that he would do anything to ensure his father's happiness. But, he would not tolerate the interference of "the outsider", he stressed. SP sources said he was referring to Amar Singh. Mulayam responded warmly, saying, "If such a thing [interference] happens in future, the decision will be taken by Akhilesh and me."
An SP source told THE WEEK that the current battle began after a senior party leader threw a party in Delhi on September 11. Mulayam, Shivpal and Singhal attended the bash, where the host complained about Akhilesh and his team. News reached Akhilesh, and he was peeved. Especially about Singhal's presence.
The source said that Akhilesh was already convinced that "the outsider" was in cahoots with a senior UP bureaucrat to swing the 012,000-crore deal for the construction of Samajwadi Poorvanchal Expressway project. Akhilesh did not want the contract to go to the company that "the outsider" was allegedly lobbying for. But, pressure started mounting as other members of the Yadav clan got involved. Rumours are afloat that Akhilesh received an audio file proving his suspicions.
So, on September 12, the chief minister fired Prajapati and Raj Kishor on charges of corruption and land grab. Mulayam later said that he came to know about it from the media. On September 13, Akhilesh fired Singhal and stripped Shivpal of key ministries. A bitter Shivpal quit the ministry and resigned as state head of the party on September 14. But, Akhilesh refused to accept the resignations. Mulayam was in Delhi as the drama unfolded in Lucknow. He rushed back home the next day, reversed Akhilesh's decisions and proposed a four-point compromise formula. On September 16, it seemed like the stand-off was over, as Akhilesh and Shivpal had tea with Mulayam at his residence.
The bad blood between Akhilesh and Shivpal dates back to the assembly polls of 2012. After the SP swept the polls, Mulayam announced Akhilesh as chief minister. Shivpal felt he was overlooked; some senior leaders backed him. Mulayam recently said, "After getting majority in 2012, it was proposed that Akhilesh be made chief minister. Then Shivpal openly said he should be made chief minister only after the 2014 Lok Sabha polls, otherwise the party would not get much success in the elections. Look at what happened in 2014! We got only five seats. Had I listened to Shivpal, I would have become prime minister."
Then, in June 2016, when Akhilesh was not in Lucknow, Shivpal announced that the Quami Ekta Dal, an eastern UP-based party, would merge with the SP. The QED is led by the Ansari brothers—Afzal, Mukhtar and Sibgatulla. Mukhtar is MLA from Mau, and Sibgatulla from Mohammadabad. The merger was engineered by minister Balram Yadav, a close confidant of Mulayam.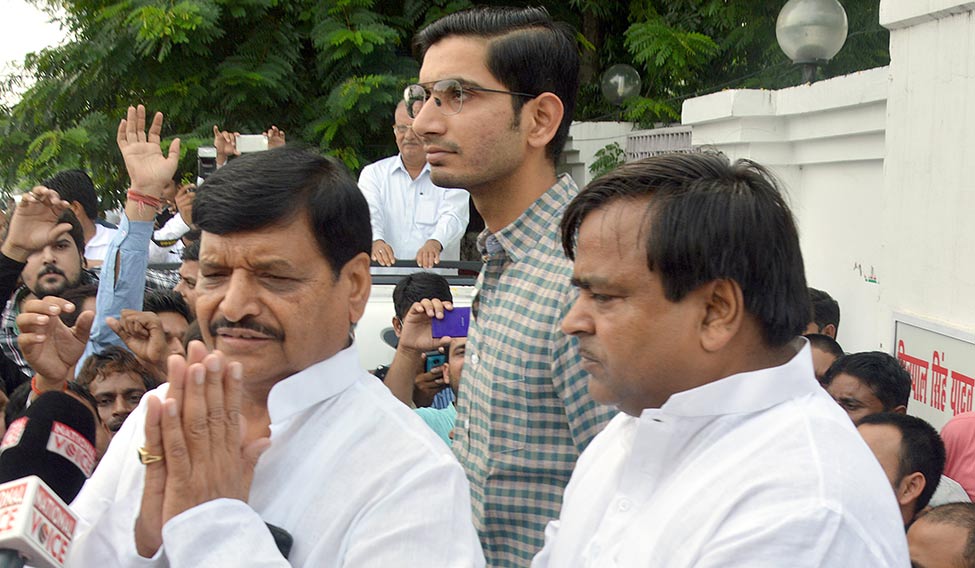 Enraged by the merger and by the way it was carried out, Akhilesh fired Balram. His stand was that the merger was a setback to his attempts to clean the SP. And, true to his words, the opposition went to town over the merger.
The young chief minister wanted to run a corruption-free government, and, in the past four years, he has had to compromise for party and family. His slogan for the assembly polls was: Kaam bolta hai [Work speaks for itself]. But, political observers say that Mulayam, Shivpal and Amar Singh will go back to playing the caste card in the polls.
A joke in UP is that the state has five and a half chief ministers. The five are Mulayam, Shivpal, Mulayam's cousin Ram Gopal Yadav, senior minister Azam Khan and a senior bureaucrat. Akhilesh is considered the half chief minister. The current battle has proved that Akhilesh is no halfling. He conveyed that a chief minister being seen as weak was not good for the party. And, he managed to grab the powers to decide who should contest the polls.
In the family, Ram Gopal has openly thrown his weight behind Akhilesh. So has his son Akshay Yadav, Lok Sabha member from Firozabad. Many others are watching from the wings. Shivpal Yadav has used the opportunity to launch his son, Aditya Yadav, as his political heir.
And, Ram Gopal is as suspicious of Amar Singh as Akhilesh is. "This outsider is hell-bent on ruining the party," Ram Gopal said recently. "He is a villain. He takes undue advantage of Mulayam's simplicity. He is not even a Samajwadi, then how can he be Mulayamwadi, as he often proclaims?" So, Amar Singh will have to tread carefully, though he is in Mulayam's good books.
But, throughout the drama, Mulayam has been supportive of his brother and Amar Singh, at the cost of alienating his son. "People do not have any idea of the sacrifices and hard work put in by Shivpal to build the party," he said. "Akhilesh still has the grouse that Shivpal opposed his candidature for chief ministership. In a CBI case, the government is preparing to send me to jail. Who is supporting me? Amar Singh. Today also one case is there. Who is taking my side? Amar Singh. What we have given him is just a Rajya Sabha seat. Any political party could have sent him to the Rajya Sabha."
Akhilesh has calmed down for now. Obviously, he does not want to muddy the waters any further, especially ahead of the polls. "I am not a player who scores self-goals," he said. "I have played many games, including cricket and soccer. Politics is not a game. It is serious business. And, along with politics, I have shown that I have worked, too."