"My love and my protest are two different things. The only similarity is that both are facing injustice from the people of Manipur" - Irom Sharmila
The road that leads to Kangla Fort in Imphal looks empty. Unlike the busy market just a few hundred yards away, it is wide and clean, almost like an advertisement for Prime Minister Modi's Swachh Bharat mission. Even the vehicles seem to ply in silence on this road. The reason behind this, people say, lies perhaps in the recurring bloodshed and protests in the place. The last shocking protest took place in July 2004, when a dozen middle-aged women stripped and ran towards the fort's gate holding a banner which said, "Indian Army rape us". For them, the fort, which then housed the Assam Rifles, symbolised the oppressive might of the Indian Army. They hated the Army and they hated the Armed Forces (Special Powers) Act even more, and they wanted it to go.
The daring dozen and the 50 young women who came in their support drew inspiration from their famous sister Irom Sharmila. She had been on fast for four years, demanding revocation of AFSPA. On November 2, 2000, soldiers of the Assam Rifles opened fire on a crowd, which had women and children as well. The Army said the 10 people who were killed in the firing at Malom, a town in the Imphal valley, were insurgents and claimed immunity from prosecution under AFSPA. It was this massacre that led Sharmila to launch her fast.
She was arrested and charged with attempt to suicide. Later, she was confined to the prison ward of Jawaharlal Nehru Institute of Medical Sciences (JNIMS) in Imphal and fed forcibly through a nose tube. She remains there and AFSPA continues to be in force in Manipur.
But there has been a twist in her story now that the government has decided to decriminalise suicide and remove it from the Indian Penal Code. If the bill to this effect, which is pending in the Rajya Sabha, is passed, Sharmila will have to be released from custody and her force-feeding stopped, which could lead to her death. Or else, Sharmila will have to give up the 15-year-long fast. Manipur, however, does not seem ready for that.
Soibam Momon, 65, who was part of the naked protest in 2004, now works to mobilise public opinion in favour of Sharmila's fast. Her eyes turn moist when she remembers that day. "For a woman, exposing in public is same as death. If we could do that, then what is the harm in Sharmila fasting? If we could make such a sacrifice, then why should not she?" asks Soibam. She is part of Sharmila Kanba Lup (Save Sharmila), a group formed by the naked protesters. The group, with more than 200 members, wants to ensure that Sharmila continues her fast till AFSPA is withdrawn.
Soibam denies that people like her are pushing Sharmila to death. "She is doing that on her own. More than her life, the withdrawal of AFSPA is supreme," says Soibam. For people like her, who have grown old, going out on the street to fight against AFSPA is no longer an option, she says. Sharmila, therefore, remains their only hope.
Soibam became an activist not because she had suffered personally. She joined the movement thinking of the future of Manipur. But even those who had suffered at the hands of the Army are reluctant to join the protest.
Renu Takhellambam lost her husband in a fake encounter in April 2007. Still, she is wary of raising her voice against the atrocities. "AFSPA has made me a widow. My husband was never a terrorist. But he was killed like one. Even then I cannot fast like Sharmila. I will die within two days," says Renu.
But she does not want Sharmila to call off her fasting. She says that will finish off their cause. "She started the protest and she needs to continue it because she has become famous worldwide. Many activists are born because of her movement. We will never accept her withdrawal," says Renu, who now raises her seven-year-old son by herself. She admits that if the situation does not improve, her son would also be in danger. But then she has something to fall back on. "It is Sharmila who is fighting our war and she should continue with it," says Renu.
Another victim like her, Neena Ningombam, says although Manipuri girls may be stronger within the family as they have a matriarchal society, they are afraid of men in uniform. After losing her husband seven years ago, she had to run from pillar to post for justice. The court finally approved her petition that her husband was killed in a fake encounter and ordered that compensation should be paid to her. She, Renu and a few other women have formed an organisation to create awareness against AFSPA. But they are not ready to go out on the street and protest. Sharmila is their idol and they believe that she will never withdraw her struggle. "But if she does, then someone from us will come up as another Sharmila," says Neena.
But her confidence seems to be misplaced. Other than Sharmila's ongoing protest and the naked demonstration which took place more than a decade ago, Manipur has not seen any sustained protest movement against AFSPA.

And, that is a major worry for Sharmila as she lies in her hospital room in Imphal. For she is in love and may not want to continue forever. Desmond Coutinho, a Goa-born British national, who is in judicial custody on the charge of creating disturbance at her hospital, is the real flame of Sharmila's life these days. This has created some confusion among her supporters. Her lawyer and eminent human rights activist K. Mani says, "Love is really putting this great movement in danger. One of the most talked about movement in the world today may die because of such a bad relationship. He even convinced Sharmila to act as her own lawyer. I prevented that and told the court that she did not have the ability."
Sharmila, however, says it is not her love, but the apathy of the people of Manipur that is destroying the movement. Speaking exclusively to THE WEEK from her hospital room adorned with soft toys―most of them gifted by Coutinho―she criticises fellow Manipuris for becoming mute spectators and ignoring her plight. In the interview, she referred to Coutinho as her "fiancé" for the first time.
"My love and my protest are two different things. The only similarity is that both are facing injustice from the people of Manipur," she says. Unlike what people think, Sharmila says she differs with Coutinho on many things. "I don't follow his advice. Yes, I love him, but he has no impact on my movement," she says.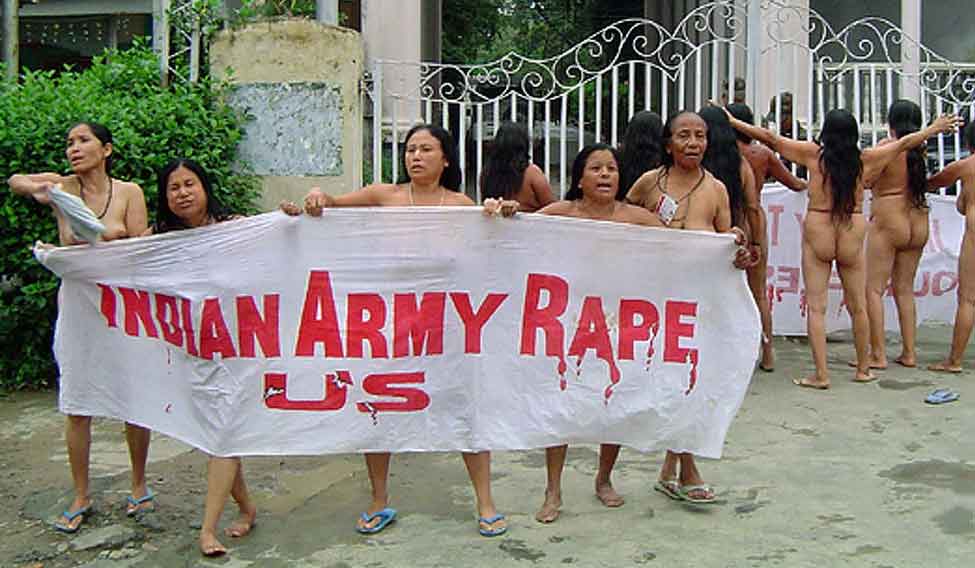 Sharmila says it is wrong for elders like Soibom or younger ones like Renu to think of her as a sacrificial lamb. She is angry that they are not speaking out while she is dying from years of fasting.
"If I withdraw my struggle, the AFSPA protest will die forever. That is why they would not let me have a normal life. It is a well-planned game played by many people," she says. Speaking out for the first time perhaps, she says she wants to be free and not be a tool for others. "I am a human being and I want to lead a happy married life. I want the people of Manipur to join my movement, fast like me and get arrested like me. But they are silent, selfish and remain mute spectators. Had they joined me, the movement would have achieved what it targeted," she says.
She accuses Manipuris of having a good life although they are all suffering like her. "I fail to understand why they do this. Are they paralysed? Millions of Manipuris are suffering like me. Then why do they remain inside the houses and want to see me die?"
For the first time, the iron lady of Manipur looks anxious about her health. She says if the government does not withdraw AFSPA, she may have to court death. "If I continue to be fed through my nose, I may die as my health is deteriorating. But if the tube is removed, I will die immediately as I will not eat. My people know this. So they want to keep me in the hospital under arrest," she says.
Sharmila says her friends and relatives have joined hands with the government, and despite a court order to free her, the Manipuris have forced the state government to re-arrest her. "They would be happy seeing I fight for them, sacrificing everything. They wont even let me die."
It is clear that she is torn between her commitment to the cause and the affairs of the heart. Terming the desire of the Manipuris as the verdict for her, Sharmila says she will not withdraw her fast until she achieved her goal. "Either AFSPA will go or I will die. But I want to get out of this nasty life in prison."
For someone who loves to fly, the life in jail can be really claustrophobic. Sharmila spends time reading books which people send her from across the world. Coutinho, too, sends her books. The last two books she got are Amitava Ghosh's novel Sea of Poppies and a collection of poems by W.B. Yeats. After reading the books, she donates them to libraries. She also loves painting. Two of her recent paintings―one depicting a fake encounter and another showing policemen planning an encounter behind closed doors―are on their way to the United States for an exhibition. When she is not busy reading and painting, Sharmila enjoys the company of the three guinea pigs she keeps in her 100sq.ft room.
The hospital authorities know about the health hazards that Sharmila faces. W. Gopimohan Singh, medical superintendent of the hospital, says she has to stop fasting if she wants a long life. When pressed further, he points at other experts nearby, who remain silent fearing retribution, not from the authorities, but the people of Manipur.
The youngest of nine children, Sharmila grew up in Kongpal village. Her family finds it difficult to believe that she has fallen in love. "She used to hate love and marriage, and vowed that she would never get married. We are surprised to hear that she has fallen love with a bad guy," says her brother, Chiranjit Singh.
"She is on a mission to achieve something. We, her family, will never come between her and her movement," says her mother, Sakhi Devi. But she seems oblivious to the dangers her daughter faces. "I have sacrificed her. If she has to succeed, she would have to force the government to withdraw AFSPA. Otherwise, her life is useless," says the mother. She says she will meet her daughter only after her movement is successful.
Sharmila has become a brand in Manipur. Millions of dollars have poured into the state in her name. Mani says nearly 40 NGOs have sprung up in the last pive years in her support. These organisations work in sectors like health, education and security and safety of people who have suffered torture at the hands of government agencies and militants. But the NGO run by Sharmila, the Just Peace Foundation, is not soliciting donations. It is being run with the money she got from various awards, although she has contributed a good chunk of it to women who have lost their husbands and fathers in fake encounters. "Money can kill movements. I don't need money from anyone. I need support and I want people to join my movement," she says.
For someone who has not tasted any food in the last 15 years, there are things more important than money. "I don't know any dish, but I want to eat. I don't need money," she nearly screams when asked about her favourite dish. She says when she eats next, she will not be alone. If her movement is successful, she wants to invite everyone and taste with them all vegetarian dishes, one by one. "I want to taste each one of them to regain my taste buds. I have almost forgotten how food tastes like."
Although it was Gandhi who influenced her to give up food, her real hero is not the Mahatma. It is Nelson Mandela, to whom she offers prayer every morning.
"I am having a life like him. I wish I succeed like Mandela."