"A lot of awareness needs to be created among buyers about the significance of sustainable luxury clothing to ensure its long-term business success" - Uma Prajapati, designer

"As old techniques are dying, owning it is luxury. This mindset shift is boosting sustainable luxury" - Anavila Misra
Inside fashion designer Anupamaa Dayal's workshop in Munirka, Delhi, the thak-thak of hand block printing serves as a constant background score. "I enjoy its rhythm, as it breaks the monotony," she says, while drawing a floral motif—her signature style—which will be hand carved into a wooden block to create patterns for her latest sustainable luxury collection.
The blocks are then dipped in organic dyes and placed on a three-metre long cotton fabric. It is then coated with three layers of parchment paper, muslin and casement mixture, rolled into tubes, shoved into a clay oven for three and a half hours and dry-washed in sunlight. "Sunlight oxidises the colours and makes them more brilliant," explains Anupamaa, who swears by sustainable luxury. "I like doing things in a slow pace, using old ways." For instance, it takes a week to make one organic colour using natural ingredients, like powdered turquoise gemstones for turquoise colour. "But if we don't embrace sustainable luxury now, it will be too late," she says.
Luxury is often perceived as excessive, extraneous and indulgent. Call it the growing environment and social consciousness of the so-called shallow world of fashion or a smart business strategy, but an increasing number of Indian couturiers are opting for environmentally and socially positive methods of producing luxury lines.
So, if Anupamaa is on a mission to revive ancient hand printing and needle techniques of India, the entire design philosophy of designers Uma Prajapati, Vaishali S. and Rahul Mishra is based on sustainability. Anavila Misra, who creates luxe saris using eco-friendly fabrics, recently ditched professional models and roped in women of Santhal tribe for her fashion shoot. Similarly, globally renowned Aneeth Arora has launched two new labels—Pero Recycle and Pero Upcycle—to contribute to environment conservation.
"There is no such thing as a free dress," says Anavila, who works with natural fabrics, focuses on minimum waste philosophy and weavers' empowerment by giving them work throughout the year. She notes that the fashion industry produces thousands of tonnes of carbon footprint and toxins every year, and if we don't start creating ethical luxury now, the future will be grim. "Natural disasters are already indicating the chaos created by humans," she says.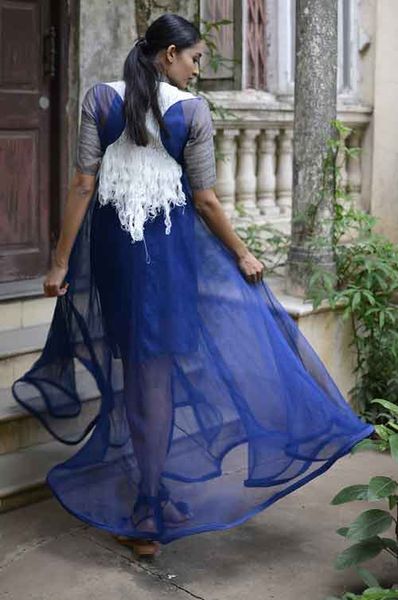 To ensure the well-being of the weaving community, Vaishali S., who works with 200 weavers, says she lets them decide the price, educates them about new trends and offers them work throughout the year. Every season, about 050 lakh of her total budget is spent on paying wages to weavers. But it is the love and respect she receives in return that makes it all worth it. "For instance, recently one of my weavers walked up to me and coyly handed over something wrapped in a newspaper—a blue sari that he had woven specially for me, as I like the colour. It left me overwhelmed," she says. The designer works only with eco-friendly fabrics, of which 30 per cent are organic, and believes in zero wastage. "We use leftover fabrics to create buttons and tassels, in applique work to adorn the outfits and make accessories out of them," says Vaishali.
Sustainability has always been an integral part of Indian culture and lifestyle. But what took so long for both the couturiers and luxe buyers to take note of it? "We believe in blindly following the west. So, when luxury was defined by being wasteful, we did that. And now, when conscious luxury is a buzzword globally, we are toeing the line, too," says Aneeth.
The trend indicates a paradigm shift, says Anavila. In the past, luxury clothing was equated with newness, high price and opulence. But now rarity and exclusivity define luxury. "As old techniques are dying, owning it is luxury. This mindset shift is boosting sustainable luxury," she says.
Also, the design fraternity has realised that India is a treasure trove of textiles, hand printing and needle techniques and if they don't make the most of it, the west will, says Uma Prajapati, who owns luxury label Upasana Design Studio in Auroville, Tamil Nadu. The brand works for the revival of weavers and invests 40 per cent of its revenue in education and social ventures to empower women and the poor.
Uma, however, says there is still a long way to go. "A lot of awareness needs to be created among buyers about the significance of sustainable luxury clothing to ensure its long-term business success," she says. "Otherwise, it will die down like any other fashion fad."