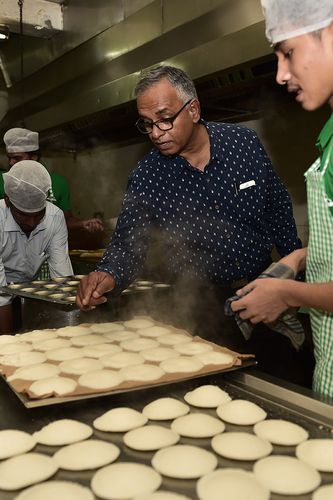 Twenty years ago, when Manoharan Shanmugasundaram completed his masters in peace making, his aged parents believed he would leave Madurai, where they're from, to make peace among the people of the country. But Manoharan was interested in making peace of a different kind—through delicious fluffy idlis. From a small outlet in Madurai, the restaurant he started, Murugan Idli Shop, now has two branches there, 25 in Chennai and two in Singapore. He also has plans to launch one in London soon.
The outlets in Chennai sell around 10,000 idlis on weekdays; on weekends, the number climbs to 12,000. It is not just the idlis—served with five varieties of chutney, dhal sambar and spicy podi—that are popular here. Every dish, from the sweet pongal and small onion uthappam to the dessert jigarthanda, is always in high demand.
Manoharan's tryst with idlis began 43 years ago, when his mother started selling them at his father's coffee shop called Murugan Coffee Nilayam in Madurai. "My father used to serve only coffee and snacks," he says. "But to support the family and raise all seven of us, my mother started making idlis to be sold at the shop. The idlis became hugely popular and would be sold off within half an hour."
Manoharan always had a burning love for idlis. "When I told my parents that I wanted to set up a small restaurant like my father, they did not want me to struggle like they had," he says. "My brothers, too, tried to discourage me, but I was confident that I would succeed."
In 1993, Manoharan opened the first branch of Murugan Idli Shop in Madurai. He introduced sambar and four varieties of chutney, ghee pongal, sweet pongal, vada and jigarthanda in his menu. In 2003, he opened his first branch in Chennai, on G.N. Chetty Road in the T. Nagar area. "I had my reservations as I couldn't afford to make a loss," he says. "I did a survey of sorts to find out how the business would fare and whether people would come to my shop."
Many suggested that he replace the word 'shop' in Murugan Idli Shop with 'restaurant'. But he stubbornly decided to stick with 'shop', as he felt that it would resonate more with the middle class that looked for quality and quantity at a reasonable price. The shop was a success and soon, a second branch was opened at North Usman Road.
When asked what the USP of the restaurant is, he replies: "The texture, smell and feel of our idlis are different from those offered in all the other restaurants." To maintain consistency, he uses batter of the same quality and prepares the idlis in the same style across all his shops. The ingredients for the chutneys—the delicious coriander chutney, coconut chutney and spicy tomato chutney—too remain the same. At one time, at least 100 idlis get steamed on a soft white cloth placed inside idli makers. The sumptuous dhal sambar and spicy podi with groundnut oil or ghee add to the taste of the idlis.
"Our podi is unique. Nowhere else will the podi be soft-powdered and spicy like the one we serve," says Manoharan, his eyes shining with pride.