A six-year-old girl called Kamali struts across the beach in a pink outfit, balancing a teetering surf board on her head. The board is double her size and I fear she'll topple over. When one of my friends offers to carry it for her, she shakes her head imperiously. She is the queen of the ocean and the board is her crowning glory. She wears it like it is a part of her. She wades into the water and quickly dissolves into the sea, turning into a furiously-paddling pink speck. She's about to catch a wave and when she does, she'll forget that she's a fisherman's daughter. She'll forget that she is perhaps the youngest surfer on the sea. She'll forget to fear for her life. Her only thought will be to ride the wave. After all, the ocean doesn't care about your age or your father's earnings. In the ocean, everyone is the same.
"Children learn the sport so fast," says Mukesh Panjanathan, the owner of Mumu Surf School in Mahabalipuram where Kamali will go to learn surfing properly when she's a little older. "For one or two years, I won't see anything. And then, all of a sudden, they would have picked it up and would be expertly navigating the waves."
In his chequered shorts and bleached brown hair pulled back into a ponytail, he looks a little like a sallow Chris Gayle, except that he doesn't seem to have the Jamaican's razzmatazz. He speaks stilted English that he learned from some foreigners in a measured manner, seemingly polishing each word in his mind before uttering it.
Mukesh or 'Mumu' hails from a large family. He has five brothers and one sister. Most of them are fishermen. He studied economics in school and then spent six months in a small shop selling electrical appliances. Not being satisfied with it, he went back to fishing which he found very difficult.
After the tsunami took place in 2004, he quit fishing and tried to work in one of the nearby restaurants. That's when he met two Australians who came to surf at the Mahabalipuram beach and learned the sport from them. After that, he signed up for an instructor course at the Surfing Federation of India.
Mumu is not the only fisherman to open a surf school in Tamil Nadu. There are others like Murthy Megavan who, in the neighbouring Kovalam beach, started Covelong Point Surf School in 2012. He started surfing with a broken wooden door when he was 10 years old. In 2001, Murthy met an American who lent him his board. Surfing on it, he knew, was his calling. Two years later, he got his own board which he bought from one of the villagers for Rs 1,500. "That day, I was walking and laughing on the street and many people thought I was mad," he says. "Today, many famous engineers and doctors from countries as far as Japan and Australia come to my surf school. Even actors like Milind Soman have come to surf with me."
He says that in some months, during peak season, he gets 50 to 70 surfing students whereas in other months, there are no surfers. "Those months, I might earn only between Rs 2,000 and Rs 5,000 a month. I mostly save up during peak season to sustain my family during the lean periods." His wife is an economics graduate, he tells me proudly, and he has two children.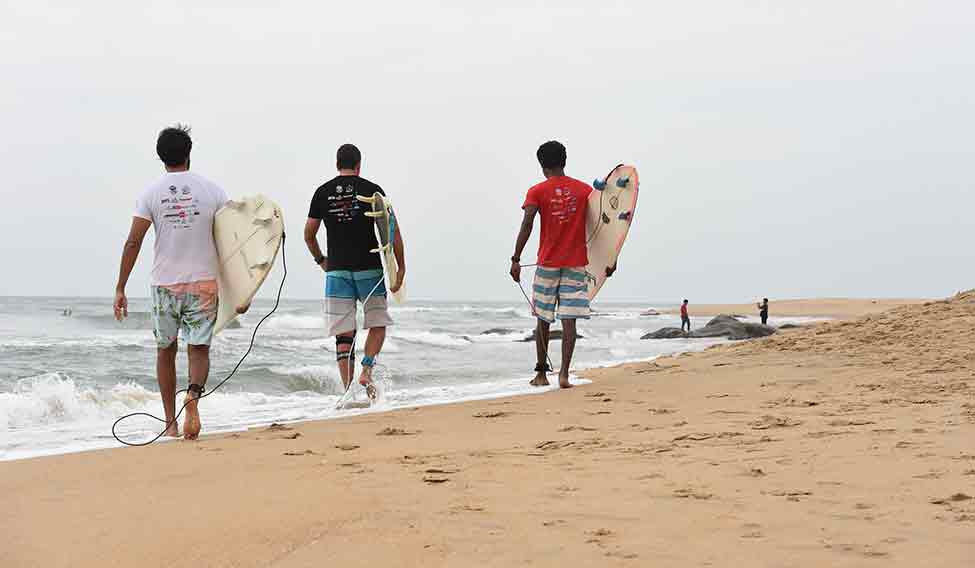 "It's clear that these former fishermen love the ocean," says Aine Edwards, a surfer from Ireland. "That love is infectious. When I went to Hawaii some years ago, there were a lot of tourists and the instructors were old and tired. They didn't have the same enthusiasm."
Since those like Mumu also offer free classes for local children, Edwards says it is a great experience being in the water with loads of children from the local community. In countries like the US and Australia, people are very territorial, she tells me. There would even be fights among surfers to appropriate the waves. That aggression is not there in India. There is camaraderie in the water which is why foreigners flock to the beaches here. She refers to something called a 'party wave' where everyone shares a wave and moves around with each other.
Edwards says she has watched surfing develop in Ireland over 15 years where it is also used to empower children with autism and people with depression, and surfers like Easkey Britton are bridging social and cultural gaps in places like Iran. And today, she's watching the nascent surf culture here develop along the same arc. "So in that way, it's like going back to the future," she says.
These fishermen-surfers have many things in common. Most of them have foreign mentors. They are also socially conscious, teaching children free of charge and taking up beach cleaning initiatives. "I have a tie-up with the municipality," Mumu tells me. "I've placed seven bins on the beach and whenever they fill up, I call the municipality guys." Most of them are glad that their fishermen days are behind them. "I had been fishing for 15 years since the age of six or seven before I left it to become a surfer," Appu, a fisherman who started Ocean Delight Surf School in Kovalam, tells me. "I was a good fisherman but it was too hard. I wanted to enjoy my life, have an easier lifestyle and meet a lot of people. I wanted to be a happy person."
Unfortunately, it is exactly the perception that these surfers are living the dream that irks others. "People from Mahabalipuram have adopted a cool attitude towards us," says Mumu. "They think I'm loaded and that I'm always hanging out with white chicks. They don't understand how hard it is to start a surf school. Each board costs between Rs 25,000 and RS 50,000. If it breaks during class, the students won't take responsibility. I have to pay for the repairs myself."
There is another factor that unites many of these fishermen-surfers: foreign girlfriends. Both Mumu and Appu have German girlfriends. I ask Mumu how he met his girlfriend Ana, whose foot he's gently massaging while speaking to me. "I'm a fisherman," he tells me with a playful, very Chris Gayle-esque smile. "I caught her."