"Trump has not thrown in the towel yet. He has certainly created a series of serious challenges" - Timothy Roemer, former US ambassador to India
Will a leaked video footage cost Donald Trump the job of the most powerful man in the world? An outraged United States of America can discuss little else right now apart from the man, who 11 years ago crudely boasted about his prowess with women, and how he could get away because of his celebrity status.
Trump, whom the Republican Party had reluctantly accepted as its nominee for president, has motor-mouthed his way all year through, saying the most atrocious things about migrants and Muslims. However, the revelations of the tape, which was published by The Washington Post, were damaging enough for him to reluctantly issue a "regret", though the apology was quite negated with him using the same platform to accuse rival Hillary Clinton and her husband, former president Bill Clinton, of being worse in the women exploitation department.
The billionaire businessman, on the surface at least, seems to have moved on in his typical brazen manner, shuttling across the country to campaign in the last few weeks for D-day on November 8. "I won't quit," he said defiantly, even as pressure mounted on him to step down and save the party's face. Trump's wife, Melania, stepped in to say she had forgiven him, while his daughter Ivanka remained part of his damage control campaign. But many in the party were aghast when the media revealed that Trump had once said that it was fine by him if his daughter was called a piece of anatomy, or that he would have liked to date her if she wasn't his daughter.
The Grand Old Party, which from the beginning was divided over his nomination, has its fissures showing prominently. Several Trump supporters including Senator John McCain have left his side. His running mate Mike Pence condemned the tapes and is trying the fine art of balance as he distances himself from Trumpisms and yet remains the vice presidential candidate. Trump supporters like former New York mayor Rudy Giuliani and former presidential aspirant Ben Carson cut lonely figures defending him. House Speaker Paul Ryan, meanwhile, has shouldered the challenge of ensuring that Trump does not ruin the prospects of the numerous Republican candidates running for the Senate and Congress as well as state bodies, elections to which are being held simultaneously with the presidential election. The bigger picture is not the loss of its presidential candidate, but the very future of the party itself. Trump is retaliating by saying his shackles are gone. Which means he can speak freely against people like Ryan. That he has been doing vocally, saying he doesn't need Ryan and co and that he is better off not being in that "foxhole".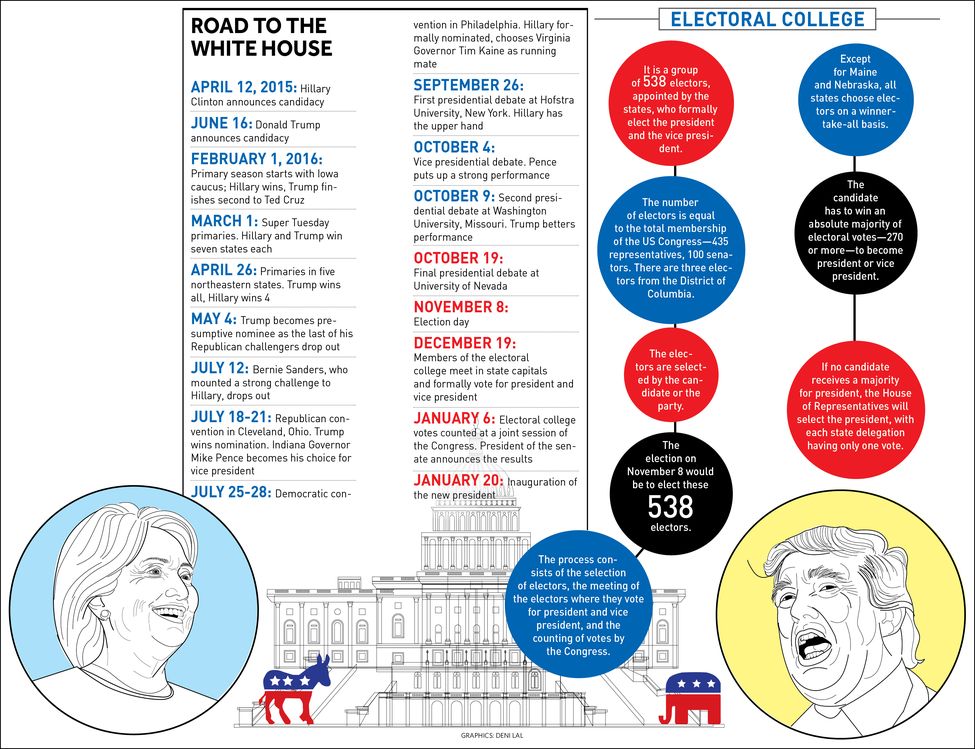 Although Democrat Barack Obama has been president for eight years, Republican strength in the Senate and the House of Representatives has grown over the last few years, which made it difficult for Obama to push across several laws. Republicans have a slight advantage in the Senate and an overwhelming one in the House.
So has Trump's meltdown begun? Is Hillary on the smooth track to presidency? On these questions, the answers are not any clearer today than they were during the party conventions or before. "Trump's campaign is devolving," says Pramila Jayapal, an Indian-origin Democrat running for Congress from Washington's 7th district. "As we get closer to the election date, Trump is revealing more of his misogyny, racism and xenophobia. Hillary is not a perfect candidate but she is smart and qualified and will move our country forward. Trump's latest tapes should be the final period on his demeaning campaign." Frank Islam, Democrat fund raiser, believes Trump's chances have plummeted, with only Ohio being a swing state where he has a chance, given its older and whiter population.

Others, however, are not so sure. "This has been the most unconventional and unpredictable election, there is nothing certain or cemented. Thirty days is a long time in this volatile election; the people are anti-establishment and want change. Don't assume anything till the votes are counted," says Timothy Roemer, former US ambassador to India and former Democrat member of the House of Representatives. "Secretary Clinton has the advantage right now with the electoral college and voters, but Trump has not thrown in the towel yet. He has certainly created a series of serious challenges."
Indeed, surveys come up with such diverse results that while their methodologies and samples can be questioned, the only conclusive point they indicate is the uncertainty. The most recent poll by Survey Monkey for CNBC, shows that after the second debate (which was after the leaked tapes), Trump's rating has seen a boost, with 23 per cent saying he made a better impression as presidential candidate, while 17 per cent felt that way about Hillary. Other surveys indicate exactly opposite trends.
The Republican party is trying desperately to cut its losses. It would like Trump out, but that is wishful thinking. For starters, Trump has no intention of quitting. "And, who is to take over from him," asks Roemer. Early voting has started in several states. Obama, for instance, has already cast his vote. "There are rules to remove a candidate at a late stage, but they are very complicated and have never been invoked," explains Sumit Ganguly, professor of political science at Indiana University, Bloomington. "Also, even if they could get him out, at this late stage, the GOP might actually suffer further because there could be a rebellion in the party," says Ganguly. The Republican National Committee has just reaffirmed it is behind Trump. So while alternatives like propping up Ben Carson to run with Pence make for good theoretical discussion, they are not practically viable right now.
Some Trumpters, in fact, see a big conspiracy in the leaked tapes, which are ostensibly the result of investigative journalism. "There is no doubt those comments were offensive and should not be tolerated. But he was just saying what the average American man says in an unguarded moment," says A.D. Amar of the Indian Americans for Trump. "Look beyond the content. NBC had the tapes months ago, but didn't release them earlier because Ted Cruz or Jeb Bush may have won the nomination and the Democratic camp feels they would make more formidable Hillary opponents. The timing of the release was calibrated to smoothen Hillary's path, but it hasn't had the desired effect."
The blue-collared white alpha male, with whom Trump struck a chord, has thrived on his politically incorrect comments and the leaked tapes are not likely to dent his image with them. It is the kind of stuff they would identify with. This voter base of his is called calcified, as it cannot be swayed. To win an election, however, Trump and Hillary both need to expand their voter bases. Trump appears to have lost the woman voter base entirely, but whether Hillary has won this section over or not cannot be said. The educated young woman has not seen her as the saviour. Jayapal, a staunch follower of Hillary's primary challenger Senator Bernie Sanders, says she threw her weight behind Hillary after Sanders dropped out because as a woman of colour, she had to ensure Trump did not enter the White House. "We must defeat him decisively," says Jayapal. While the electorate may share the sentiment, they may choose not to vote, or vote for a third alternative like Jill Stein of the Green Party or Gary Johnson of the Libertarian Party. "Let's accept it, Hillary is damaged goods herself, with the private email server scandal and her Wall Street ties," says Ganguly.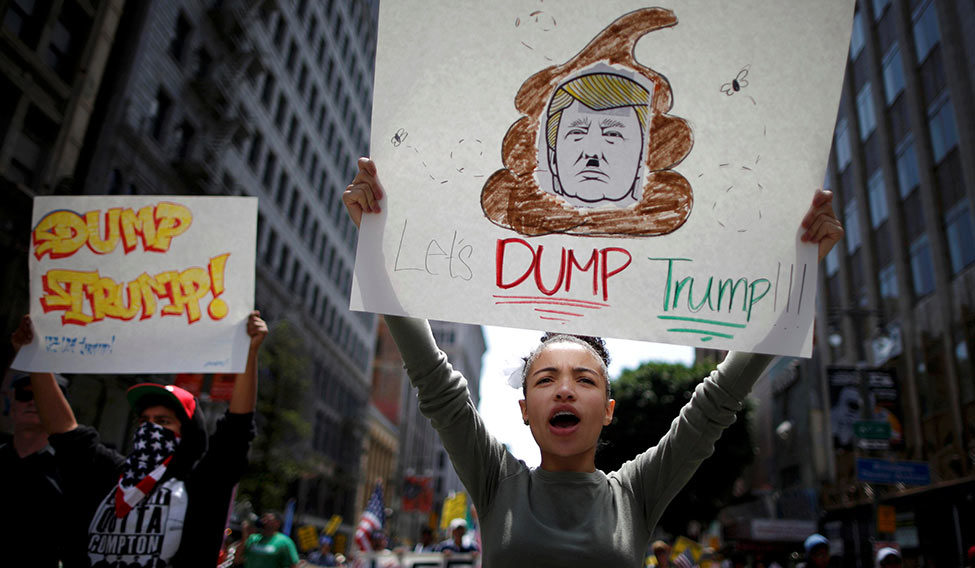 The Trump tapes are unlikely to be the finale of this particular soap opera. It still has four weeks to run and Trump had, at one point, threatened to reveal more about "crooked Hillary" and her husband. Bill has a reputation of philandering, so while new details will be salaciously lapped up, will they make a dent on Hillary's reputation? After all, those who have accepted her did so keeping in mind that she stood by her husband during his worst sexual scandals, for whatever reason. "More may come out, but she has withstood the worst," says Ganguly.
Whether Trump loses by the largest landslide in American history, whether Hillary creates history as the first woman in the White House with the slimmest of margins or whether the US gets Trump for president, one thing is certain. The new president inherits an electorate that wants change. "And unless the president addresses issues of alienation, reforms the criminal justice system and taxation, the next four years will be a difficult presidency with no second term," says Roemer. That, however, is the sequel. Season 1 is still on air.