Around two years ago, before this presidential race started, President Barack Obama had said that it would be difficult for Democrats to have another term after him. People may want a new car smell, he put it.
But, he put in all his might in rallying for his former secretary of state Hillary Clinton, even roping in his ace card—wife Michelle. In the last days of the race, Obama worked almost full-time in the campaign, personally naming and shaming Donald Trump. But, he could not undo his prophecy.
Ronald Reagan is the only US president in the last century to have handed over the White House to a fellow party man, George H.W. Bush, after two consecutive terms.
The man who promised to 'Make America Great Again' has become president-elect. Trump made his victory speech in the wee hours of November 9, promising to be president of everyone in the US. After the polarisation of the last two years, this was welcome talk.
Election night turned out to be a thriller, and Manhattan's midtown was electric. Perhaps, for the first time in anyone's memory, the same city hosted the celebration and wake parties. Giant screens at Times Square relayed television coverage for throngs who sat sipping latte, their necks craned up. A half moon shone in the sky, symbolic of the divisions below.
The unseasonably warm autumn evening began with Trump showing a lead in the first state. Many dismissed it as a lead. It would turn, they said. Then, more numbers trickled in. Again, the disbelievers said these were just leads. But, as early as 8:30pm, the writing was clear. Close to 10pm, the lead became too wide. Clinton was down at 186, while Trump was at 212. Then, fresh numbers came in. Clinton moved to 202, and a hysterical crowd cheered. "She has to win," screamed a young girl, even as an argument broke out between a Trump and a Clinton supporter. The NYPD was out in full strength, and a "Sir, please," from a woman cop was enough to quell the querulous man.
A short walk away, at the Fox TV HQ, Trump supporters were jubilant. A little band of Clinton-supporting students from Columbia University periodically marched past, drowning the cheers for Trump. But, the cheers were loudest at the New York Hilton Midtown, the swanky hotel where the victory party was on.
A well-heeled Mona Gampetta, who works in publishing, said, "We want a woman president, we are ready for her. But Hillary is not the woman we want to make history with." Donna Cansassi, a paralegal, said, "Read the Bible. Sinners like Samson became great men. Don't hold Trump's mistakes against him. He will be great. He will make the country great." This reminded me of a Republican debate watch party in Las Vegas three weeks earlier, where a female paramedic said Trump was the warrior the Bible had promised.
Across the square, on the banks of the Hudson, the Clinton party was organised at the massive Jacob K. Javits Convention Centre. Unlike the easy accessibility of the Trump party, this venue was cordoned off blocks ahead and had greater security, police and private. By 9pm, however, the bleakness was palpable here. So, where did the political pundits and pollsters go wrong?
Indeed, at a press briefing on the day of the polling, an illustrious panel of experts spoke about the challenges Clinton would face at home and overseas, and her expected plans to deal with them. When we asked what Trump would do, they dismissed it as merely a theoretical question.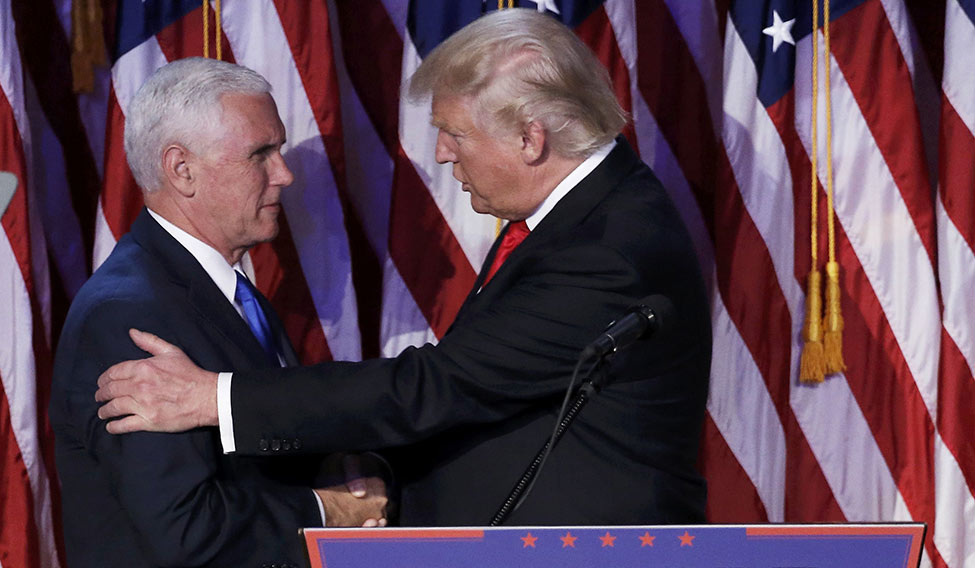 Had anyone bothered to analyse the star-spangled boost to Clinton's campaign in the last ten days, the desperation would have been obvious. Her rallies had everyone from Beyonce and Jay Z to Bon Jovi and Jennifer Lopez to political heavyweights Obama, Bill Clinton and Bernie Sanders. Trump even commented that he did not need them; he was enough for his own campaigning.
Ten days ahead of election day, the writing became clear when polls showed Trump leading Clinton in Florida, the crucial battleground. The Democratic spin dismissed it and said Trump could win Florida and still lose, as the other swing states were with her. But, Camp Clinton almost set up base in Florida after that.
At an early voter centre in Miami, the anti-Clinton feeling came to the surface. The Cuban diaspora, for instance, staunchly Republican, was in no mood to think otherwise. Helen Martinez from Nicaragua was an ordinary Democrat voter, but she said, "This state will go to Trump."
John Tuman, professor and chair of the department of political science, University of Nevada, Las Vegas, said that while Latino mobilisation worked in Nevada at both presidential and senate level (the state just elected America's first Latina Senator Catherine Cortez Masto), the efforts were not enough to compensate for Trump's capacity to mobilise other communities in Florida.
There was a spontaneity about Trump rallies, which were missing in the Clinton galas. And, that struck a chord with many voters. Insiders say that everything that a Clinton supporter would say was first vetted by the team. And, Clinton's remarks were calibrated. An expert group worked on everything, right from the setting of her hair.
Trump, in most cases, spoke his mind, though there were advisers, mainly Rudy Giuliani, former New York mayor, and the master manager of the campaign, son-in-law Jared Kushner. But, his recent speech—when he said, "Donald calm down, keep your head down…." alluding to his own habit of deviating from the script—was a hit, even as he said Hillary had got "unhinged".
Another small clue, largely unreported, was the return of critics to the Republican fold. South Carolina governor Nikki Haley came back, so did Senator John Thune from South Dakota (who once wanted Trump to step down for Mike Pence) and also Congressman Jason Chaffetz from Utah. This got obscured in the tom-toming of Republicans who said they were not with him.
In the flurry of sex-and-lies revelations that have dominated the campaign, a supposedly prude America thought of sex as the lesser evil. Trump survived the revelation of tapes where he crudely boasted a sexual prowess over women who had let him get away as he was a celebrity.
For Clinton, the email server scam was her undoing. Especially the FBI's eleventh hour revelation of re-looking at the case, after it appeared that her official mails were found on the laptop her close aide Huma Abedin's husband used for sexting a teenager. The FBI gave Clinton a clean chit, but the damage was done. She had compromised state secrets.
"For those looking to rationalise what happened, we say the Democrats failed to see what America really wanted," said A.D. Amar of Indian-Americans for Trump. "More than anything else, he built the capability to deliver his vision by not taking money from special interest groups."
Sumit Ganguly, political science professor and Tagore chair at Indiana University, Bloomington, said, "I see the mandate as a culmination of three factors. There was the white hostility to eight years of African-American Obama rule. It was an anti-Hillary vote. It is also part of the global trend towards populism, when bizarre claims by authoritarian leaders woo people. What does Making America Great Again mean?"
Democrat voter Shalini Das, undecided till the last moment, reluctantly voted Clinton. "The party is to blame for the defeat. Bernie Sanders would have been a stronger candidate," she said. Millennials, Sanders's base, could not be converted into Clinton votes.
Atlanta-based author and IT consultant Pawan Kumar said the discontent with the establishment overwhelmed everything else. "The third party candidate got 5 per cent vote," he pointed out. "That is generally a reflection of discontent with the incumbent party."
It was a happy election for the Indian diaspora. Five Indian Americans have won the Senate and Congress elections, a first ever for the diaspora. And, two are women. Kamala Harris from California became the first woman of Indian origin to enter Senate. Pramila Jayapal, a Malayali from Seattle, entered Congress, along with Ami Bera from Sacramento, Ro Khanna from Silicon Valley and Raja Krishnamoorthi from Illinois. Peter Jacob, Kerala-origin candidate from New Jersey, lost the race to Congress.
Now that the people have decided, the government has to figure out how to deal with the challenges. Trump inherits a polarised country. Luckily, his party has retained the Congress and Senate, the latter was a challenge.
Seasoned Republicans were against Trump from the beginning. They could not deal with a johnny-come-lately blazing into the presidential race. They hoped he would fizzle out. They hoped establishment candidates like Jeb Bush would reach the top. Trump was largely fighting alone, compared with Hillary, who had the support of the Democratic party and her own huge team.
Having registered for media updates from both parties, my inbox was inundated with mail and promos from the Democrats. The Republican National Committee barely sent a couple of mails for Trump. Most of his publicity material came from son Eric.
Trump also handled his own Twitter account.
Getting access to Clinton meant working one's way thorough walls of officialdom; Trump decided whom to meet and when. Trump answered questions spontaneously, even when they were unfair. Nobody asked Clinton how she would face defeat, but he was goaded to answer. At the final debate, when Clinton spoke about her plans, all he said was: "You had 30 years. Why didn't you do it? You just talk. You have experience over me. But, Bernie is right, you have wrong experience."
Trump also made people laugh with him. When his wife was panned for her plagiarised speech, he joked that when Michelle makes a speech, people applaud, but when Melania makes the same speech, they jeer.
Several Americans will have to eat crow now. Obama had to invite Trump to the White House, days after he and his wife viciously attacked him and said they feared for the future of their daughters. Many celebrities said they would migrate if Trump won. The Canadian immigration website reportedly crashed after the results came out.
Those who ridiculed Melania Trump for her plagiarised speech, her immigrant status and for being the trophy wife of a man her father's age, now have her as First Lady.
But, in many ways it will be business as usual. As David Denoon, professor of politics and economics at New York University and director of The NYU Center for US-China Relations, said, "China dreaded Clinton becoming president as she was critical of them as secretary of state." Trump's biggest foreign policy challenge will not be 'The Wall' or Russia, but China, the only country which can today challenge the US economically. US trade deficit with China is humungous, said Denoon.
Russia, meanwhile, was among the first to congratulate Trump; President Vladimir Putin expressed hope of repairing severely damaged ties. Russians were accused of launching cyber attacks against Clinton during this election.
Meanwhile, there is one less headache for the protocol department. They have time to define the role of the first gentleman in the White House. Melania has less time to get her inaugural dress ready. After all, it will soon hang near Michelle's at the Smithsonian Museum of American History in Washington, DC.
The 73 days
What will happen between November 9 (Election Day) and January 20, 2017 (Inauguration Day)?
PRESIDENT BARACK OBAMA
* Will be president until noon January 20, 2017.
* Will try to shut down Guantanamo Bay facility, as promised in his 2008 campaign.
* Will try to make the Congress approve appointment of Merrick Garland to the Supreme Court.
* Will push the Trans Pacific Partnership Agreement, a trade agreement among 12 Pacific Rim countries, excluding China.
* Last travels: Greece, November 15. Germany, November 17. Peru, November 18.
* On Inauguration Day, the Obamas might not take the traditional helicopter ride to Andrews Air Force Base. Until younger daughter Sasha finishes high school, they intend to stay in a rented 8,200sqft house in Washington, DC.
PRESIDENT-ELECT DONALD TRUMP
* Will work from 1717 Pennsylvania Avenue, office of the Trump transition team. New Jersey Governor Chris Christie will head the team, which will receive $7 million in federal funding.
* Will finalise legislative agenda for the first 100 days in office.
* Will receive policy briefings, and will attend a Secret Service intelligence briefing. Trump's code name will be Mogul.
* Will work on filling around 4,000 government positions; a quarter of which need Senate ratification. William Hagerty will be director of appointments. Top posts: chief of staff, national security adviser, attorney general and secretaries of state, defence and treasury.
* Will receive the "Gold Codes", the US nuclear launch codes printed on a credit card-sized plastic card called "the biscuit".
Traditionally, the president-elect and his family move into a Washington, DC, hotel on January 15, and into the White House on January 20.