She is an early achiever, having tasted stardom with her first film Rab Ne Bana Di Jodi. Anushka Sharma, 27, is your quintessential median ager. Not content with collecting accolades for acting alone, she has already launched into film production, echoing the spirit of today's youth―diversify, don't keep all your eggs in one basket.
Between taking part in the IIFA awards ceremony and the promotions for her latest release Dil Dhadakne Do, this youth icon shared with THE WEEK some of her dreams for her country and discussed the power of her age.
What does it feel like to be part of this phenomenal demographic dividend?
My teachers in school and college often said that we the people are the strength of our nation. I couldn't grasp the statement completely, until I was exposed to society in an interactive way, attained a reasonable place in my field and travelled internationally. I started to understand what my teachers meant. We have this phenomenal youth population, which is actually the raw material for nation-building.
I am a firm believer that each nation evolves with the kind of energy its active citizens gather and possess. India is perhaps the luckiest nation which, under a vibrant democracy, has around 640 million people at and below the age of 27. Their progress is the nation's progress. I am extremely optimistic that in the years to come, we will be among the select countries that will make this earth a better place to live in. But you cannot expect the youth to contribute towards nation-building if they are wasting their energy fighting for basic social securities. A fair society, free of corruption, will encourage youth to progress.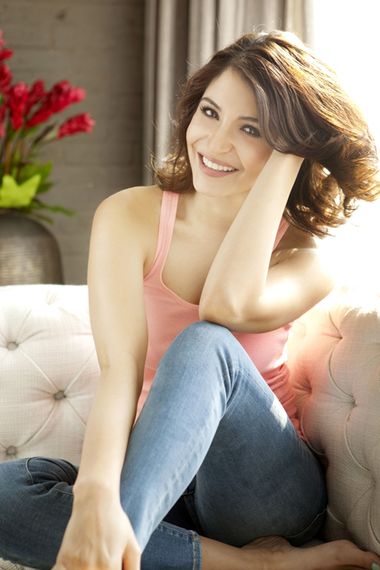 What responsibilities towards India do you feel?
Like any citizen, I feel responsible towards the nation in my own way. I humbly acknowledge that I have been fortunate to achieve a place in society where youth look up to me and observe me very keenly. So I make concerted efforts and follow certain principles in my day-to-day work that would make a good impression on them.In my individual capacity, I like to contribute to nation-building in small ways. First and foremost is self-discipline. I also respect the functioning of the government and its establishments. I make an endeavour to live like a responsible citizen. Responsibility comes before privilege. My endeavour is to always contribute more than what I get or deserve.
What is your dream for India?
I dream for India to achieve a status where my citizenship is counted among that of the most responsible nations. I want my nation to achieve a stage wherein each and every citizen is socially secure and living in an equitable society. I want my nation to meet the expectations of its people and provide them basic necessities like water, food, shelter and a social structure they are proud of, so that they can invest their energy in constructive work.
What, according to you, is the biggest factor pulling us down?
Hypocrisy. We keep complaining about corruption, hostile environment and unhygienic conditions, but shouldn't charity begin at home? Shouldn't we do something to tackle these issues, too? My view is: don't complain, just act. We should remember that we are first citizens of India and our social position comes later. Let us do our best as a citizen. And yes, if you are an influential person, then you are expected to ensure that the organisation under you follows correct practices. You cannot expect others to be fair when you are lacking in your own efforts.
How does it feel to be so young and successful? Where do you see yourself in ten years?
I feel very fortunate and blessed. We have no dearth of talent and skill in our nation. I am sure there are many talented actors who are equally good or better than me but have not reached the stage I have. I was probably lucky that everything fell in place at the right time.
As regards to where I find myself ten years from now, I would simply say that I wish to remain an achiever and progress in life. I haven't set any goal for ten years from now. Right now, I am into acting and producing films and wish to continue doing meaningful cinema, adding credibility and substance to my work.
A message you would like to give to India's youth.
My message is simple. Work hard, be sincere, be righteous and move forward.