Mumbra is often in the news for wrong reasons—communal tension, collapsing buildings, massive land encroachments, illegal immigrants from Bangladesh. This suburb of Thane with a sizeable Muslim population has been electing a Hindu legislator, Nationalist Congress Party's Jitendra Awhad, for more than a decade now. A few years ago, Awhad decided to build a memorial for Manish Pitambare, who died in a gun battle in Jammu and Kashmir in 2006. "Something which will instil secularism and nationalism in people," said Awhad. And he did something unusual. He obtained an old Vijayanta battle tank, painted it and installed it right outside the Mumbra railway station.
Why did Awhad choose a tank? His explanation cites nationalism, bravery and the sacrifice of our soldiers. Still, a tank? "There is something impressive about them," he said. "They are motivating and menacing at the same time." From a commoner's point of view the two adjectives capture everything that a battle tank stands for. For them, it is a symbol of military might and sheer power.
The tank was invented to break the stalemate on the western front in World War I by crossing trenches and penetrating enemy lines. The earliest example of a vehicle which had a similar function could perhaps be chariots and the Roman siege engines—wheeled wooden towers which were used to destroy enemy fortifications. The origins of the tank, however, should not be traced back to siege engines or a chariot. If there was anything that performed a role similar to the modern-day tanks, it was the knight in shining armour. His armour protected him, his horse moved him swiftly and his sword provided the firepower.
These are exactly what make a battle tank unique—it is a perfect combination of mobility, armour and firepower. In fact, two geniuses had envisioned a combat vehicle quite similar to a battle tank—Leonardo da Vinci designed a wooden combat vehicle, and H.G. Wells wrote a story in The Strand Magazine in 1903 prophesying the birth of a combat vehicle.
A century before Awhad made his tank memorial in Mumbra, an Australian engineer named Lancelot de Mole submitted an idea of a tracked armoured vehicle to the British war office. It was rejected outright. Around the same time, Gunther Burstyn, an Austrian army officer, designed what he called Motorgeschutz (motor gun) using American farm tractors. It had a swivelling turret and was lightly armoured. Burstyn's prototype, however, was rejected by the Austro-Hungarian empire citing lack of funds.
The credit for invention of the tank does not go to one person. According to a New York Times report published on October 7, 1919, the Royal Commission on Awards to Inventors had investigated claims of 11 inventors (12 persons, as two of them were a team) of making battle tanks. One of these 12 men was Lancelot De Mole. He, however, did not receive any award. But the commission acknowledged that his design was superior and his ideas were ahead of the times.
First among the award winners, whose claim to have invented the tank was upheld, was major-general Ernest Swinton, a Bangalore-born British army officer. He was awarded 1,000 pounds for advocating the overall concept, setting the design and overseeing the project which resulted in production of Little Willie, the first battle tank, in 1915.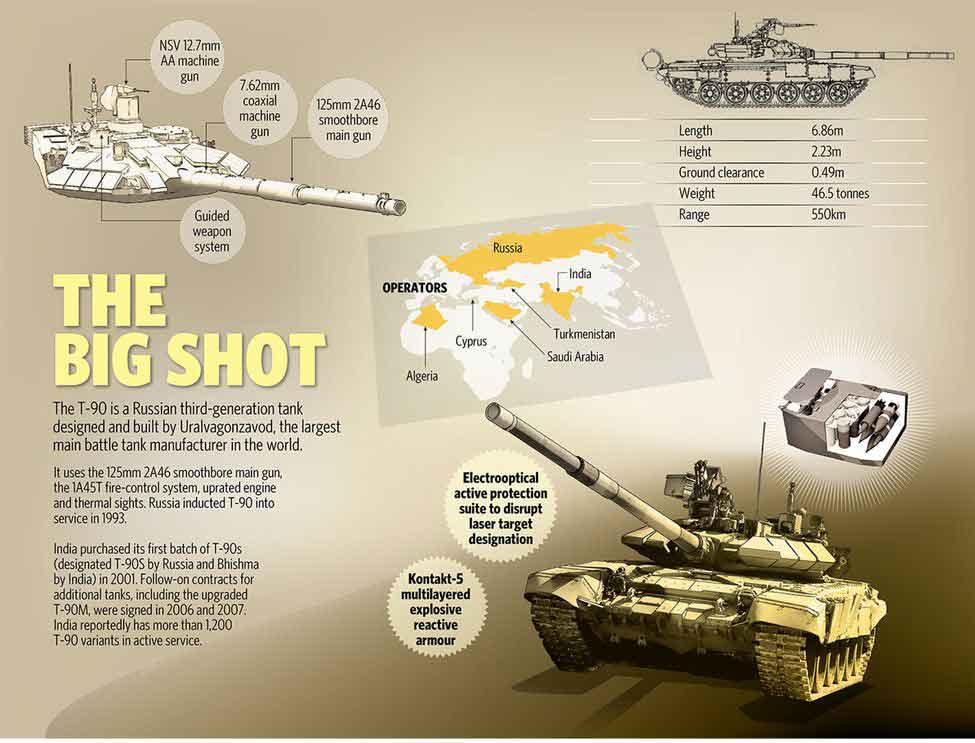 Winston Churchill, who was the first lord of admiralty during World War I, was firm in his belief that no one person could be credited with invention of the tank. Churchill was right. The tank was an idea born out of sheer necessity—resulting from carnage in trench warfare on the western front in World War I, and nobody knew it better than Churchill.
"WHERE THE CONNECTING trench joined in, an unfortunate fellow was stretched out, decapitated by a shell, just as if he had been guillotined. Beside him, another was frightfully mutilated... I saw, as if hallucinating, a pile of corpses... they had started to bury in the trench itself... 'There is no one here but the dead', I exclaimed."
These lines are from Poilu, written by corporal Louis Barthas, who served in the French army. He maintained a notebook while serving in the Great War and that notebook became Poilu, one of the best works to emerge from the war. The book captures horrifying life in trenches across the western front.
Trench warfare could blunt any offensive. "The outcome was deadlock, particularly on the western front in France, with neither side being able to break through other's defences by the traditional massed infantry attacks," writes military historian Richard Ogorkiewicz in his book, Tank: 100 Years of Evolution. "The immediate problem became that of finding a way that would enable infantry to continue to attack in the face of machine guns and barbed wires. In response to this came the proposals for armoured assault vehicles that could pave the way for infantry by attacking enemy machine guns and by crushing the barbed wires."
When these proposals were mooted, tanks were envisioned in a supporting role—to bridge trenches, crush barbed wires and neutralise machine gun nests so that the infantry could launch large-scale attacks. The generals conducting the war wanted the tank, but they wanted it to play second fiddle to the infantry.
Tanks entered the battlefield on September 15, 1916, at the Battle of Somme. Of 49 tanks introduced, only 36 saw action and just nine succeeded in crossing the 'no man's land' to attack German lines. The first tank ever to fire on enemy positions was commanded by a British Jew named Basil Henriques. His machine reached the frontline 20 minutes earlier than expected and he just kept going, writes Patrick Wright in Tank: The Progress of a Monstrous War Machine, a brilliant work on military and cultural history of tank as weapon of war and dominance.
ON THE DAY the British tanks first appeared on the battlefield, the psychological impact they made was immense. The German infantry was simply stunned. It was the German heavy artillery which reacted by pounding these new machines.
The Battle of Cambrai saw the first ever mass use of tanks. German general Erich Ludendorff described August 8, 1918, after an immensely successful tank attack by the enemies, as a "black day in the history of Germany". It was a clear pointer to which way the tanks turned the war.
In the 1920s, military establishments in Britain and France, two nations that effectively deployed tanks against Germany in World War I, were reluctant to accept that the sun had risen on armoured warfare. A handful of men, like Major-General J.F.C Fuller, Captain B.H. Liddell Hart, General Jean Eugene Estienne, tried their best to convince the top brass of the British and French defence establishments that the future wars would be decided by tanks and mechanised forces.
Germany and Soviet Russia, on the other hand, had slowly woken up to the opportunities that tank forces could open up in the battlefield. With the Treaty of Versailles (which ended the war between Germany and the Allied Powers) depriving Germany of having access to tanks, the Reichswehr (military organisation) of the Weimar Republic (which replaced the German empire) relied on the Soviets, and a secret tank warfare school was jointly opened at Kazan in the USSR in 1926. Young German officers who showed interest in mechanised and mobile warfare were trained here.
A wave of reformation was secretly under way in the German Army at this time. It was initiated by its visionary chief Hans von Seeckt, who believed that Germany's tiny Reichswehr—a force of one lakh soldiers—must be open to embrace every possible modern military thought. Born out of this was officers like General Oswald Lutz and Heinz Guderian who creatively used their postings in motorised transport supply units to create dummy tanks. When Adolf Hitler first saw Guderian's real tanks at a parade in 1934, so impressed was the Fuehrer that he kept saying, "This is what I want, this is what I will have."
It was in World War II that tanks became barons of battlefield. If the innovative sloping armour and the 76mm gun made the Soviet T-34 the best practical tank on the eastern front, the 88mm gun and 100mm thick armour made the German Tiger the mightiest.
Tanks clashed in the battles of France, Tobruk, El Alamein, Raseinai, Dubno-Brody, Stalingrad, Kharkov and Kursk-Prokhorovka. At the beginning of their attack on France in May 1940, Germans moved panzer divisions through Ardennes forest. Forests are a hostile terrain for tanks, but the persisting Germans reached the English Channel coastline of France and defeated the French. Interestingly, 18th Cavalry, an Indian armoured regiment, was at the vanguard defending Tobruk in north Africa against Field Marshal Erwin Rommel's onslaught in 1942.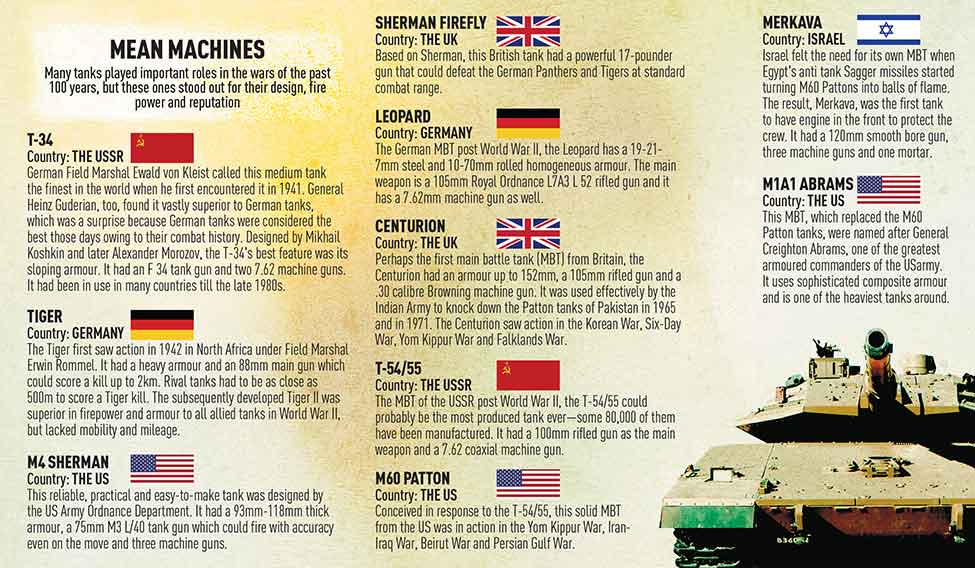 Six years later, India did something astonishing to defend its territory against Pakistani aggression. On November 1, 1948, M5 Stuart light tanks from the 7th Cavalry regiment were dismantled and airlifted to Zoji La pass in the Himalayas—11,000 feet above sea level—by General K.S. Thimayya. He led the battle from a lead tank and recaptured the crucial pass from Pakistani infiltrators. "The greatest Indian strategic success by employment of tanks was the recapture of the otherwise impregnable, 11,578 feet high, Zoji La pass, which enabled them to relieve Leh and recapture vast bulk of Ladakh. These areas, without Zoji La, were for all purposes lost to Indians. Today, the Pakistani army is still paying the price for loss of Zoji La with approximately three infantry brigades committed in Pakistan-held Kashmir opposite Indian-held Ladakh," writes Agha Humayun Amin, a former Pakistan army tank corps major, in his book Handling of Tanks in Indo-Pak Wars.
RECAPTURE OF ZOJI La with the help of tanks was flashed across newspapers in India. This, perhaps, was the moment when a battle tank as a symbol of valour entered Indian imagination and consciousness. "The use of tanks at Zoji La, use of tanks of Central India Horse in recapture of Jhangar and Rajouri in 1948, positioning of AMX 13 tanks of 8th Cavalry at Changu and Nathu La and airlifting tanks of 20 Lancers to Chushul in 1962 were bold moves that paid handsome dividends to the Army. These examples have won accolades all over the world and speak volumes of the brilliant planning and audaciousness of our commanders," said Lt-Gen (retired) Anil Malik, a veteran of the armoured corps.
Every society has, and needs, such symbols of valour. Rana Pratap's famed horse, Chetak, and Tipu Sultan's mechanical toy of a tiger slaying a British soldier, are classic examples of animals and machines becoming symbols of valour. With the recapture of Zoji La, the tank became the latest symbol of valour for the newly-born Indian nation.
Lt-Col Ardeshir Tarapore became another symbol of courage and leadership after the 1965 war with Pakistan. Tarapore, who died in the war, was awarded ParamVir Chakra. He led his regiment, the Poona Horse, from the front, and the cupola of his Centurion tank, named Kooshab, was always open, as he would be standing in it. Tarapore was hit by shrapnel in the initial days of the war. He bandaged it and went back into action. A few days later, he was hit by a shell while standing outside his tank.
Another famed armoured regiment, 3rd Cavalry, knocked out 103 Pakistani Patton tanks in the Battle of Asal Uttar in the 1965 war. Bhikiwind village in Punjab had so many conked-out Pattons that it was called Patton Nagar.
In the 1971 war, Second Lieutenant Arun Khetrapal from the Poona Horse lost his life battling Pakistani tanks in the Battle of Basantar. Barely 22, Khetrapal is the youngest recipient of Param Vir Chakra. Lt-Col Hanut Singh, who commanded the Poona Horse at that time, received Maha Vir Chakra.
Khetrapal had been asked to leave for a training course at Armoured Corps Centre and School in Ahmednagar just before the war started. But he told Hanut Singh about his desire to fight the war along with the regiment. The commandant conducted a course similar to the training course for Khetrapal in the regiment. Khetrapal passed the course with flying colours and Hanut Singh let him command troops in the battlefield.
According to Malik, the Pakistani armour was quantitively and qualitatively superior to the Indian armour in the 1965 war, yet the Indian armour could hold its own. "The reasons can best be attributed to three major factors: leadership, good training and high level of motivation. Superior training, competence in handling the equipment and high level of motivation of the soldiers are hallmarks which the Indian Army takes pride in and are paramount factors in the success achieved in 1965," said Malik, who was commandant of Armoured Corps Centre and School.
Another major factor, said Malik, was the imaginative employment of the armoured force. "At Khemkaran [in Punjab], the Indian Army flooded the sugarcane fields and thus managed to lure the Pakistani tanks inside a horseshoe-like deployment and was able to decimate them. Most Pakistani tanks were slowed down and got caught in the muddy slush," he said.
The 1960s also witnessed a race to design a universal tank or what is now called a main battle tank (MBT). The tanks of World War II were divided into three categories—light, medium and heavy. While the light tanks became obsolete by the 1960s, the heavy ones turned out to be costly and difficult to move around. So, it was the medium tank that eventually evolved into an MBT.
India had been producing Vijayanta MBTs since the mid-1960s, based on a licensed design of British Vickers Mk I at Heavy Vehicles Factory in Avadi near Chennai. After the 1971 war, a programme was launched to make an indigenous MBT. The project suffered long delays and cost escalation, and the first batch of Arjun MBT was handed over to the Army's 43rd Armoured Regiment in 2004. The latest regiment to be equipped with the Arjun is the 75th Armoured Regiment.
"The Arjun is a promising piece of equipment. We, however, need an affordable MBT which can be moved and deployed without difficulty and restriction across the board," said a retired lieutenant-general.
Major General (retired) Rajan Aney, who was additional director general (combat vehicles) for the Arjun project, said Arjun had a lot of good points. "But it is too big and too unwieldy for our requirement. The big question is its tactical mobility. I think it was more of a political commitment than the Army's requirement. Since a lot of funds had been channeled into the project, it was decided to induct 124 Arjun tanks in two regiments," he said.
NO OTHER ARMY has used battle tanks as effectively as Israel's. Its tactics in the Six-Day War of 1967 and Yom Kippur War of 1973 are taught in military academies across the world. One of the fine examples of battlefield deception was destruction of the Egyptian armoured division in a night raid—Israeli commanders knocked off Egyptian T-62 tanks by recognising a peculiar sound from their engines. Israel's own Merkava is one of the best MBTs.
Even as battle tanks were being hailed as symbols of valour in India and Israel, in Europe they had transformed into symbols of terror. German panzers were flag-bearers of the Nazi regime and intimidation. Later, the Soviets crushed civilian unrest in Czechoslovakia in 1968 by fielding tank units on the streets of Prague. A defining image of tanks as monstrosity against civilians was captured when Wang Weilin stood in front of a column of 18 Chinese tanks in Tiananmen Square in June 1989. Never before did the giant machine look so ineffective and the state so helpless.