BJP leaders said the Shiv Sena was yet to come to terms with the fact that a government could be formed so easily without them.
Is the marriage of convenience between the Shiv Sena and the BJP heading towards a messy divorce? The Shiv Sena's attack on former BJP ideologue Sudheendra Kulkarni and its decision to contest all seats in the Kalyan-Dombivali Municipal Corporation elections are clear signs that the already fragile relationship between the two partners in Maharashtra's ruling combine has hit a new low. The Shiv Sena is clearly not happy despite being in power.
The decision to go it alone in the KDMC polls was firmed up on the same day when six Shiv Sainiks smeared black paint on Kulkarni's face. Kulkarni, the chairman of the Mumbai chapter of the think tank Observer Research Foundation, and a former member of the BJP's national executive, was targeted because he had organised the launch of a book, Neither A Hawk Nor A Dove, written by former foreign minister of Pakistan, Khurshid Mahmud Kasuri. The Shiv Sena, which had forced the cancellation of two concerts by Pakistani gazal singer Ghulam Ali, had announced that it would not allow the book release to take place.
On October 11, Kulkarni and Satish Sahney, former Mumbai Police commissioner and head of Nehru Centre, met Shiv Sena president Uddhav Thackeray at his residence. The Shiv Sena leadership, however, was firm that it did not want the programme to take place. Kulkarni and Sahney said the cancellation of the programme would be an insult to the memory of Jawaharlal Nehru, a champion of free speech, and that it would go ahead.
The attack on Kulkarni the next morning was supposed to be the precursor to the disruption of the book launch. Dismissing Kulkarni as an agent of Pakistan, Shiv Sena MP Sanjay Raut said the blackening of his face was a mild form of protest. What saved the day was the timely intervention of Chief Minister Devendra Fadnavis and the excellent security arrangement which was supervised by Deven Bharti, joint commissioner of police (law and order), who made sure that the Shiv Sena did not have its way. "We may not agree with someone's views, but when a foreign dignitary arrives on a valid visa and holds a programme which is not illegal, it is the duty of the state to provide protection," said Fadnavis. "[I] cannot endorse Kasuri, but [I] can't let our state turn into a banana republic. I think the way things have happened has brought a bad name to our state. There could have been better ways to put forth a point of view."
Raut said the chief minister's statement showed that he had failed to understand Maharashtra and had insulted martyrs like Tukaram Omble who died fighting Pakistani terrorists (during the 26/11 attacks) by asking policemen to provide security to a Pakistani. "His statements and his support (to Kasuri) have actually brought us bad name," said Raut.
According to Congress leader Krishna Hegde, the Shiv Sena's real target was Fadnavis. "The attack on Kulkarni has to be condemned, but the real question is about the necessity to release Kasuri's book in India, especially when it is proved that the Pakistani establishment is hand-in-glove with groups hell-bent on carrying out terrorist activities all over India," he said. "Isn't it also a rejoinder to the 'invite and boycott' formula being carried out by both alliance partners?" asked Hegde. He was referring to the boycott of Prime Minister Narendra Modi's three functions in Mumbai on October 11 by Shiv Sena ministers and leaders. They were protesting the fact that Uddhav was invited to these events only at the last minute.
The Shiv Sena leadership feels that the BJP has lost the goodwill of ordinary voters, like the farmers. "The Shiv Sena wanted not just a loan waiver, but a mechanism which would free farmers from the borrowing cycle every sowing season. The state ought to take this responsibility. But the BJP did not do anything," said a source in the Shiv Sena. "We wanted the BJP to ask the Centre for a hefty relief package for the agrarian distress, but the BJP leadership was silent. We had opposed the drought tax in the state cabinet, but the BJP still went ahead with it. It is a 'pickpocket job' because when drought has not been officially declared, how can one collect tax from people," said the source.
Shiv Sena leaders said not even a single charge of corruption had been levelled against its ministers. On the other hand, there have been allegations of serious corruption against BJP ministers like Pankaja Munde and Vinod Tawde. "If the attack on Kulkarni affects the image of the government, what about corruption charges against BJP ministers? Should it not cause much more damage? The prime minister is going abroad. Our chief minister, too, has a liking for overseas trips, but when will we see the outcome of all these?" said the source. He charged the BJP leadership with insulting Uddhav by not inviting him to the foundation-stone laying ceremony of Ambedkar memorial in Mumbai, although the event took place in a constituency represented by a Shiv Sena MP.
Uddhav chose to skip the event and travelled to the drought-hit Beed district in Marathwada to distribute aid to 1,000 farmers. "I am more concerned about the state of farmers than being in power," said Uddhav. The frustration of Shiv Sena leaders is evident as they are not in a position to influence policy making, although they are in power both in Mumbai and in Delhi. Their ministers routinely complain that BJP ministers sideline them and take decisions without informing them. The "remote control" of power is no longer with the Shiv Sena leadership.
BJP leaders said the Shiv Sena was yet to come to terms with the fact that a government could be formed so easily without them. "They joined the government in December after being in opposition for a month. It takes guts to sit in opposition for the entire term when you can easily be part of the government. The Shiv Sena leadership does not have it," said a BJP leader. "The attack on Kulkarni is a poor attempt to create a space within the hindutva vote bank and score over the BJP. What the Shiv Sena leadership fails to realise is the fact that the people are by and large happy with the foreign policy initiatives of the Modi government," he said. "I don't think they will walk out of the government. If they do so, it will be at their own peril."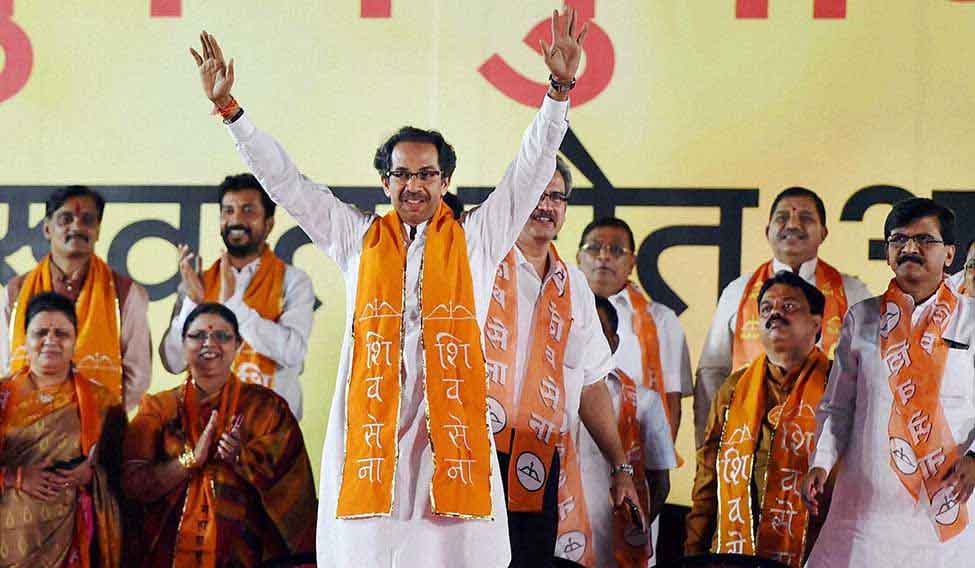 We should not remain prisoners of our history
By Sudheendra Kulkarni
The Shiv Sena had made its threat openly and explicitly, and in writing, to the organisers—they would disrupt the Mumbai launch of former Pakistan foreign minister Khurshid Kasuri's latest book, Neither a Hawk nor a Dove, if the event was not cancelled forthwith. As a rider, they said, "You [we] would be responsible." Viewed in this context, the threat was neither random nor accidental, but something conveyed with a sense of arrogance.
And when they learnt there would be no cancellation of the event, the sainiks planned to attack me in their very own Shiv Sena style. On October 12, as I came out of my residence in central Mumbai and got into my car, a throng of sainiks mobbed me and asked me to come out of the car. Thereafter, they grabbed me, started raising slogans and abused me in ways I do not want to repeat.
"You are a rashtradrohi [traitor]. We had asked you, ordered you to cancel the launch of a book by a Pakistani. But you did not accept our command and now you have to accept our punishment," the sainiks chanted. And, they poured black oil paint on me and my car. Simultaneously, they sloganeered 'Shiv Sena zindabad', and it was apparent from their attire that they were sainiks and that they did not wish to hide their identities.
I did not resist, nor did I get intimidated. I chose to come to my office in the 'appearance' they had given me because I wanted the world to know what the Shiv Sena had done and how they had tried to muzzle our freedom of expression and our right to hold the programme. They thought that we would get scared and cancel the event.
Thereafter, I briefed the media that we were going ahead with our programme. That, in fact, sent out a strong message of our resolve not to bow before the threat of the Sena, and I made it clear that the programme's purpose was to promote dialogue between India and Pakistan.
Just before I had come out of my residence, I had tweeted: "Na dhamki se, na bomb banduk se, na goli se, baat banegi boli se [Neither through threat, bomb, gun, nor bullet, only dialogue can resolve the matter]. Mumbai supports India-Pakistan dialogue for peace."
Now that both nations are nuclear armed, anyone who thinks India can coerce Pakistan into doing her bidding is nursing a delusion. Ditto for Pakistan. So, there is no military solution to the outstanding issues between India and Pakistan. We should instead be looking for alternatives. We should not remain prisoners of history, rather we should create histories.
The concept of people's SAARC [South Asian Association for Regional Cooperation] is of contextual import here—where people play the lead role in resolving bilateral issues. So, it makes every sense to invite someone of the eminence of Kasuri to Mumbai, a city which was so integral to our freedom movement.
I had told [Shiv Sena chief] Uddhav Thackeray that by inviting Kasuri, we do not endorse 100 per cent whatever he had written in his book; that we were aware of the terrorism emanating from Pakistan, and that there cannot be any compromise on that; and that we respect his right to protest, but he, too, should respect our right to hold the programme.
Kulkarni is chairman, Observer Research Foundation, and former aide to prime minister A.B. Vajpayee.
AS TOLD TO ANUPAM DASGUPTA
Mumbai muscle
Founded on June 19, 1966, the Shiv Sena has led high-voltage, violent campaigns against non-Marathis, and Pakistani sportsmen and musicians. Here's looking at history:
* 1966 to 1968: Shiv Sainiks attack south Indians in Mumbai. Slogans like 'lungi hatao, pungi bajao' and 'yandu gundu' were coined.
* October 1991: Shiv Sainiks dig up the pitch at Wankhede stadium, Mumbai; disrupt India-Pakistan cricket series.
* 1999: Shiv Sainiks dig up the pitch at Ferozshah Kotla stadium in Delhi, ahead of Pakistan cricket team's tour.
* 2000: Biharis and other north Indians are attacked in Mumbai. Cadres of the Maharashtra Navnirman Sena, a breakaway faction of the Shiv Sena, join Shiv Sainiks in the attacks.
* 2004: Shiv Sainiks beat up Marathi journalist Nikhil Wagle for criticising a Shiv Sena leader.
* February 2010: Actor Shah Rukh Khan says Pakistani cricketers should be allowed to play in the Indian Premier League. Shiv Sainiks attack Mumbai movie halls that were screening Khan's film My Name is Khan.
* October 2010: Shiv Sainiks attack office of Colors entertainment channel for featuring two Pakistanis on its reality show Bigg Boss.
* 2012: Shiv Sainiks seek a ban on Pakistani artistes participating in Indian television shows.
* 2014: The inaugural season of the Pro-Kabaddi League sees three Pakistani players being withdrawn from matches in Mumbai and Pune, after Shiv Sainiks protest.
* April 2015: Pakistani singer Atif Aslam's concert in Pune cancelled after Shiv Sainiks protest.
* October 2015: Pakistani ghazal singer Ghulam Ali's concert cancelled in Mumbai and Pune. Indo-Pakistani sufi band's performance cancelled in Ahmedabad.