Relief was writ large on Lieutenant Colonel Shrikant Purohit's face as he entered the sessions court in Mumbai on August 22. The Supreme Court had granted him bail in the 2008 Malegaon blast case the previous day. Dressed in a white full-sleeved shirt and grey trousers, Purohit, 45, accompanied by his team of lawyers led by Shrikant Shivde, presented himself before Special Judge S.D. Tekale to complete the formalities of the bail. "I am happy that I will get to spend time with my family after a long time," said Purohit.
The Supreme Court order came weeks after the National Investigation Agency had opposed his bail, saying that he was one of the main conspirators behind the Malegaon blast, which killed six people and injured about 100.
As the legal team was busy with procedural matters, Purohit appeared calm. After asking the judge for permission, he stepped out of the courtroom to phone his wife, Aparna. Surrounded by policemen, he had a brief conversation with her and, as he ended the call, a few bystanders shook his hand. He reciprocated without words and returned to the courtroom. "I want to get back to my family. I have two families, the first is the Army. I do not wish to say anything more," he told the media during the lunch break. On August 23, he was released from Taloja jail in Navi Mumbai and taken to the Colaba military base.
Eminent lawyer Harish Salve, who appeared for Purohit in the Supreme Court, said charges were yet to be framed, despite him being in jail for nearly nine years. "From an unsung hero, he has now become an incarcerated hero," Salve reportedly told the Supreme Court bench of Justice R.K. Agrawal and Justice A.M. Sapre.
Purohit is accused of forming Abhinav Bharat (a right wing organisation allegedly behind the Malegaon blast), collecting funds for it and arranging meetings in which the Malegaon blast was allegedly planned. Salve said Purohit accepted that he had, in 2007, attended meetings of Abhinav Bharat, but had done so as an Army officer in a covert operation, and had informed his seniors about the group's activities. He has been caught in political crossfire, said Salve. He also argued that no "conspirator would ever divulge details of the conspiracy to superior officers". Salve said that there wasn't sufficient evidence that there was any conspiracy hatched at those meetings.
Born in a middle-class Brahmin family in Pune, Purohit had always wanted to be an Army officer. His father, a retired bank officer, encouraged him. Boys in Pune have a fascination for the Army as they see National Defence Academy cadets strolling on the streets on weekends. Purohit was one such boy. He studied at Abhinav Vidyalaya and Garware College in Pune and, after graduation, joined the short service commission. After training at he Officers Training Academy in Chennai, Purohit opted for the Maratha Light Infantry regiment in 1994 and was posted in Kashmir. Around 2003-04, he was transferred to the Military Intelligence, where he continued till his arrest on November 5, 2008. His wife, a doctor, and two sons, Kanishka Vikram and Yashovardhan, live in a bungalow on Law College Road in Pune.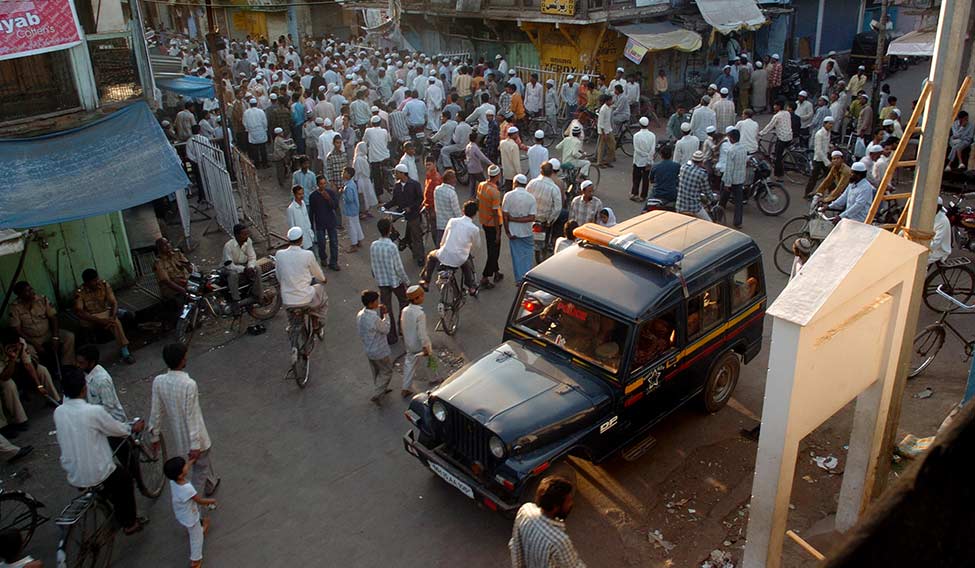 The NIA, which took over the investigation from the Maharashtra Anti-Terrorism Squad in 2011, recommended Purohit's prosecution under the Unlawful Activities (Prevention) Act. The NIA said it had evidence against Purohit in the form of audio, video, call data records and witness statements. "We had opposed Purohit's bail application. The NIA has enough evidence on him to show his involvement in the terror conspiracy," an NIA spokesperson told THE WEEK.
On May 31, 2014, Purohit wrote an 18-page letter to Prime Minister Narendra Modi, explaining how the Maharashtra ATS had used four of his recorded informants against him. Two of them were made co-accused while two were made witnesses. He claimed that he was being made a scapegoat.
While dismissing his bail plea on April 25 this year, the Bombay High Court referred to a report submitted by the NIA, which said Purohit had prepared a constitution for a Hindu rashtra with a separate saffron flag, and had also plotted revenge for atrocities that Muslims allegedly committed against Hindus. The High Court did not accept Purohit's claim that he had attended the meetings as part of a covert operation.
The Supreme Court, while granting conditional bail to Purohit, observed "that the NIA has submitted a supplementary charge-sheet which is at variance with the charge-sheet filed by the ATS, and that the trial is likely to take a long time and the appellant has been in prison for eight years and eight months."
Advocate Sanjiv Punalekar, who represents four other accused, including Sudhakar Chaturvedi and Rakesh Dhawade, said, "We have been saying from the beginning that the ATS has [been up to] mischief. It is on record that Major Pravin Khanzode and Subedar K.K. Pawar had informed Army Headquarters that they had seen ATS inspector Shekhar Bagde in suspicious circumstances at Sudhakar Chaturvedi's house [on November 3, 2008, when he was allegedly not home]."
Said special public prosecutor Avinash Rasal: "Currently, we are arguing framing of charges. Now that Col Purohit has been granted bail, his legal team will soon move an application to discharge him from the case. But, we have to fight with the evidence we have. That is why I am here."
Purohit, in his letter to Modi, had alleged that the ATS planned his arrest on November 5 after planting RDX in Chaturvedi's house on November 3. The ATS arrested Chaturvedi on November 4, said Punalekar.
Neela Gokhale, Purohit's advocate in the Supreme Court, said: "The bench has referred to the alleged role of the ATS in planting the RDX, which the NIA had noted in its investigation. This has raised serious doubts about the investigation. The court has said there are variances in the charge-sheets filed by the agencies." Said a senior NIA official: "We could not find any evidence to sustain the charge that Purohit provided RDX to other accused persons."
Senior lawyer Rohini Salian, who was earlier associated with the case, said: "I left that brief after voicing my reservations about the way NIA was handling the case. However, as a citizen of this country, I feel concerned. It could become a precedent. It could also become a point of reference for other accused to apply for bail. Also, the way NIA has negated important points in the ATS charge-sheet is something happening for the first time."
The UPA government, which had entrusted the case to the NIA, had called it a classic case of "Hindu terror". The BJP had rejected the claim. Purohit's case, however, does not put a lid on the Hindu terror theory. Interestingly, during the bail arguments, neither the prosecutor nor the defence counsel refuted the fact that suspected Hindu extremists held meetings in Bhopal. It is now part of the Supreme Court's records that Purohit was privy to the clandestine meetings of Abhinav Bharat. The fact that he attended certain meetings only strengthens the argument that Hindu extremists might have tried to carry out terror acts, of which he may or may not have been a part of.
There were mixed reactions to Purohit's bail. "Thankful Col Purohit finally got bail. His imprisonment is one of the most dangerous games played by the Congress to protect Pak backed terror groups," tweeted writer Madhu Kishwar. Senior Congress leader Digvijaya Singh, however, tweeted: "It was expected as the present BJP government is protecting all the accused connected with the RSS in all bomb blast cases."
Whether Purohit is an Army operative gone rogue or a man caught in political crossfire will become clear only if the trial in the Malegaon blast case is expedited and daily hearings are held. Till then, he will remain a prime accused in a bomb blast case, out on bail.
WITH NAMRATA BIJI AHUJA
CURIOUS CASE OF COL PUROHIT
Lt Colonel Purohit was granted conditional bail by the Supreme Court, nine years after he was sent to jail for his alleged involvement in the 2008 Malegaon blast.
After completing his education from Garwara College in Pune, he was commissioned into Maratha Light Infantry in 1994.He served in the counter-terrorism operations unit in Jammu and Kashmir from 2002–2005 and was then shifted to Military Intelligence.
ALLEGED ROLE
Projected as a conspirator in the 2008 Malegaon blast, Purohit is alleged to have formed a right-wing group Abhinav Bharat to form a central Hindu government. He claimed to have infiltrated the group as a farmer on the direction of his superiors, which the NIA dismissed as false.
I'm a simple soldier, says Lt Col Purohit
WHEN THE WEEK spoke to Lt Col Purohit in the corridors of the sessions court, he clearly did not want to say anything controversial on the day of his release on bail. Dressed smartly, Purohit was polite even as he stressed that he did not wish to make any political comments. Asked whether he was made a scapegoat by the previous political dispensation (the United Progressive Alliance government), Purohit merely said, "I do not want to say anything now about politics."
On whether the Maharashtra ATS had framed him in the case, Purohit's response was: "I would not like to comment anything on the investigations as the matter is sub judice. All I want to say is that I remain a simple soldier who loves his uniform and the Indian Army. I thank the Army for standing by me."