"Bankers told me my balance sheet was not strong enough and they did not give loan to fitness clubs" - Nitin Kuchekar, owner of Raflex chain of fitness clubs in Pune
Five people make a crowd in the matchbox room on a dingy lane in Regharpura in Karol Bagh, Delhi. But they do not seem bothered, and are busy with their work. The room is the workshop of J.P. Biswas, founder of JPB Micro-tech and Tradex. He buys gold from traders, makes ornaments with it and sells them to clients and jewellers.
Though Biswas has been in this business for several years, he is still struggling to get a foothold. He is ambitious and there is demand for his products, and what is holding him back is lack of capital. He said he was not getting funds only because he is a dalit. A Namoshudro Bengali, Biswas has knocked on the door of every public sector bank. "Banks are unsure of my repaying capability because of my caste," he said. "The moment they see scheduled caste on the application form, their expression changes."
Biswas said he had approached the ministry of micro, small and medium enterprises a few years ago. But an additional secretary told him people from these castes were known to run away with money. He is now trying to negotiate with a private sector bank for a loan at an exorbitant rate of interest.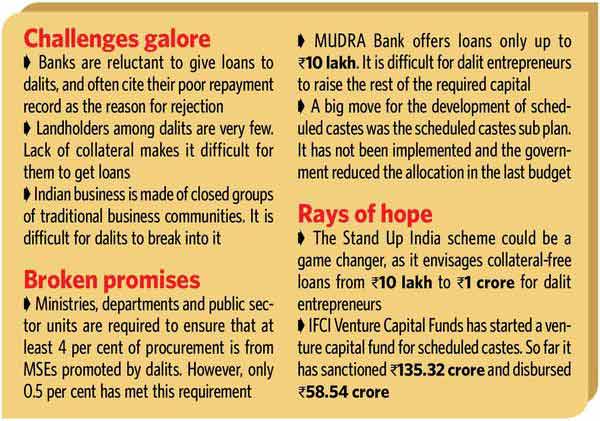 Biswas is a perfect example for how dalits continue to be pariahs in the business world. On December 29, 2015, Prime Minister Narendra Modi invoked B.R. Ambedkar in an address to dalit entrepreneurs. He quoted the dalit icon, saying industrialisation would benefit dalits the most. Four months earlier, he had asked every bank branch to support entrepreneurs from scheduled castes and scheduled tribes. But the scheme is yet to be launched.
The prime minister had also pitched MUDRA Bank (Micro Units Development and Refinance Agency Bank) during his address to dalit entrepreneurs. Of MUDRA Bank's 2.72 crore borrowers, 62 lakh are scheduled caste or scheduled tribe. The problem is, the bank offers loans only up to Rs 10 lakh. It is very difficult for a dalit entrepreneur to raise the rest of the required capital.
Various surveys have found that funding is one of the biggest obsta-cles for dalits to start businesses; more so because they often do not have any collateral to offer. Take, for instance, the case of Nitin Kuchekar, who runs the Raflex chain of fitness clubs in Pune. He approached several banks but no one was ready to lend without collateral. "Bankers told me my balance sheet was not strong enough and they did not give loan to fitness clubs," said Kuchekar, who hails from the Mahar community. He started a small gymnasium with his savings and borrowings from friends. He mortgaged his bike and sold his wife's jewels to raise money. It has been a long struggle, but recently, IFCI Venture Capital Funds gave him a loan of Rs 75 lakh.
There are more than 20 crore dalits in India. Just about 2 per cent of them do any kind of business. That is why IFCI started a venture capital fund for scheduled castes in 2015. So far it has sanctioned Rs 135.32 crore and disbursed Rs 58.54 crore.
One of the criteria to get capital from IFCI is that the business should be registered as a company. "The problem is that most small businesses in India are run as proprietorship, essentially a one-man business. We are encouraging people to register as company. There are 3.61 crore MSMEs in India. Of these 95 per cent are not registered," said Shivendra Tomar, chief executive officer of the fund. Though it is a venture capital fund, its investments are in the form of debt. It charges an interest of 10 per cent. "These entrepreneurs are not very comfortable diluting equity. So, we have structured it in the form of debt," said Tomar.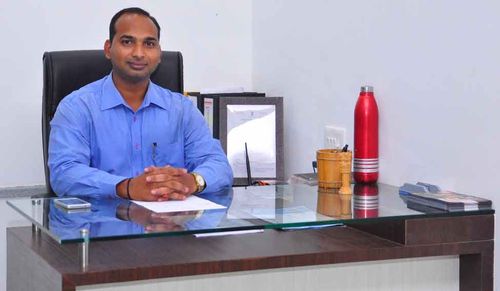 Beyond funding, there is the pressing issue of lack of access to business networks. Dalits have few friends or relatives to bank upon in the business world. "Indian business is not an open market as it seems," said Surinder S. Jodhka, professor at School of Social Sciences, Jawaharlal Nehru University, Delhi. "It is made of very closed groups of baniya, marwari and other traditional business communities. The marketplace can be very cruel for an outsider, that too from a scheduled caste. They do not know the nuances of trade and there are a lot of prejudices in the market. Customers also could be caste-sensitive, adding to their woes."
Dalit entrepreneurs often struggle to get access to markets. To fix this, the United Progressive Alliance government in 2012 came up with a procurement policy. It asked all ministries, departments and public sector units to ensure at least 20 per cent procurement from MSEs, 4 per cent of it from MSEs promoted by dalits. This, however, has not been met. Only 0.5 per cent of the procurement is from dalit entrepreneurs.
While the on-ground reality is bleak, many people think it would not remain so for long. "The Stand Up India scheme will be a game changer," said Milind Kamble, founder of Dalit Indian Chamber of Commerce and Industry. "The scheme envisages collateral-free loans for dalit entrepreneurs ranging from Rs 10 lakh to Rs 1 crore. I am very glad that government has come out with a plan of this scale to help entrepreneurs from our community."
Social scientist and former Plan-ning Commission member Narendra Jadhav, however, has another suggestion to the government—the scheduled castes sub plan. (The sub plan was intended to ensure proportional flow of plan resources for the development of scheduled castes.) "One of the biggest decisions that was taken for the development of scheduled castes was the scheduled castes sub plan," he said. "The sad part is that it has not been implemented. This government reduced the allocation in the last budget. The scheduled castes sub plan should be implemented and corpus of national scheduled caste financing corporations be raised."