As I walked I could hear myself breathing, I could hear my boots hitting concrete, the wind blowing, and little else. It's the silence that makes China's ghost cities so startling. It's not just the deficit of people, but the fact that sound waves just become lost in the extensive empty space between buildings, across streets, and over barren construction lots."
What Wade Shepard has written in his latest book, Ghost Cities of China: The Story of Cities without People in the World's Most Populated Country, could well describe lakhs of unoccupied houses in India. The country has more than 1.1 crore vacant urban houses. Rows of concrete structures stacked together, but without any human presence. Though the number is considerably smaller than China's, where one in every five urban house is vacant, it is alarming, especially when the country faces a shortage of 1.9 crore houses.
Venkaiah Naidu, Union minister for urban development, housing and poverty alleviation, recently said at least Rs3 lakh crore had to be pumped in to build 2 crore houses for the urban poor by 2022. India is at the cusp of a massive rural to urban influx of population, similar to the one that happened in Europe during the Industrial Revolution. In another 15 years, about half of India's population will be city-dwellers. These cities, however, just do not have enough room for their new entrants.
That is why the housing glut in urban India is a paradox that does not fail to surprise. Most of these vacant houses are sold to customers. Who are these buyers? And, why don't people live in these houses?
About two-thirds of India's urban housing shortage is in Uttar Pradesh, Maharashtra, West Bengal, Andhra Pradesh, Telangana, Tamil Nadu, Bihar, Rajasthan, Madhya Pradesh, Karnataka and Gujarat. And, the shortage is almost entirely among the low income groups. While about 56 per cent of this is among households from the economically weaker section, with average annual household income less than Rs1 lakh, around 40 per cent is among households with average annual income of Rs1 lakh to Rs2 lakh. Still, few builders are keen on tapping into the segment.
Akhilesh Tilotia, associate director of Kotak Securities, explains this dichotomy in his latest book, The Making of India—Gamechanging Transitions. "There is huge demand but the supply is not coming at the same price point. Supply is mainly in the greater than Rs40-50 lakh per house category while demand is in the Rs10 lakh segment," Tilotia told THE WEEK.
On either side of the six-lane road that connects Greater Noida with Delhi, buildings stand deathly still. Villas overlooking the lush green golf course still await residents. Some of them are even in need of maintenance. "Noida, Greater Noida and Ghaziabad have a lot of affordable and mid-segment housing options, but there are few takers," said Piyush Pushpak, chief operating officer of the builder Shubhkamna Advert. The company's latest project, City, in Noida, has sold about 65 per cent of the inventories, a laudable effort in today's market. "Oversupply of inventories is another growing concern that is only adding to the existing woes of the real estate market," said Pushpak.
The story is quite the same in Rajarhat, a satellite town of Kolkata. Its property market was kept afloat by the IT crowd. However, Infosys and Wipro recently scrapped their expansion plans here, leaving several realty investors saddled with houses. Only the creation of more white-collar jobs is likely to salvage the situation. "More jobs means that I could have given my apartment on rent to people coming to work here from other cities. Right now my flat is vacant," said an NRI businessman who had an apartment in one the plush complexes.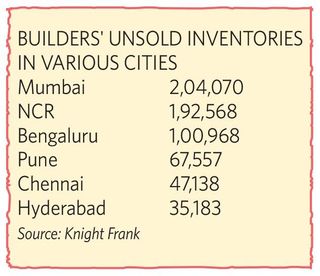 Industrialist Rahul Todi attributes the high number of unoccupied homes to the damp economic sentiment. "Infrastructure development is a problem. There are not many new roads or power plants. Therefore, the overall sentiment is bad. There is a lot of supply for everything and this will go on for the next two-three years if other industries do not start contributing again," he said. Todi had developed a housing complex in Rajarhat, mainly targeting NRIs. Though most flats have been sold, very few are occupied. "If these flats are not resold, then my new projects will not be fully subscribed, too, while operating costs remain. If my investor is stuck, so am I," said Todi.
A 2013 report by a task force on rental housing constituted by the ministry of housing and urban poverty alleviation said that around 37 lakh of 1.1 crore vacant houses, that is around 10.5 per cent, were in Maharashtra; 4.79 lakh in Mumbai alone. In the state, NRI investors and unsold luxury homes are a particular issue. "The trend of unoccupied homes is quite prevalent in cities with large complements of NRIs, and also in the emerging peripheral locations of the larger cities where infrastructure has not caught up," said Arvind Jain, managing director, Pride Group. The Pune-based company has projects in Mumbai, Pune and Bengaluru.
At its peak, real estate attracted many buyers who were in for quick dividends. Developers, therefore, attracted robust investment that, in turn, drove the sector. It was one of the few sectors that were not severely impacted by the global financial crisis. However, in the past few years, the market has slowed down in anticipation of correction. "The market has slowed because the prices are too high. Sales are happening only where the price point is right," said Anshuman Magazine, chairman and managing director of the real estate company CBRE South Asia.
Buying a house these days is easier than ever. Loans are easily available and there is more choice in the real estate market. "But the glut is there because resale is not happening, as people do not want to reduce price. Common people have the holding capacity, but the serious real estate investor is feeling the pinch," said Magazine.
The easing of foreign direct investment in the construction sector has been bringing in foreign realty players to India. Dalian Wanda Group, China's biggest real estate company, has announced plans to invest $10 billion in India in a decade. The Beijing-based group plans to build industrial townships and retail properties. Like what happened in China, a vibrant real estate sector could boost India's gross domestic product. But again, it should not lead to emulation of Chinese ghost towns.
Experts suggest many ways to get around this conundrum. Since most of the unsold flats are in the premium segment in metros and urban areas, real estate players can focus on developing housing for the low-income group that is seeing big demand. "Demand is strong in the affordable housing segment. It has been witnessing a consistent growth year-on-year and will continue to do so in the near future," said R. Vaithianathan, managing director, Tata Capital Housing Finance.
A revamped rental market, too, could change the situation. Jaithirth Rao, who chaired the task force on rental housing, vouched for the creation of a dynamic rental market. "We need to understand that there are lots of people in India who still cannot afford to buy homes. We need to address their demands. A vigorous rental market would help in social mobility," said Rao, who is executive chairman of the Bengaluru-based Value and Budget Housing Corporation.
Greater fiscal incentives will encourage homeowners to rent properties out. Separating commercial from residential properties and providing fiscal incentives to homeowners will help in propagating a strong rental market. "If I own a house and I keep it empty, I pay low tax. If I rent out, property tax and electricity rates go up because it becomes commercial property," said Rao. The government is working on a National Rental Housing Policy with emphasis on urban rental and tenancy.
Another suggestion to unclog the real estate excess is to give first homebuyers tax incentives. Laws restrict the tax deduction on the interest paid to Rs2 lakh for the first house. However, for any additional house purchase, the laws allow full deduction of interest without any cap. Most people use second homes to evade tax liability. By reversing this and providing unlimited deduction to first homebuyers, the government, to some extent, can correct the skewed real estate market.