"My book will bring out many hitherto unknown facts of life in Tihar. It will also highlight the classless society within the prison" - Subrata Roy

Roy is worried about shedding the weight he has gained in prison. Every morning at 6:30, a yoga instructor guides him through his asanas.

Failed attempts to find the depositors have led to murmurs of phantom investors, benami money and money laundering, allegations denied by Sahara.
A couple of weeks ago, Subrata Roy, founder chairman of the Sahara group, called his top officials to a meeting in a swanky conference room with leather-lined chairs and a 42-inch LED screen. Clad in light blue shirt and trousers, Roy reviewed negotiations on selling his assets to raise money for his bail. He ended the meeting with words of encouragement. "Do not lose hope," he told his staff. They need all possible support from their leader, for the conference was held in a guest house within the high walls of the Tihar jail in Delhi. Roy was given permission to use these facilities by the Supreme Court for raising money for his bail.
In March this year, India's self-styled banker to the unbanked completed a year in jail. Roy has been trying to sell off his assets to raise Rs10,000 crore, perhaps the largest bail bond in history, set by the Supreme Court. It may sound surprising, for Roy runs a company which claims to have a net worth of Rs68,174 crore and owns a 36,631-acre land bank.
Roy's flamboyance is gone, but the grit remains. Video conferences with potential buyers run late into the night and take up most of his time. "It is awkward negotiating with investors who know that the discussions are happening from within a prison," said a senior executive. The Supreme Court has given Sahara time till June to pay Rs10,000 crore in cash and bank guarantees to market regulator, the Securities and Exchange Board of India (SEBI).
On June 10, Roy will turn 67 and his company hopes his birthday will be celebrated outside Tihar's high walls. But he has to raise the cash for bail. His first two attempts to sell off assets have failed. If he fails again, the apex court may appoint a liquidator to take his properties apart bit by bit.
Yet, it may not come to that. On May 8, the Sahara group told the Supreme Court that it would hand over to SEBI a bank guarantee of Rs5,000 crore by May 12 or 13 and requested Roy's release. A bench comprising justices T.S. Thakur, Anil R. Dave and A.K. Sikri will hear the case on May 14.
The grey single-storey bungalow where Roy lives today is a far cry from his white marble White House knockoff, Chhabi Roy's Swapna Kuti, in Lucknow's Sahara Shehar. It is, however, an oasis insulated from Tihar's hardscrabble life. Other than his release, Roy is worried about shedding the weight he has gained in prison. He sleeps for more than eight hours a day. Every morning at 6:30, a yoga instructor guides him through his asanas. A full-time attendant provided by the jail authorities tends to him. Company staff buzz around the rooms and occasionally join the boss in a game of table tennis. A childhood friend from Varanasi visits him every day.
The guest house, an improvement on the special cell where he was previously housed, has a bedroom, a conference room, office space and separate rooms for the two Sahara directors, Ashok Roy Choudhury and R.S. Dubey, who were jailed along with Roy. A cook prepares Roy's favourite aloo posto (potato curry with poppy seeds) and fish curry. It is business as usual.
A company magazine, The Truth, circulated among investors, carries testimonials from eminent economists, lawyers, journalists and bankers, defending Roy. Last December, a disconsolate employee whose father had just expired received two phone calls from Roy, offering condolence. A few months ago, he approved the addition of a new Bengali restaurant, 25 Parganas, at hotel Sahara Star in Mumbai. "Life is normal for Saharasri even in Tihar. He is not a convict, please remember that," said a Sahara group director.
Family members and company executives meet him every day. His sons, Sushanto in London and Seemanto in Mumbai, follow his instructions on how to proceed on the sale of assets. Some of his more famous friends have distanced themselves, but sources said several celebrities dropped by or spoke to him over the telephone regularly.
Roy spends a considerable amount of time with undertrials. He is working on a book on Tihar, which is almost 60 per cent complete. A book on life and another on "the fundamentals of the country's ideal development" are ready. "For the last few months, I have written, planned and worked on very good things, more than what I could have done in the same period outside. This has been mainly because there is no social or emotional or relational obligation of any kind," Roy said in a message to his staff. "I must have taken one-to-one interviews with dozens of dreaded prisoners. They have been nice to me and totally frank. I really enjoyed talking at motivational classes for the prisoners."
Roy said the Indian justice system was in bad shape. "My book will bring out many hitherto unknown facts of life in Tihar. It will also highlight the classless society within the prison," he told a close associate. Two undertrials have already landed jobs in Sahara companies.
Roy was sent to prison by the Supreme Court on March 4, 2014 for defaulting on repayment to bond investors a sum of over Rs24,000 crore. Several of his peers facing the heat of scams and opprobrium of default, however, roam scot-free. "Jignesh Shah of NSEL [National Spot Exchange Limited] has investor complaints against him and Vijay Mallya has been termed wilful defaulter by the banks. But why is only Subrata Roy in jail, if not for ulterior motives?" asked a member of a leading stock exchange.
Roy's defence team said his detention was illegal and that civil liberties were violated. "The decision had no basis in law. Contempt proceedings were still proceeding. The judges took a very skewed view of the situation believing SEBI and without examining Sahara's case that money had been returned through the method explained," said senior advocate Rajeev Dhavan. "Even so, while Sahara had said that they would produce Rs17,000 crore, not producing it is a civil contempt which would get imprisonment for six months or a fine of Rs2,000."
Roy's meteoric rise over the past 37 years, from a salesman hawking door-to-door deposits on a Lambretta scooter to an enigmatic business tycoon, has been as curious as his incarceration. In 1978, he joined a small chit fund company called Sahara Finance, which he eventually took over. Over the years, the business grew drawing on as low as Rs10 to Rs15 a day as deposit. Sahara deployed hundreds of agents who collected deposits from villages and small towns. "These agents were always known to the depositors, often a friend or a relative they trusted. The small amounts were not a financial burden to the poor, who were far away from financial inclusion," said a banker.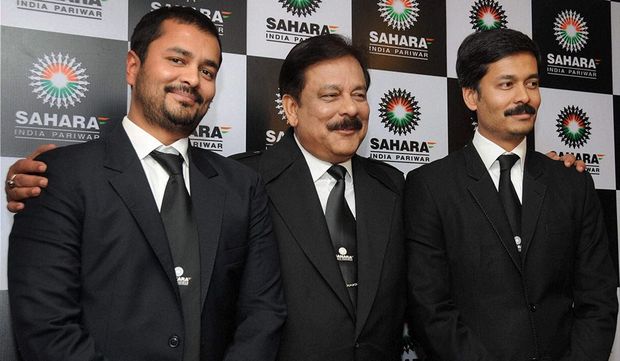 In 2007, with concerns rising about ponzi schemes, the Reserve Bank of India asked Sahara and the Kolkata-based Peerless group to stop accepting fresh deposits from March 2010. But a year later, the RBI barred Sahara from accepting any new deposits. Although it obtained a stay from the Allahabad High Court, Sahara was directed by the Supreme Court to exit the business by 2010.
It was the real estate foray that marked the beginning of Roy's present woes. He joined the real estate bandwagon in 2002 with the purchase of Air India's Centaur Hotel in Mumbai, now called Sahara Star, for Rs115 crore. Two years later, he said he would be pumping in a staggering Rs90,000 crore to develop Sahara townships in 60 cities. He launched a bond issue through Sahara India Real Estate Corporation Limited and Sahara Housing Investment Corporation Limited, to mobilise funds for this ambitious venture. The companies mopped up Rs19,400 crore and Rs6,380 crore, respectively, from nearly three crore investors through optionally fully convertible debentures (OFCDs), which are debts that can be converted into shares of the issuing company.
The trouble began innocuously after Roy planned to list one of his companies, Sahara Prime City Limited. While scrutinising the draft red herring prospectus (a preliminary prospectus filed by a company with SEBI before its initial public offering), SEBI noticed an income tax issue. At the same time, the National Housing Bank and Ahmedabad-based Professional Group for Investor Protection questioned Sahara's fund-raising through OFCDs. A SEBI investigation concluded that Sahara's move was illegal and directed it to return the money. Sahara got a stay on the SEBI order and the matter went to the Supreme Court, which ruled on August 31, 2012 that the company would have to return the money with 15 per cent interest with SEBI as the intermediary.
Although Sahara claimed that it had paid the investors back, the Supreme Court observed that it had paid only Rs5,120 crore. To clear its name, Sahara sent 127 trucks carrying 31,669 boxes of documents to the SEBI headquarters in Mumbai. Sahara officials said SEBI was yet to accept one-fourth of the documents.
The turning point came last year. Citing his mother's ill health, Roy failed to appear in the Supreme Court in SEBI's contempt petition. A non-bailable arrest warrant was issued on February 24, 2014, and when Roy made his first and only appearance on March 4, he was packed off to Tihar and slapped with a Rs10,000 crore bail bond.
THE Sahara group has managed to raise Rs3,117 crore by liquidating some of the properties from its land bank. A 265-acre property in Vasai, Maharashtra, was sold for Rs1,111 crore, 185 acres in Gurgaon was sold for Rs1,211 crore and 104 acres in Ahmedabad for Rs412 crore. The Supreme Court has allowed the sale of a portion of the Aamby Valley City. This township, located 120km from Mumbai and valued at Rs45,000 crore, was where Roy had planned to build a colossal 400-foot residential tower.
The land bank may not be easy to dispose of. Industry watchers said most of Sahara's land was non-contiguous or was located in the hinterlands. A sluggish real estate market coupled with a lack of clarity on direct ownership of several Sahara properties, has impeded sales. "Most of the properties are on the outskirts of tier-II and tier-III cities where there is not much urban development or developers' market," said Pankaj Kapoor, CEO, Liases Foras, a real estate rating and research company. "They were highly over-valued."
Roy also stands to lose control of his crown jewels, the three hotels acquired in 2010—the $726-million Grosvenor House overlooking London's Hyde Park, the $570-million Hotel Plaza and the $220-million Dream Downtown in Manhattan. Sources said although Roy wanted to get them refinanced—at least the New York hotels, where he does not have 100 per cent ownership—they might eventually be put on the block, a matter that had been causing Roy much heartburn.
After several rounds of discussions, hopes were high after Mirach Capital Group, a US-based company, agreed to invest $1.1 billion in Sahara and provide a loan of $882 million to settle a loan from Bank of China. But the deal fell through in March after Sahara accused Mirach of forging a guarantee from Bank of America. "Later on, MCG announced that it is interested only in purchase of three foreign hotel properties, but it has come out that MCG has no such huge funds of its own and is trying to build a consortium of various corporates to jointly fund the taking over of the hotels," Sahara said in a statement. Mirach Capital CEO Saransh Sharma has threatened Sahara with a $400-million defamation suit. After the Mirach debacle, Sahara is now looking at a $900-million deal from the Hong Kong-based Noaum, financed by Spanish bank BBVA, to close Bank of China's loans.
SEBI is still grappling to verify Sahara's depositors. In its annual report for the financial year ending on March 31, 2014, SEBI stated that it had been able to refund only around Rs1.25 crore to depositors. "SEBI has failed miserably in discharging that duty and has simply ignored the documented proofs provided by Sahara," said a Sahara spokesperson.
Failed attempts to find the depositors have led to murmurs of phantom investors, benami money and money laundering, allegations that have been fiercely denied by Sahara. But K.M. Abraham, a former whole-time director of SEBI, who initially investigated the realty bond issue and passed the order against Sahara, feels otherwise. "The country missed a huge chance to expose money laundering. What is the source of the money? No one has answered that," said Abraham, who is now the finance secretary to the government of Kerala. "If Roy is able to cough up Rs24,000 crore and goes scot-free, we would have failed to seize the opportunity to cleanse the system."
Roy's year-long stint at Tihar has led to Sahara struggling to pay even salaries. Junior staff have not been paid for the last three-four months, while seniors are awaiting paychecks for the last seven-eight months. Some of the staff have quit, although Sahara officials said the flock was still very much together. "For the last 16 months, we could not raise a rupee even from any asset as per the order of the Supreme Court. The direction is that whatever money we raise should go the SEBI-Sahara accounts. This has really hit us hard," said a Sahara spokesperson.
Expansions in retail, fast-moving consumer goods and real estate have all been put on hold. Last year, the company was planning to open 8,000 exclusive retail stores and a chain of luxury retail stores with flagship stores in London and New York. Within days of Roy's arrest, came advertisements in newspapers which talked of four lakh new jobs over the next three years. None of these has fructified. "Saharasri's incarceration and the embargo on Sahara's movable and immovable properties have impacted our business. But, we are fully confident that once we are out of this crisis, we will be able to make a robust comeback and would start working with the same zeal and vigour," said the spokesperson.
Seaplane services from Mumbai's Juhu airport to the Aamby Valley City lie stalled. Similarly stalled are the plans to enter sectors like quick-service restaurants, health care, education, luxury real estate, low-cost housing and water-based tourism projects. Plans to develop a Las Vegas-style tourist destination called Saharayn Macedonia near Lake Ohrid in Macedonia, along with a mammoth dairy project spanning 13,096 acres in the country, also hang in limbo.
Back home, nowhere is the sudden decline in the group's fortunes made visible than in the case of the 250-bed Sahara hospital in Lucknow, which was once the city's best tertiary care hospital. Standing on 27 acres in suburban Gomti Nagar, the glittering building designed by Hafeez Contractor is a landmark visible from any part of the city. It is now a pale shadow of its former self. Occupancy is barely 20 per cent and the hospital has acquired a somewhat dodgy reputation as it struggles to stay functional. Government officials said the group had made repeated offers of sale, a telling metaphor for a once-flourishing business group now in poor financial health.
Friendly fire
By Amar Singh

He [Subrata Roy] was my friend, but I have not been close to him for the last six-seven years. Amitabh [Bachchan] was close to him, and used to live in Sahara Shehar. During my political isolation, none of my close friends was there. Subrata did not meet me even when I went to Singapore for my surgery [in 2009]. I have best wishes for him and hope he comes out from there [Tihar].
The Bachchans were much closer to him. Amitabh, Jaya and Aishwarya were on the boards of his companies, but they resigned well in time. Jaya had a home in Sahara Shehar and she used to give Bhai Phonta (a festival celebrating brother-sister relationship) to him. They (Bachchans) had Sahara resources at their command, used Subrata's cars and aircraft. They have distanced themselves from me, too. They are wise people and not temperamental fools. Lots of people attended those [Roy's sons'] weddings, including (Home Minister) Rajnath Singh.
I felt like going to see him in jail. I sent a message to him through the jailer saying I wanted to meet him. But I was told that I couldn't unless Saharasri wanted to see me.
THE WAY OUT
Roy was jailed for not complying with a Supreme Court order to return Rs25,780 crore collected through the optionally fully convertible debenture (OFCD) route by Sahara India Real Estate Corporation Limited and Sahara Housing Investment Corporation Limited to mobilise funds for the group's real estate ventures. While Sahara said it had paid the investors back, the Supreme Court said it paid back only Rs5,120 crore. As part of the repayment process through SEBI, the court has asked Roy to furnish a bond of Rs10,000 crore. Roy stays in jail till he can post this amount, half in cash and half in bank guarantees. His lawyers have informed the court that the money is ready; a hearing is scheduled for May 14.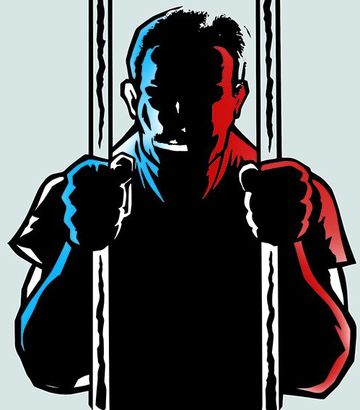 Live life king size
* The Sahara group is worth Rs68,174 crore. It also owns a 36,631-acre land bank. It has around 11 lakh employees on its rolls, manning 4,799 establishments
* The group has interests in businesses as diverse as real estate, sports, media and entertainment, hotels, finance, retail, health care and education
* Roy's two sons got married in 2004 in the presence of 10,000 guests, who were flown into Lucknow in chartered flights. The celebrations lasted a fortnight and reportedly cost Rs500 crore
* Roy reportedly owns a fleet of private jets and helicopters. One of his mansions is modelled on the White House and another on Buckingham Palace
BEHIND BARS
March 4, 2014: Roy sent to jail by the Supreme Court
March 26: The court asks Roy to deposit Rs10,000 crore for bail
July 5: Roy requests the court for permission to use Tihar's guest house for negotiations with potential buyers, which is granted
August 10: Roy puts up the Grosvenor House in London, the New York Plaza hotel and Dream Downtown hotel for sale to raise money
November 23: The income-tax department raids Sahara offices and recovers Rs135 crore in unaccounted money
January 9, 2015: The Supreme Court permits a deal with US-based Mirach Capital
February 5: Deal with Mirach falls apart. The company alleges that Mirach forged a letter from Bank of America, which was expected to be the banker for the deal. BoA says it is not part of the transaction
February 11: Mirach says BoA refused to be part of the deal because of integrity issues with the Sahara group February 13: The Reserve Bank of India moves the Supreme Court against Sahara's plan to sell Sahara India Financial Corporation Limited
March 17: Mirach files a $400 million defamation suit against Sahara
March 23: The Supreme Court gives three more months to Sahara to sell off its properties and raise money
April 11: The Delhi High Court stays the proceedings and the warrant issued against Roy in a case against a group company for allegedly not filing income-tax returns for the assessment year 2013-14
May 9: Sahara tells the Supreme Court that the bail money is ready and that it will hand over to SEBI a bank guarantee of Rs5,000 crore by May 12 or 13. Next hearing scheduled for May 14