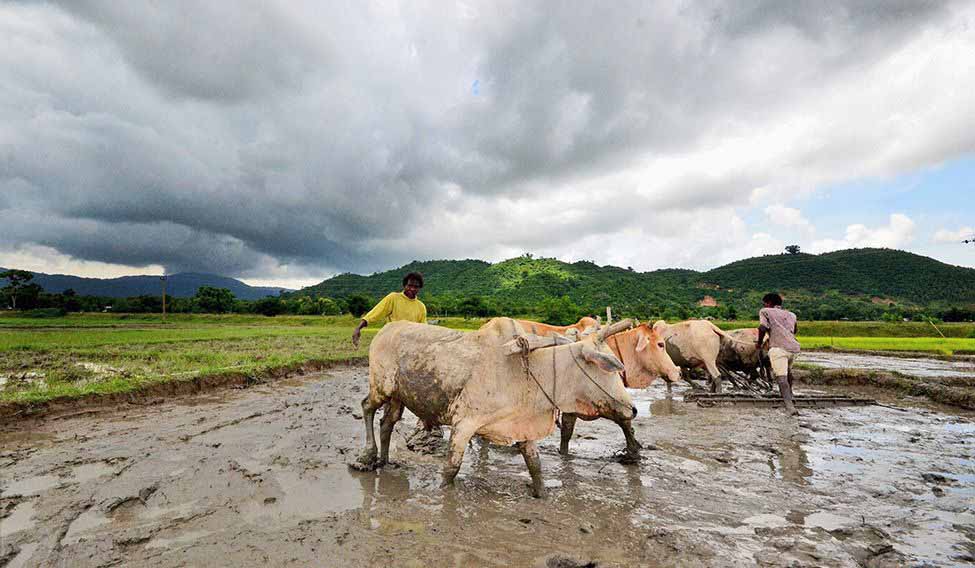 A good way to give the heat wave a miss this summer would be to look at the markets. The regions in the 'red warning' zone on the meteorological map could soon turn into green havens as monsoon knocks at the door. Drought or not, the next four months, between June and September, are bound to provide relief to those choosing to play the markets.
While more than 55 per cent of cultivable land is dependent on the monsoon, 15 per cent of the Indian economy also relies on it. "The equation is simple. More rains translate into faster growth for the economy," says Indranil Pan, chief economist at Kotak Equity Strategy. "A faster GDP translates into a stable market and better earnings for companies."
This time, however, the monsoon situation looks worrisome, given the looming threat of El Nino―rising of temperature in the Pacific that is known to result in drought conditions. But it has not deterred market punters, who know that now is the time to hold on to strong bets. Foreign institutional investors have sensed the change and slowed down on selling Indian stock holdings after a profit-taking spree.
For the farmers, a bad monsoon could spell doom. "The rural demand and growth has already been low since the last few years. We had a poor monsoon last year and this year in March, we had unseasonal rains that damaged crops," says Pranjul Bhandari, chief India economist at HSBC. "So, rural India has already been hurt and another spell of low rains could do more damage."
However, the market is hoping for a better situation and meteorologists say there are enough signs that the monsoon might be better than last year. "The near-drought conditions of last year had affected crop output due to 12 per cent lower than normal rains," says L.S. Rathore, director-general of Indian Meteorological Department. "This year, we are still in a better situation as the rainfall deficit is only five to seven per cent below the normal."
While consumer price inflation index is set to rise on back of food inflation in case of drought in some states, the inflation situation till now is under control. "Global commodity prices of not just crude oil but global agricultural commodity are lower this year, which has provided a cushion to inflation," says Bhandari.
The power sector, in particular those in hydel generation, are looking forward to it. "A drier season had hiked the demand for petroleum goods, particularly diesel, to meet irrigation needs," says a Bharat Petroleum spokesperson.
Power stocks are likely to get a leg up as the monsoon advances. "It is our internal assessment that hydel generation levels are expected to be at least 80 per cent better after the southwest monsoon covers most of India," says a power ministry official.
The market is expected to be choppy once the monsoon picks up as investors may look to book profit. "Some companies in power and banking sectors are expected to provide better results. Manufacturing and infrastructure sectors, however, could show signs of weakness," says K. Subramanyam, co-head, equity advisory, Altamount Capital.
The current dip in the market makes it the ideal time to pick up futures in commodities and stock market and then wait it out for a few months, say analysts.
So how does one beat the vagaries of monsoon? "Inflation indexed futures would be a good bet as investors get the option of profiting from higher inflation rates if the monsoon does become weak and there is drought-like situation in the country," says Jagannadham Thunuguntla, head of fundamental research, Karvy Stock Broking Ltd. Another safe option is stocks of agri-sector companies.
Historically, markets have fared better even during bad conditions. "In 2009, markets received some correction only in the month of July, but later it moved upward to register the years' high," says Jay Shankar, chief economist at Religare Capital Markets. "Even in 2014, when the Indian agriculture economy suffered due to below normal and unseasonal rains, the markets registered higher growth, with sensex crossing the 28,000 mark. This proves that weather conditions normally get discounted and the market looks for new triggers of growth."
The dreaded El Nino factor, which has 70 per cent chance of occurrence this year, had occurred eight times since 1991 and affected monsoon only twice, during 2002 and 2009, when rains were deficient by 19 and 23 per cent, respectively. Meteorologically, a drought is announced when rains are deficient by 20 per cent or more.
Despite fears over the performance of monsoon, investors are wary of the depression in markets. "We expect markets to shine by the latter half of the season and with the beginning of the festival season, starting with Ganesh Chaturthi in September," says Jehangir Aziz, former principal economic adviser to the government, who is now chief economist at J.P. Morgan, India.