Nearly 95 per cent of robotic surgeries are conducted by urologists for treating kidney, bladder and prostate cancers.

"The movement of robotic fingers is far more flexible and the robotic arms can lift heavier patients with relative ease." - Dr Arun Prasad,robotic surgeon, Indraprastha Apollo Hospitals
Burhan Motiwala, 67, didn't think twice before opting for a robotic bypass surgery. He had to shell out Rs 5 lakh, Rs 2 lakh more than what he would have spent for a conventional bypass surgery. But cost was never a factor for the Mumbai businessman. What was more important for him was the doctor's assurance that the recovery would be quicker. On May 24, he became the first patient in Mumbai to undergo the surgery at Saifee Hospital.
"I was told the recovery period would be only 15-20 days as the incisions made would be only five to six centimetres wide between my ribs, due to which there would be less pain and blood loss. I was given a discharge five days after the robotic bypass surgery. I was able to resume my routine 15 days later," said Motiwala, who had three blockages in his artery for which he had undergone an angioplasty two months before the surgery. "However, my cardiologist informed me I would need a bypass surgery as my major arteries were still blocked." A month after the surgery, Motiwala travelled to the US.
In conventional surgery, a patient requires around three months to recover as the rib bones take longer to heal, owing to the use of an instrument called rib spreader, which is also painful, said Dr Aliasgar Behranwala, head of thoracic surgery department at Saifee Hospital.
Though robot-assisted bypass surgery has a good future in India, the high cost could be a deterrent. "Also, not all patients are eligible for robotic bypass surgery. For those who also suffer from diabetes, their blood vessels are far more affected and their compliance is bad, which makes robotic surgery very challenging," said Behranwala. "The issue is that patients who are actually in need of a bypass surgery look for a quick fix and tend to opt for an angioplasty. When a patient suffers from heart attack, that, too, reduces its functioning and again robotic surgery becomes challenging. However, we hope more patients will be willing to opt for robotic bypass surgery in the future."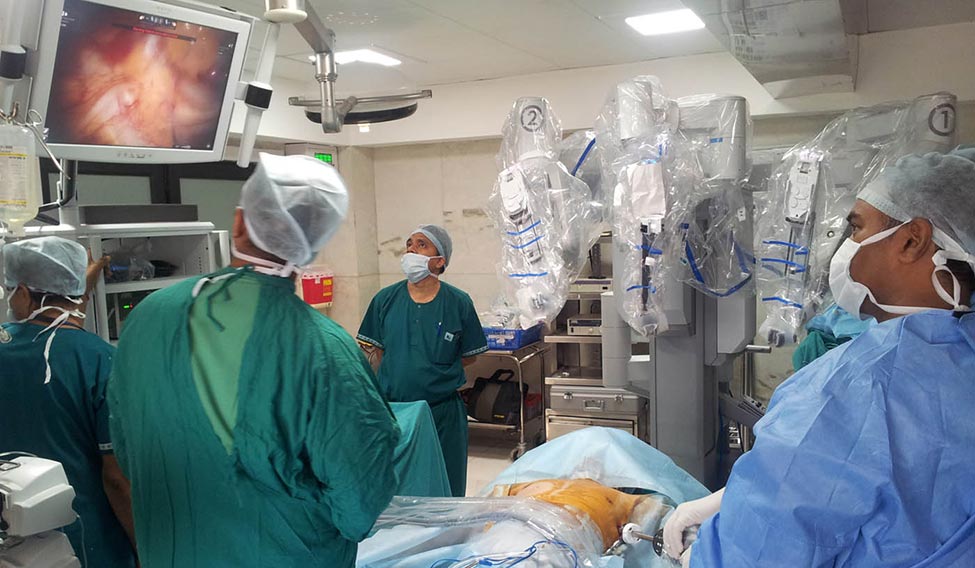 Another issue in making robotic surgeries more accessible, even to those who can afford it, is the challenge of making certain materials required for robotic technology available in the country. "Due to patent issues in India when it comes to medical equipment, it is extremely stressful for surgeons to get some materials required for robotic surgery," explained Behranwala. Two factors that could be game-changers, according to him, are the government's help in getting patents for good equipment and increased awareness among patients.
While robotic bypass surgery is still an extremely rare procedure in India, robotic surgery is a common procedure in urology—nearly 95 per cent of robotic surgeries are conducted by urologists for treating kidney, bladder and prostate cancers, apart from adrenal gland tumours. Post robotic surgery, cancer patients take three weeks to recover fully as opposed to the two months following a conventional surgery.
Dr Anup Ramani, director of minimally invasive surgery and uro-oncological robotic surgeon at Saifee Hospital, said though robotic surgery came to India a decade ago, there was initially some resistance from patients owing to the huge cost. But after three to four years, patients saw the superior outcome of robotic surgery, and today, not a single patient asks for conventional surgery, he said.
"The major issue when it comes to robotic surgeries is that the cost of a new robot is as high as Rs 14 crore for any hospital," said Ramani. "Even tertiary care centres worry about how the robots will pay for themselves as other faculties don't use robotics as much when compared to urology, and a maximum of 25 surgeries are conducted per month. Due to this, it is not widely available in India."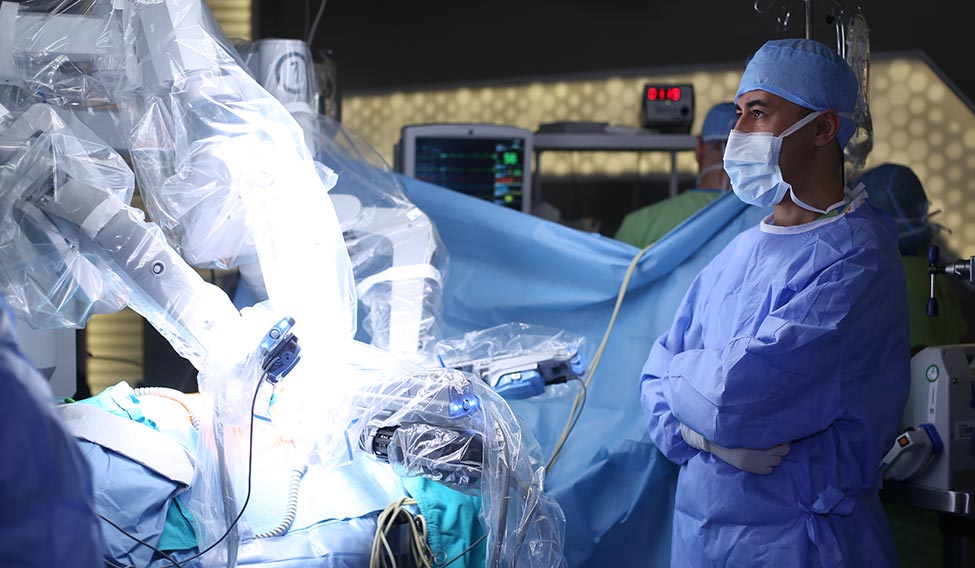 A surgical robot resembles an octopus but with just four arms, and the biggest advantage for urologists is that even the smallest blood vessels look like big pipelines owing to 15 times higher magnification. For patients, there is lesser blood loss and pain. Dr Ashwinikumar Kudari, senior consultant and director, Institute of Laparoscopic Bariatric Surgery and Robotic Surgery at Bengaluru's Narayana Health City hospital, said even for a routine hernia surgery, robotic-aided surgery is a far better option as compared to laparoscopic surgery, especially in the case of recurring hernias. But, it costs a lakh more because consumables, which can be used only six times before the robot stops accepting it, are expensive. "Each instrument costs Rs 25,000 per procedure and at least three of them are used [in] each [surgery]. Due to the high costs, most patients shy away from robotic-aided hernia surgery," said Kudari.
As of now, only 50 centres perform robot-assisted surgeries in India. In the case of bariatric or weight loss surgery, doctors said robotic surgery can be far more beneficial, especially for lifting heavy abdominal walls and muscles and to keep them in that position during the procedure. "That way, crucial stitching can be done with precision. The three-dimensional vision is another major pro in robotic bariatric surgery. Also, the movement of robotic fingers is far more flexible and the robotic arms can lift heavier patients with relative ease," said Dr Arun Prasad, a robotic surgeon at Delhi's Indraprastha Apollo Hospitals.
Even in the case of paediatric patients, robotic surgery provides far more advantages due to finer dissection and suturing. Dr Sujit Chowdhary, senior consultant in paediatric urology and surgery at Indraprastha Apollo Hospitals in Delhi, said in infants and children, most surgeries are about organ reconstruction, and not organ removal as in the case of adults. "Their body cavity is smaller and there is far lesser space for the play of instruments. In laparoscopy, you are introducing a telescope and also three other instruments in the abdomen, but they don't have any manoeuvrability," he explained. "In robotic surgery, miniaturised instruments are introduced and the degree of movement is as flexible as our own hands and wrists, which enables precise dissection and suturing." This is done without cutting open the child's abdomen, which results in far better outcome. So far, Indraprastha Apollo Hospitals has treated 200 paediatric urology cases using robotic surgery at their centres in New Delhi and Chennai, mainly dealing with obstruction to the kidney, blockages at the urethra, abnormality in the bladder and tumours of the kidney.