"There are no adequate facilities in the new room. In fact, when I protested, the electricity supply in my room was cut for one day" - Shaimaa Selim, Eman's sister
About three months ago, Eman Ahmed, weighing about 500 kilos, came to India to lose weight and find hope. Her sister, Shaimaa Selim, had accompanied her from Alexandria, Egypt, to Saifee Hospital in Mumbai, where she is currently undergoing treatment. Shaimaa had written a heartfelt letter to bariatric surgeon Dr Muffazal Lakdawala, who helped them reach India and took on the challenge to restore Eman's life. It made headlines, and a lot of good wishes poured in.
However, on April 14, in a bitter turn of events, Shaimaa alleged, in a video on social media, that Eman's condition was not stable. She even called Lakdawala a liar. The video, in which she speaks in Arabic, soon went viral.
"I am not convinced Eman's weight has dropped to 171kg within three months. They have not checked her weight even once since she was admitted," she said. "Despite the fact that Eman had had a stroke, the doctors decided to shift her out of the special room to the main hospital building. There are no adequate facilities or machines in the new room. In fact, when I protested, the electricity supply in my room was cut for one day."
Shaimaa told THE WEEK that Eman suffered from breathlessness and continued to eat from a feeding tube. She said that Eman would be discharged in May, but she was not yet fit for the journey back home.
Doctors at the hospital, however, rubbished Shaimaa's allegations. Though Lakdawala was unavailable for comment, his colleague, bariatric surgeon Dr Aparna Govil Bhasker, said, "On Tuesday [April 24], Eman's CT scan was successfully conducted. The maximum weight that a CT scan machine can endure is 204kg and, in most cases, if a patient is above even 190kg, there is high risk of the machine getting damaged. This is sufficient proof that Eman is below 200kg. The bed being used by Eman is a specialised one manufactured by Hill-Rom, which can take a patient's weight while he or she is lying down."
Bhasker said Eman's weight was currently 171kg and her condition had improved by about 80 per cent. Other than morbid obesity, Eman also suffers from diabetes, hypertension, hypothyroidism, sleep apnoea, gout, restrictive lung disease, heart failure, and lymphedema, or water retention. Doctors said the co-morbidities were completely under control.
"Only the paralysis caused by the stroke she suffered three years ago remains and it will take a long time to recover from that. We have done our job," said Bhasker. She was one of the doctors who went to Alexandria to stabilise Eman.
"We are extremely demoralised and saddened by how Shaimaa has attacked us on social media," she said. "We are unable to understand what the problem is. We invested our heart, soul, energy and time for her treatment. The least she could do was be grateful. After how we have been defamed, no doctor will want to take up high-risk cases again." She said the crux of the matter was that Shaimaa didn't want to take Eman back home in May as she was anxious about arranging the funds required to continue the treatment.
The doctors at the hospital defended themselves saying that most obese patients continue to suffer from breathlessness post a bariatric surgery. In fact, because of their best efforts, Eman could now sit up for 20 to 30 minutes without any support.
Dr Arun Shah, head of the neurology department at Saifee Hospital, said Eman, 36, suffered from a cerebral infarction, which drastically affected her ability to swallow and caused paralysis of her right hand and leg. "The CT scan proves no fresh stroke happened after her arrival in the hospital," he said. "In terms of further management, medication and neurological rehabilitation therapy will need to be continued as before."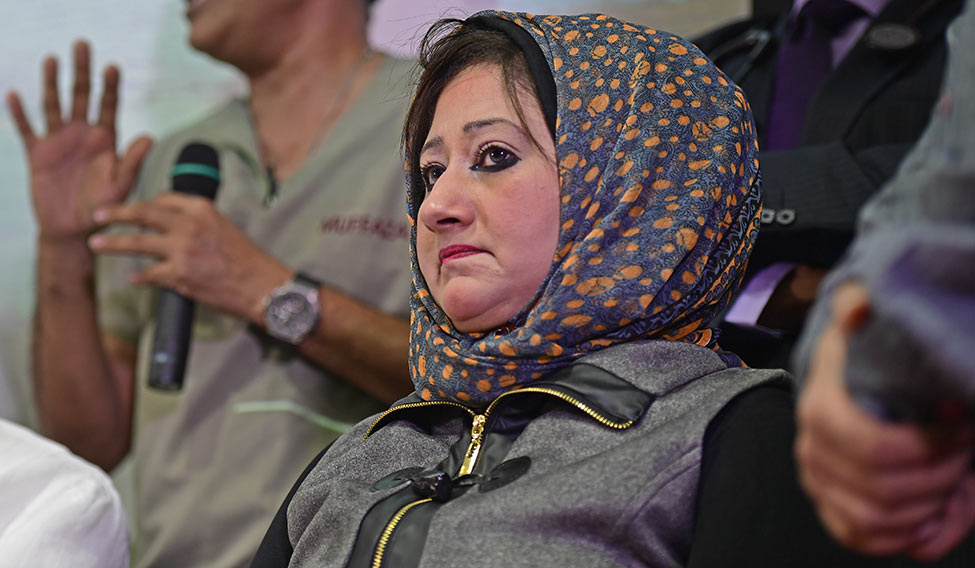 Said Bhasker: "We decided to discharge Eman in May only because we need to ensure our resources are used for all patients and not just one. Shaimaa is misusing the system by creating a sensation. The reason Eman was shifted to the main building was to facilitate her physiotherapy as the department is now near her private room. We have given them five-star facilities and treated Shaimaa like a guest of honour. I have never seen Dr Lakdawala so disturbed."
While Eman continues to undergo physiotherapy sessions, Shaimaa said she was still unaware about when her sister would be discharged. She said she had received an offer for Eman's free treatment from a hospital in Dubai, which she had turned down. "I was told by Dr Lakdawala that Saifee Hospital had better facilities and that's why we decided to come here. But, now I regret it," she said. "I was threatened by the hospital for contacting other doctors and speaking to the media. On Tuesday, I had a meeting with the hospital's medical director, [who told me] that they had already decided our return date, but they still haven't told me the exact date."
She said that Eman has not lost more than 60 kilos. Dr Raman Goel, director of bariatric and metabolic surgery at Wockhardt Hospitals, Mumbai, said, "After one month, a patient who underwent bariatric surgery normally loses 10 per cent of their weight, if the patient is mobile."
As Shaimaa's allegations went viral, THE WEEK spoke to Dr Khaled Gawdat, founder of the Egyptian Society for Bariatric Surgery, who said, "There is great anger in Egypt at the way she [Eman] is being treated in India. The patient was offered comprehensive treatment options in collaboration between Ain-Shams School of Medicine [where Gawdat works] and the armed forces medical services. However, the patient preferred to go to India after she was promised that she would stay six months to a year and would go back home walking. She went to India with great publicity by the surgeon [who said] she had no treatment [options] in Egypt and that he would give her the appropriate care. She was rushed to the private hospital as a marketing tool and not as a humanitarian medical case. After the sleeve gastrectomy, she had a tube from her nose to her stomach for feeding, which is virtually unheard of in the field of obesity surgery. This type of feeding usually ends with patients aspirating and having pneumonia, which can be fatal. Now the doctors realise they are stuck and they want to send her home."
On April 25, 11 doctors of Lakdawala's team, who were treating Eman, withdrew from the treatment. They said Eman was fit to travel back home in a passenger aircraft, adding that she should be enrolled for a clinical trial six months later to treat the genetic cause of her morbid obesity.