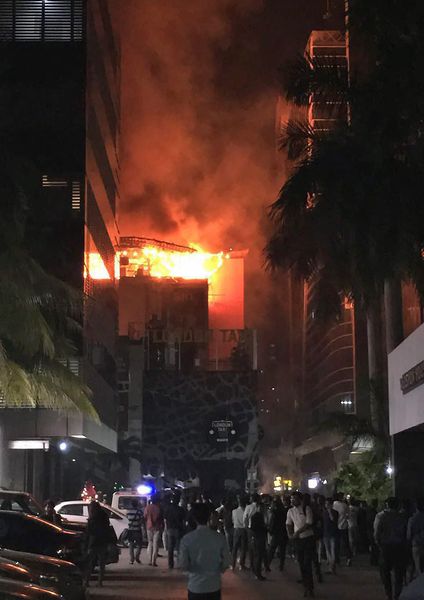 On December 30, the Brihanmumbai Municipal Corporation (BMC) inspected 624 restaurants and bars. Half of them were illegal constructions, and were demolished on the same day. The inspection was triggered by the fatal fire at 1Above pub, in Kamala Mills Compound, Lower Parel. Fourteen had died and 21 were injured.
Prateek Thakur, a Dadar businessman, said: "It was only when I raised the alarm that people saw the fire, panicked and ran towards the narrow exit. There was no fire exit." He suffered five per cent burns when he went back in to look for his wife; she had also escaped, but got separated. "I am sure that the fire was started by a hookah," said Thakur, who is recuperating in a private hospital.
Unable to exit the building, some people ran into a washroom on the ground floor. One of them was Prateek's brother-in-law, Lokesh. "Security guards said no one should leave the washroom, and they insisted that the door be kept closed," said Thakur. "However, Lokesh and the DJ of 1Above managed to escape." All 14 who died—11 women and three men—were stuck in the washroom. They died of carbon monoxide poisoning.
Dr Harish Pathak, head of forensics at KEM Hospital, said, "If there had been a proper evacuation plan, their lives could have been saved." The postmortems were done in KEM Hospital, and none of the deceased had suffered burns.
Among the three dead men were the Lalani brothers—Dhairya, 28, and Vishwa, 26. The US-based bravehearts had helped 12 people escape, by guiding them to the exit. Another victim was Khushboo Bhansali, 29, who was hosting her birthday dinner at 1Above. Her husband, Jayesh, and friend Neha Waghela survived; another friend Kinjal Shah died with her in the washroom.
Managers of 1Above, Kevin Bawa and Lisbon Lopez, were nabbed by officers from the N.M. Joshi Marg police station on January 1. Three of their relatives, too, were arrested by officers from the Byculla police station. Avinash Shingte, senior police inspector, Byculla police station said, "These relatives had helped Bawa and Lopez hide from the police. All three were granted bail on January 1."
Ahmed Pathan, senior police inspector, N.M. Joshi Marg police station, said Bawa and Lopez were charged with culpable homicide not amounting to murder and were remanded to police custody till January 9. "Both of them ran away as soon as the fire broke out, instead of aiding evacuation," said Pathan.
This was the third mishap in central Mumbai in 2017. The stampede on the foot-bridge at Elphinstone Road railway station on September 29 saw 23 people dying. On August 29, Mumbai got 315mm rainfall, and Dr Deepak Amarapurkar died after falling into an open manhole. Shishir Joshi, former CEO of Mumbai First, a think tank that aims to improve Mumbai's quality of life, said, "Two years ago, we had extended private sector support to Mumbai's fire brigade. The offer faded away because city officials were more interested in financial support, rather than knowledge and capacity building."
Stalin Dayanand of Vanshakti, an NGO, said the BMC's demolition drive was just an effort to soothe public anger. "How were 18 restaurants allowed in one building by the civic body?" he said. "In this case, the BMC should be charged with criminal negligence. Last year, the fire in City Kinara hotel in Kurla claimed the lives of eight students. Nothing has changed."