"I have always tried to find Indian solutions for Indian problems. If we can't afford expensive equipment, we have to look for a cheaper option" - Dr T.S. Kanaka

"They asked me if I was going to spend my life looking at black and white pictures and I jokingly replied, who knows if these black and white pictures might become technicolour in a few years" - Dr Sneh Bhargava

"I have missed a lot of my children's birthday parties. I regret it now, but at that time to be able to make a mark in what was a man's bastion, I had to put in extra effort" - Dr Ramesh Sarin

"Cancer is a challenge and setting up a not-for-profit institute was a bigger challenge but I believe that one has to face these challenges as one faces life" - Dr V. Shanta

"A mental disease may have hundreds of manifestations. Even after so many years, I feel as if I am solving a Sherlock Holmes mystery" - Dr Sarada Menon

"Technology, no doubt, has revolutionised the way we diagnose a problem and treat it, but I feel it has claimed clinical skills of a physician" - Dr S. Padmavati
Everything about them is extraordinary, be it their photographic memory, passion for medicine or zest for life. Age is just a number for these women doctors: In their 70s, 80s and 90s, they are still going strong. They see patients every day, perform surgeries, pursue research and write books.
Ask them about the source of their boundless energy and they will tell you it is their passion for medicine. The person who epitomises this is 99-year-old Dr S. Padmavati, India's first woman cardiologist and Padma Vibhushan recipient. "I have not retired; it is just that I work a little less now," she says.
At 85, Dr Sneh Bhargava, too, displays an extraordinary zeal for her profession. "How can I even think of retiring when there is so much to do?" she asks.
We met six such doctors, who took up medicine at a time when it was not a common thing to do for women. However, not only did they manage to break the glass ceiling, these doctors also proved their mettle by having several firsts to their credit. Take Dr T.S. Kanaka, for instance, who is India's first woman neurosurgeon. Despite being discriminated against by her classmates and teachers, Kanaka went on to win international acclaim for the technique she developed to reach the brain for deep brain stimulation. Padmavati, on the other hand, is credited with setting up the first cath lab in north India.
Credited with a career spanning more than six decades, they get invited to many national and international conferences where they share their experiences with the younger generation. After all, they have been witness to radical transformation in medicine, be it technological advancements or medical ethics.
While technology has empowered doctors like never before, they feel, professional standards have deteriorated. "For us nothing was more important than saving a patient's life. Now, the quality of education and the doctors has deteriorated," says Bhargava, a radiologist. "What do you expect from a doctor who has spent Rs 2 crore for a postgraduation seat in radiology?"
While medicine is their first love, an illustrious career is not their only accomplishment. Cardiologist Dr V. Shanta, 88, is a trained singer while Dr Sarada Menon, 92, who is a psychiatrist, learnt ballroom dancing. "If you invest in life, you get returns," says Menon. "Keeping some time aside for oneself is the key to a long professional life. It doesn't lead to an early burnout."
Here they share their fascinating life journeys and their thoughts about the growth of medical science, medical education and India's health care delivery system.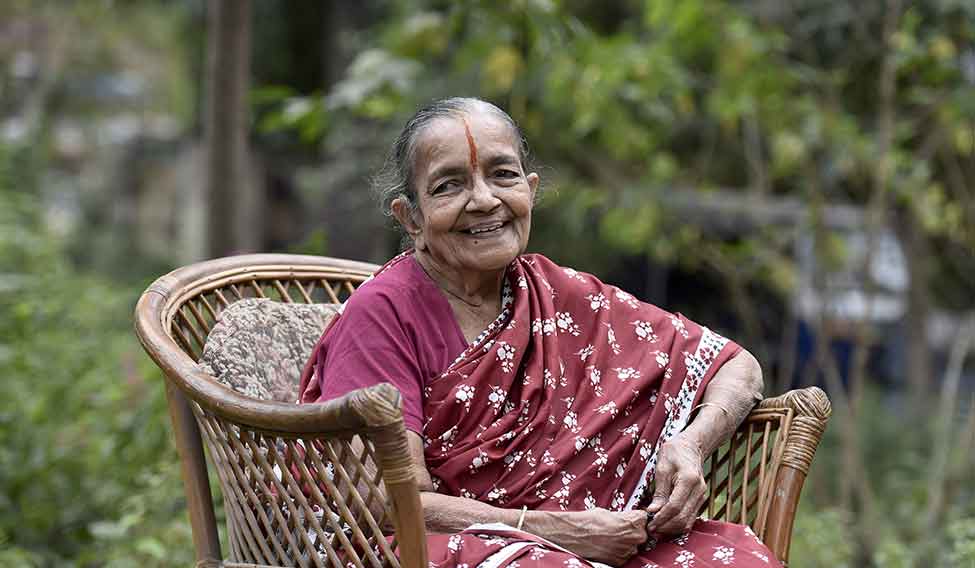 Dr T.S. Kanaka, 82
Neurosurgeon
As a neurosurgeon, Dr T.S. Kanaka's life has always revolved around her patients. In fact, she was so engrossed in her career that she chose to remain unmarried. At her ancestral home in Chennai, Kanaka has rusting iron shelves full of books and papers. The only thing stacked neatly on a steel rack is her patients' records.
"I could possibly be Asia's first woman neurosurgeon," says Kanaka, dressed in a bright red sari and seated in an old wooden chair. "Those days, it was unusual for a woman to get admission in general surgery, leave alone neurosurgery. Along with me, two other women got admission in general surgery simply because they had won the Johnson Medal, the highest recognition for a student at Madras Medical College. But they didn't pursue it."
The only woman among eight students in surgery, Kanaka says, she was discriminated against by her classmates and teachers. "I was not allowed to hold the knife throughout my masters. I was failed five times by the external examiner," she says.
Kanaka persevered and finished the course following which she got an opportunity to work as assistant surgeon at Madras Medical College. Her supervisor, Dr B. Ramamurthy, a neurosurgeon, helped her hone her surgical skills. "That was when I became interested in neurosurgery," says Kanaka. "Ramamurthy used to encourage me to perform surgery whenever a foreign delegate came to the hospital."
Kanaka further specialised in stereotaxic surgery, a relatively new branch in which doctors used manual calculations to reach a particular part of the brain. The age of equipment was yet to dawn in India, and so Kanaka developed her own way of performing deep brain stimulation. After a lot of calculations she would identify the point and insert an electrode in the patient's brain and leave it there. She would then wait for the patient to wake up, and the patient's behaviour would tell her if she had placed the electrode in the correct position. The unique technique brought her worldwide recognition.
A brain research centre in Frankfurt invited Kanaka to present a paper on this technique. "I have always tried to find Indian solutions for Indian problems. If we can't afford expensive equipment, we have to look for a cheaper option," says Kanaka, who is still working on a low-cost deep brain stimulation kit. She also runs a holistic wellness centre at Chrompet in Chennai.
Her evenings are spent listening to carnatic music on a small music system, and reading medical books perched on her wooden chair.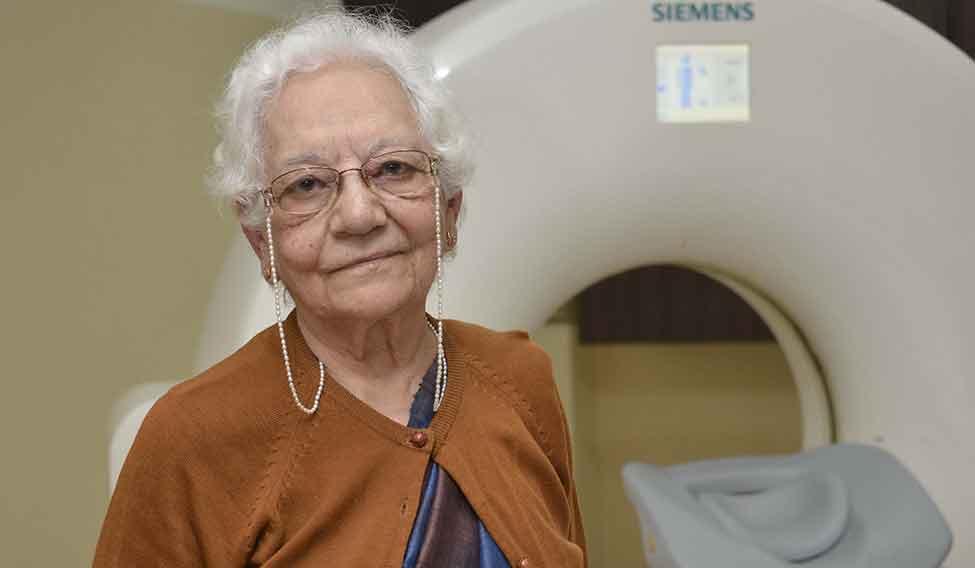 Dr Sneh Bhargava, 85
Radiologist
Her eyes light up when you ask her about her 60-year-long journey as a radiologist. At 85, Dr Sneh Bhargava is as passionate about her profession as she was in 1955 when she passed out from Lady Hardinge Medical College in Delhi and decided to specialise in radiology. Most of her friends had opted for popular and safer fields like obstetrics and gynaecology, and paediatrics and medicine. "They asked me if I was going to spend my life looking at black and white pictures and I jokingly replied, who knows if these black and white pictures might become technicolour in a few years," says Bhargava, sipping green tea from a glass tumbler.
At that time, there were very few radiologists in the country and only Madras Medical College offered a training programme in radiology. In fact, there was just one radiologist in the whole of Delhi. But Bhargava had her heart set on it and wanted to go to the UK to do the course. No scholarships or fellowships were available at that time, but Bhargava's parents managed to send her to Westminster Medical School in London where she studied diagnostic radiology. She returned to India in 1959 with a desire to join All India Institute of Medical Sciences in Delhi, but its hospital wing was yet to open. So she joined Lady Hardinge, where she worked for a year before moving to AIIMS after it became functional.
Her career took a turn in 1972 when she went to Stockholm in Sweden and later to Mass General Institute in the UK on a WHO fellowship. "While I was at Mass General Institute, the chief there asked me to go to New York to attend a neuroradiology workshop where Godfrey Hounsfield, who discovered computerised tomography (CT), delivered a lecture on the imaging procedure and showed the CT scan of the brain," says Bhargava. "It was astounding. Till then we could only dream of getting such images. It was a huge hall, full of radiologists from across the world, and he got a standing ovation. I kept a few of these images and on my return to India went straight to Dr Ramalinga Swami, then director of AIIMS."
Bhargava insisted that AIIMS got a CT scan machine. "The director asked me how it would change the course of treatment and whether I wanted CT or brain machine. CT would 100 per cent change the course of neuro treatment, I told him."
Finally, in 1977, AIIMS got India's first CT scan machine. "All of us—radiologists, neurologists and neurosurgeons—at AIIMS were excited. It dramatically changed the way we were treating neuro problems," says Bhargava. Soon, AIIMS started getting neuro patients from neighbouring countries like Nepal, Bangladesh and Sri Lanka.
While in New York, Bhargava came across another important imaging technique called ultrasound. At first, Bhargava found the ultrasound machine a bit cumbersome. "I attended a WHO workshop on ultrasound at Montreal in Canada, but even that couldn't simplify the machine for me," she says, straightening a pleat in her blue-bronze sari. "For me, there were too many knobs to take care of."
However, a second encounter with the machine changed her perception. "In 1978, I wrote a letter to the chief of Herlev Hospital in Denmark and requested him to allow me to come and learn ultrasound," says Bhargava. "A lot of research went into its improvement. I came back and convinced the director of AIIMS to buy an ultrasound machine. It cost us Rs 3-4 lakh while the CT machine was bought for Rs 54 lakh."
The advent of CT scan revolutionised the way neuro cases were treated in India. "We could now see what we could never see otherwise," says Bhargava. "It enabled us to diagnose tumours at an early stage. Surgeries, too, got refined. Ultrasound, on the other hand, changed the obstetrics and gynaecology procedures at AIIMS."
Radiology has seen major advancements since then. Engineers across the world have combined the two techniques to come up with newer imaging modalities. "Now, we can have images of all the body parts using various imaging techniques—ECG, PET-CT, MRI, etc," says Bhargava, whose child-like curiosity remains intact.
Her colleagues at Dharamshila Cancer Institute in Delhi, where Bhargava is senior consultant and head of Radio-Imaging Services, say she never tires. She visits Sitaram Bhartia Institute of Science and Research on alternate days. So what keeps her going? "Yoga, I believe, and a good set of genes," she says.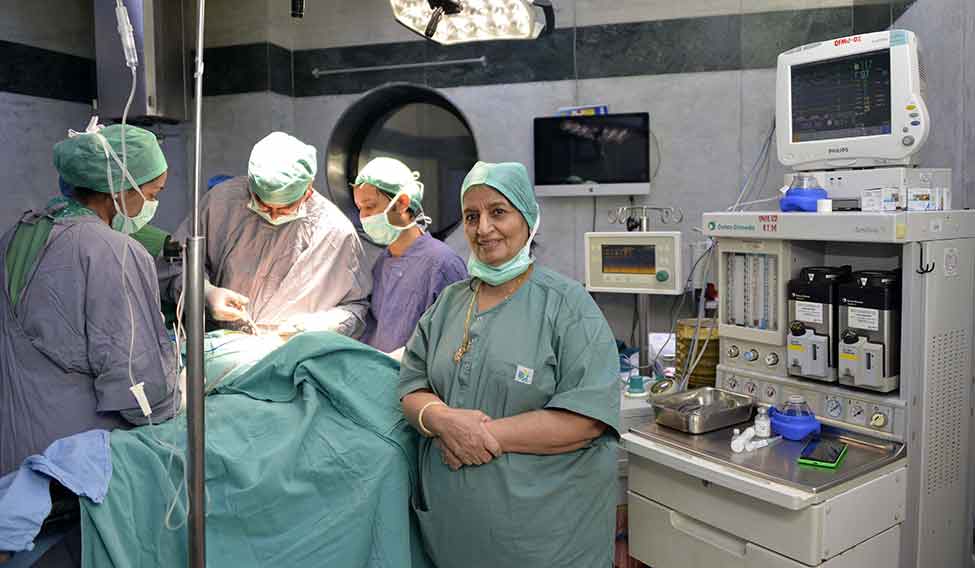 Dr Ramesh Sarin, 78
Oncosurgeon
It is 5pm when Dr Ramesh Sarin finally steps out of the operation theatre at Indraprastha Apollo Hospitals in Delhi after a long day of surgeries. The first thing Sarin does, even before removing her scrubs, is call her daughter. She lives in New York and it is her birthday. Sarin has a brief chat with her granddaughter, too.
At 78, there is no sign of fatigue but Sarin, a breast cancer surgeon, has had to make sacrifices. "I have missed a lot of my children's birthday parties. I regret it now, but at that time to be able to make a mark in what was a man's bastion, I had to put in extra effort," she says. "When I went to England to study surgery, I was the only woman in a group of 20. Initially, nobody, including the trainer, used to take me seriously. I started reaching the hospital half-an-hour in advance. I would see the patients, their reports, make notes and prepare answers to every possible question my consultant could ask while examining these patients. It worked eventually."
Sarin's passion for her work and her liveliness are contagious. Though dealing with cancer patients can be emotionally draining, Sarin ensures that her patients leave with a smile on their face. She gives her patients adequate time to share their fears and anxieties. "I deal with a woman's confidence, her self-image. I have to ensure that she does not lose it with her breasts," says Sarin. "Thankfully, with so many advancements in reconstructive surgery, plastic surgeons can now reconstruct the breasts soon after I finish my surgery."
It was not always this easy. Over the years, cancer treatment has come a long way, and survival rate has gone up. Everything, from the operation theatre to lighting and equipment, has changed. As an intern she used to go to villages to set up surgery camps, and Sarin recounts how ether was used as an anaesthetic at that time.
"We used to make a funnel out of a piece of muslin cloth and tea sieve and administer ether drop by drop in the patient's mouth," says Sarin. "At times, within a minute of administering the dose, the patient would go unconscious and stop breathing. Then the doctors would shake the patient and wake him up. There were occasions when the patient would wake up in the middle of the surgery. Now, within microseconds, a patient goes to sleep and when he wakes up, there is no trace of pain."
Sarin is always willing to adopt any advancement that could benefit her patient. "Earlier, we had to pick every blood vessel while opening the skin for surgery and tie them with a thread. But now with diathermy, an instrument that cauterises the vessels immediately, one can cut open the skin without a trace of blood on the table," says Sarin. "It has minimised the need of blood transfusion during surgery and ensures faster recovery. Pain management, too, has improved post surgical care. A patient feels normal within hours post surgery."
Cracking jokes is a stress-buster for Sarin. "I can never lose weight, you know," she says laughing before turning her attention to the tiffin box of one of her nurses.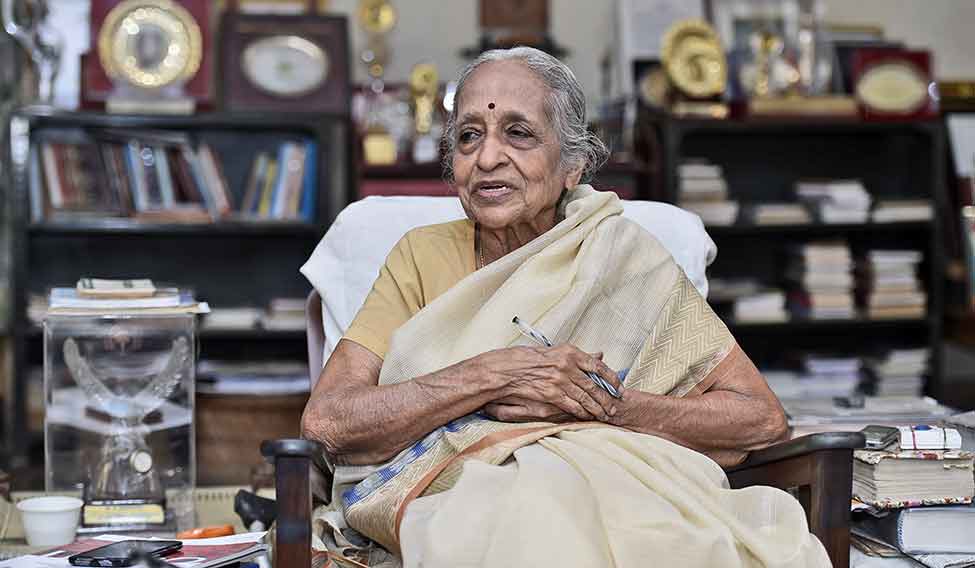 Dr V. Shanta, 88
Oncosurgeon
When we met Dr V. Shanta, she was engrossed in Dr Siddhartha Mukherjee's bestselling book, The Emperor of All Maladies: A Biography of Cancer. "It is an inspiration. I love reading a few parts of the book again and again," she says.
Shanta's first encounter with cancer was in 1955, when she joined Adyar Cancer Institute in Chennai. After completing her postgraduation in obstetrics and gynaecology, Shanta wrote the Madras Public Service Commission exam. She cleared the exam and was offered the post of assistant surgeon in Women and Children's Hospital in Chennai. She instead chose to join the Cancer Institute as its resident medical officer. "One of those little rooms used to be mine," says Shanta, pointing to a small room with a yellow glass door on the first floor of the institute.
"Cancer is as complex as life. Cancer is a challenge and setting up a not-for-profit institute was a bigger challenge but I believe that one has to face these challenges as one faces life," she says.
Right from her school days, Shanta wanted to be a doctor. "My first posting after MBBS was in a cancer unit in a general hospital. Fellow doctor Dr Krishnamurthy's mother Dr Muthulakshmi Reddy was the first woman medical graduate in the country. After Reddy's sister died of cancer in 1923, she wanted to do something for cancer patients."
In 1954, the mother-son duo set up the Adyar Cancer Institute. A year later, Shanta joined for a salary of Rs 200. It was a 12-bed hospital with two doctors, nurses and technicians each. Now, it is a 500-bed hospital that provides free treatment to 60 per cent of its patients.
Cancer treatment in the 1950s, says Shanta, was about surgery and conventional high voltage radiation. People were afraid of it as it used to burn the skin, too. Medical oncology was unheard of. The cobalt unit was the first advancement that came in the mid-50s. "W.J. Green, sales manager at Atomic Energy Centre in Canada, was going from one country to another to sell the machine. He decided to come to Chennai to our centre. I clearly remember that day," says Shanta. "Krishnamurthy called me frenetically and asked me to rush to the hospital. He said some gentleman from Canada was coming, and wanted me to be by his side."
Though the centre didn't have the money to buy the machine, Krishnamurthy was optimistic. "Green was possibly impressed with the kind of work that we were doing and requested Krishnamurthy to buy one unit," says Shanta. "Krishnamurthy told him that though we needed it, we didn't have the money to buy it. In December that year, we got a telegram from Canada saying that they wanted to donate a unit to us."
The Tamil Nadu government, too, decided to give an annual grant of Rs 1 lakh.
The real advancement in cancer treatment, however, happened between 1965 and 1975, says Shanta. But most of them didn't come to pre-liberalised India. Another major challenge before the doctors, says Shanta, was that most patients came to them quite late, with untreatable stages of cancer. So, she decided to start a preventive oncology programme which, Shanta claims, was initiated 20 years before the government came up with a similar programme. In fact, it was Shanta who convinced the Medical Council of India to introduce cancer as a multi-speciality branch of study.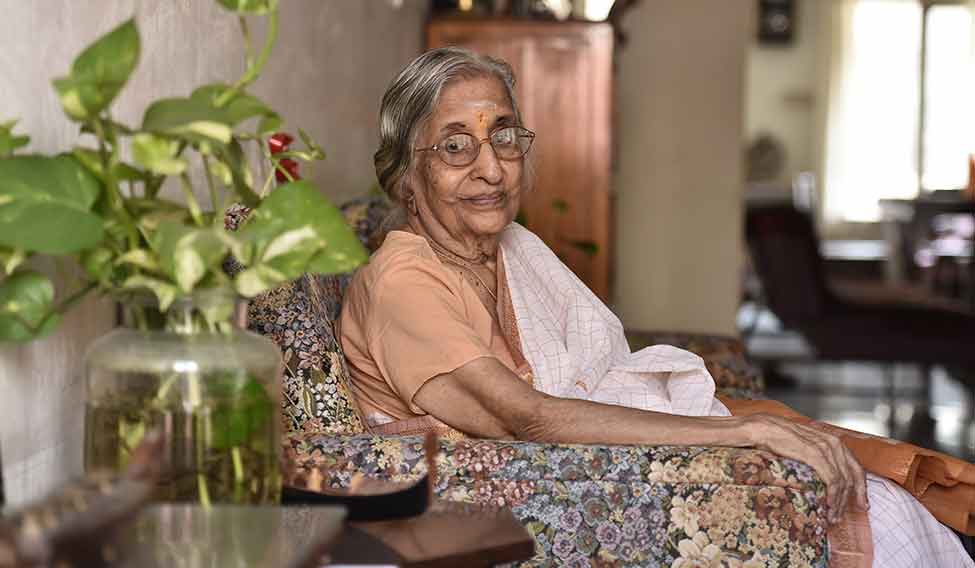 Dr Sarada Menon, 92
Psychiatrist
Sunlight filters through the window panes, making abstract designs on the wall and the upholstered sofas. The teakwood chests are full of souvenirs from across the world. Books on medicine and psychiatry are neatly stacked on a shelf in a corner of the rectangular room. The centre table has a huge pile of Agatha Christie and Sherlock Holmes paperbacks. Dr Sarada Menon, 92, is a woman of varied tastes, and a soothing voice.
Clad in a crisp biscuit-colour sari, Menon picks up one of the books and says, "I always like to read suspense. Even in movies, I like action and suspense. Every week I download and watch a thriller on my computer."
Not surprising, considering that her job as a psychiatrist entails decoding the myriad mysteries of the mind. "Human behaviour could be extremely complex. A mental disease may have hundreds of manifestations. Even after so many years, I feel as if I am solving a Sherlock Holmes mystery," says Menon, who lives in Chennai.
Born into a family that did not encourage career ambitions in its girls, Menon decided early in life that she wanted to do something different. She found her calling in medicine after she met her mother's friends who were doing their residency at Women and Child Hospital in Chennai. They were discussing medicine and Menon, who was just 13 at that time, found it interesting. She asked them if she could visit their hospital. The hospital had a museum where she saw babies with deformities and that is when she decided she would become a doctor.
Though, after school, Menon wanted to study subjects that would help her pursue medicine, she had to settle for history and natural science, which then did not include physics. After two years, she requested the college principal to let her study only physics for a year to enable her to later apply for medicine. The principal granted permission. "Those days, it was easy," she says. "I wrote an application and they accepted it after a brief interview. Only those interested in serving sick people used to apply for medicine. Medical education was not commercialised then."
Though she worked in departments like gynaecology, general surgery and leprosy, she was always drawn towards psychiatry. "It was an unknown field then," says Menon. "During my posting at mental hospitals, I used to wonder what could be responsible for such absurd behaviour in patients. I was sure it had something to do with the functioning of the brain."
Menon studied psychiatry at the National Institute of Mental Health and Neuro Sciences in Bengaluru and was posted as superintendent at a mental hospital in Chennai. "It was difficult. I had to start everything from scratch," says Menon. "Along with doctors and nursing staff, I also recruited some social workers to coordinate between patients, their families and the doctors during the treatment. I started a daycare hospital, where we used to treat and take care of the patients during the day and send them back in the evening. Patients suffering from psychiatric illnesses like to be in a familiar environment. I realised that if you treat them in a daycare facility for a week during the acute spell of illness, they don't require hospitalisation."
Advancements in psychiatry have been slow but significant. In the 1950s, only one drug, clorpromazine, was available, but now a lot of drugs to treat different symptoms like anger and delusion are available. "We started rehabilitation programmes like spinning, weaving and mattress-making for patients who recovered from the illness," says Menon. "It gave them an opportunity to socialise and interact, something very important for their inclusion in society."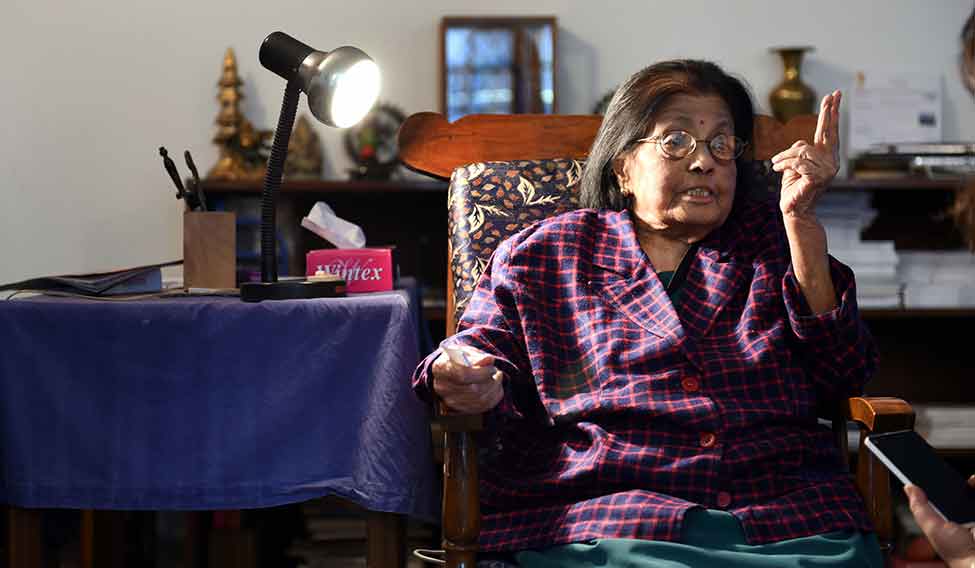 Dr S. Padmavati, 99
Cardiologist
Dr S. Padmavati is busy writing her autobiography. And, why not, her life story is worth being told. Born in 1917 in Burma, Padmavati moved to Coimbatore in 1941, during World War II, with her mother and four sisters after completing her MBBS from Rangoon Medical College. "We took the last flight from there, and for five years, we didn't hear from my father and brother. We didn't even know if they were alive. Those were tough days," she says.
But nothing could stop her from pursuing medicine. In 1949, she first went to London and then to Edinburgh for postgraduation. Later, she won a fellowship to study paediatric cardiology at Johns Hopkins University under Dr Helen Brooke Taussig, who is known as the founder of paediatric cardiology and adult cardiology at Harvard Medical School under Dr Paul White.
She returned to India in 1952 and started the first cardiac clinic and cath lab in north India at Lady Hardinge Medical College in Delhi. The department became so popular that even men with cardiac problems started coming to the hospital, which treats only women. "For the doctors and staff working in other departments, it was unusual to see men in a women's hospital," says Padmavati.
A lot has changed since then. Even the cardiac problems that patients present with are different. Earlier, rheumatic heart disease and cor pulmonale or enlargement of the right side of the heart, were more prevalent. Now, it is coronary artery disease, which is a result of faulty lifestyle—wrong eating habits, lack of physical activity and tobacco consumption—that is more common.
What does Padmavati think of the technological advancements in cardiac care? "Technology, no doubt, has revolutionised the way we diagnose a problem and treat it, but I feel it has claimed clinical skills of a physician," she says. "It is unfortunate that now young doctors rely only on technology, which has resulted in an increase in the cost of health care."
Padmavati still meets her patients and visits Indian Heart Institute in Delhi, which she founded in 1977. "Till last year, I used to go for my favourite activity, too, which is swimming. But the walk from the parking lot to the pool is a bit tiring for me now," she says. "You see, I am not keeping well nowadays as I have a slight chest infection. But I will be back soon to be with my patients."