A car accident around six months ago left Shiva Charan, 23, with multiple fractures in his cervical vertebrae and a severe injury in his spinal cord. He was paralysed and his lungs were compressed and he could not breathe normally. He underwent surgery at Apollo Hospitals, Hyderabad, to fix the fractures. But even after a week, Shiva Charan was on ventilator and was breathing through a tube inserted in his chest. The doctor told his father, a farmer, that he would be needing intensive care for a long duration.
Dr Mahesh Joshi of Apollo Homecare, a venture of Apollo Hospitals, suggested that Shiva Charan be shifted home, where an intensive care unit could be set up. His mother, Surekha, wondered how that would work, seeing that he was still on life support machines. "He was breathing through one pipe and eating through another. His ventilator used to beep constantly," says Surekha. A team of counsellors, however, assured her that Shiva Charan would remain under a doctor's supervision day and night, and two nurses would constantly be by his bedside. A respiratory therapist and a physiotherapist would also visit him twice a day till his full recovery.
After a few counselling sessions with the treating doctor, the family agreed to move Shiva home. A team of experts visited their home to look for an appropriate place to set up an ICU. All standard ICU equipment—a bed with special mattress, monitors, bi-pap machine, portable diagnostic machines, defibrillator and oxygen concentrator—were installed. Under a doctor's supervision, Shiva was brought home in a fully equipped critical care ambulance. "I was amazed to see that he was looking relaxed. His condition improved faster at home. On his birthday on August 23, all his friends came home and remained with him all night," says Surekha. Five months on, Shiva is off the ventilator and tubes. He can walk with the help of a walker and speaks fluently.
Likewise, Amita Dhawan (name changed on request) converted a room on the ground floor of her house in Mayur Vihar, Delhi, into an ICU for her 83-year-old grandfather. He had suffered a massive stroke in December 2014. After treating him for a month, the doctors asked the family to take him home. "Though he was still critically ill, the doctors felt that nothing more could be done medically. He needed continuous intensive care. Hospital bills were escalating with each passing day," she says.
That is when Amita found out about Health Care at Home, one of the first few companies in India to offer an ICU setup at home. She contacted them and a representative from the company paid a visit in the hospital. He met the doctors and later visited Amita's home to select the room for the ICU setup. All the equipment was installed and checked before the patient reached home. A doctor paid them a visit and set up all the required interventions including the food pipe. Then came a nutritionist, who briefed the family about his diet, helped them prepare the fluid food and gave them detailed recipes to follow. "It has been almost a year now and my grandfather is doing fine, though he still requires care. Had he been staying in the hospital for this long, it would have been very difficult for him as well as for the family," says Amita.
At home health care is proving to be a boon for people suffering from chronic diseases, especially elderly patients, pregnant women and those requiring medical care for a long time. And, it is not restricted to nursing care or physiotherapy. Such companies are providing complex health care such as ICU, birthing services, dental treatments, dialysis services and much more. "Technology is changing the whole ecosystem of the health care industry. Portable equipment are fast changing the health care delivery in the country," says Vishal Bali, cofounder of Medwell Ventures, which owns Nightingales—a company that provides at home health care.
Says Dr Gaurav Thukral of Health Care At Home: "When we started, people were sceptical of our services. They used to say what can be cared for at hospital is meant to be cared there only." Thukral points out that with a population of 1.2 billion and an increase in life expectancy, India will soon be facing an acute shortage of hospital services. There is already a shortage of doctors and nurses. Besides, the number of patients requiring intensive care has gone up dramatically in the last few years, owing to the growing incidence of chronic diseases such as diabetes, chronic obstructive pulmonary disease, coronary artery diseases and stroke.
Experts say at home health care is a relief for overcrowded hospitals as well as patients. "The advantages are tremendous. Not only does it save the family over 60 per cent on the medical bill, but it reduces the risk of patients acquiring a deadly hospital infection. Besides, it is easy for the family members as they don't have to shuttle between the hospital and home," says Anitha Arockiasamy, president, India Home Health Care.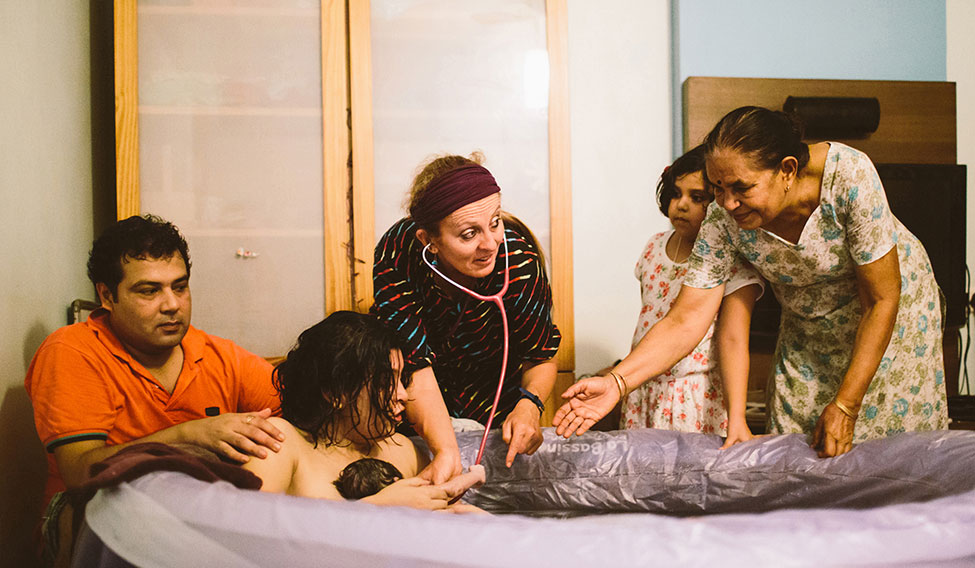 Another major factor is the heavy traffic on the roads. "A lot of expectant mothers subscribe to our services because they find it difficult to travel to hospital. Then, they don't want to spend hours waiting for their doctor to see them," says Lina Duncan, founder of Mumbai Midwife, a company that provides at home birth services. Duncan, who trained as a midwife in the United Kingdom, came to India in 2008 and, with Mumbai Midwife, brought the concept of home birthing back to urban Indians. With government promoting institutionalised child birth, people were wary of using her services. However, now the demand is growing. "We have helped six women in their delivery in the past couple of months," says Duncan.
One of them, Shivani Sharma, 35, had engaged a trained midwife for her first pregnancy six years ago. But, for her second baby, she chose to give birth at her home in Andheri East. As soon as she conceived her second child, she contacted Mumbai Midwife. The team assisted her throughout her pregnancy, taking care of her blood tests, ultrasounds and diet. And when the contractions began, a team was at her home. A birthing pool, filled with warm water, was put up in her bedroom. The midwives kept a constant check on the vital signs of the mother and the baby. As a backup, an ambulance waited at the gate, in case of any emergency.
Shivani was moving around in the house, joking with family members and listening to music till her intense labour started. With her husband, Anurag, and daughter by her side, she gave birth to a healthy male child. "It was such a beautiful experience," she says. "There was no tension and I didn't feel like a patient, as you generally do in a hospital. The next morning, my husband took the baby to the doctor to check his blood group, and that's it."
Companies like Mumbai Midwife offer different packages. A full package includes five visits during the pregnancy and they do everything from blood tests to ultrasound in the comfort of your bedroom. Dr Ameet Dhurandhar of Surya Hospital, Mumbai, who supervised Shivani's labour, says one has to be careful while allowing a woman for home birth. He advises home births only to women with low-risk pregnancies, preferably second time mothers who had a normal pregnancy the first time. Otherwise, he asks them to opt for an in-room birthing service in hospital. "In all these years I have realised that a relaxed environment of their choice makes giving birth a pleasant experience for women," he says. "It also aids in natural birth. I allow them to choose the curtain colours, lighting and music before they go into labour. It stimulates happy hormones in their body, which assist them in giving birth."
There are people who are opting for at home medical services for other reasons, too. Take, for example, Ashutosh Rai, 40, an IT professional in Bengaluru, who had a toothache for quite some time, but was wary of visiting the dentist. When the pain became unbearable, he searched online for a suitable dental clinic near his home. But instead, he found a company that provided at home dental services. He fixed an appointment, and the dentist visited his home along with an assistant, who carried a huge suitcase and a portable chair. In a matter of minutes, they set up a full-fledged dental clinic—with a dental chair, a motored table with all the drilling, cleaning and fixing equipment—in a corner of his living room. Rai's root canal was done in five sittings, all at his home and at his convenience. "I was not sure of the service initially and went for a simpler cleaning procedure. But they were wonderful," says Rai. Besides, the other family members got a free dental checkup.
Dr Mridula Radhakrishnan was working as a private practitioner in Bengaluru before joining Nightingales. "Earlier, my clients used to be elderly people who found it difficult to visit a dentist multiple times," she says. "But now a lot of young busy professionals are approaching us for these services. We provide all kind of dental treatments except laser treatments and complex surgical procedures."
The elderly are the ones benefiting the most from these at home health care services. For Nimmi Timothy, 73, the nearest reputable dental clinic was 38km away from her home on the outskirts of Bengaluru. Thanks to Nightingales, the dentist now comes home. "It is the best service that can be provided to the elderly as dental treatment requires multiple visits to a dental clinic, which is very difficult for us," she says. Agrees Sarah William Joseph, 72, who lives in a senior citizen home in Bengaluru: "I became a member of Nightingales and now five of us here are its members. My friends say they can't thank me enough."
Care at a cost
* With an ever-increasing population and an increase in life expectancy, India could face a shortage of hospital services
* Hospitals and health care enterprises, therefore, are setting up intensive care units, birthing services and dental treatment at patients' homes
* Setting up an ICU at home costs Rs7,000 to Rs13,000 a day
* Dental service charges could range from Rs1,000 to Rs15,000, with Rs250 as the basic visiting charge
* At home birthing services could cost Rs1,00,000 to Rs1,50,000