The nature of stress may vary from person to person. So do the ways to deal with it.
Just four hours left for a key presentation, Aradhana Sinha, a 33-year-old project manager at an MNC, is feeling low. She locks herself in her cabin, picks up her cellphone and follows the instructions she had saved in it. "Breathe in... breathe out. Stretch out your hand and touch your toes. Close your eyes and talk to yourself about your thoughts. Concentrate on the task at hand. Tap the centre of your forehead, under your eyes, on your philtrum, neck, arm and underarm." She then launches into a chant, and 15 minutes is all it takes, and suddenly she feels new energy flowing through her body.
"I cleansed my mind of the disturbing thoughts that were absorbing my energy and instructed it to behave," she says. "By tapping I shed negative emotions, and chanting helped me refresh the flow of energy and positivity in my body." Aradhana practises what she calls 'conscious living'. With the help of 'mindful meditation', she claims to have complete control over her mind.
Aradhana says that these techniques help her de-stress anywhere, anytime. She was introduced to conscious living at a three-day workshop she attended six months ago. At the end of the workshop, she was given a musical track with some instructions embedded in it, which she follows every day without fail. And she says it has impacted her personal and professional life positively. She feels she is now capable of dealing with any amount of stress, be it physical or mental.
Many like Aradhana are relying on stress management techniques taught at such workshops. The experts, who call themselves life coaches, offer an array of techniques ranging from Reiki to Silva mind meditation, emotion shedding, anchoring and alpha meditation.
Most such experts left behind good jobs to get into the lucrative business of stress management. They believe that managing stress requires self-cleansing. Self-realisation, besides stimulating the subconscious mind, utilises its power and potential to complete tasks. They also offer techniques that claim to recharge a tired mind in five minutes flat.
Abhishek Singh, 28, cannot agree more. A Dehradun-based marketing professional, he says, the pressure of his job is killing. To meet the targets set by his company, he forsakes sleep and social life. He learnt to deal with the stress after he attended a three-day workshop conducted by Suresh Sivaraman. The takeaway from the workshop was a few therapies that he can practise daily to keep stress at bay.
Suresh, 34, realised the importance of such techniques five years ago. An electrical engineer by profession, he has worked with some of the top companies in India, including TCS and Wipro. He used to clock up to 20 hours a day at work and the stress of meeting deadlines was too much. He explored ways of dealing with stress and found solace in Reiki.
The internet provided him more ways to de-stress, like breathing techniques and mind cleansing exercises. And a senior colleague introduced him to 'mindful' meditation. "That was a revelation," he recalls. "I never felt so contented and energised. When I started I was in a low phase of my career, but with the help of these techniques, I overcame all obstacles."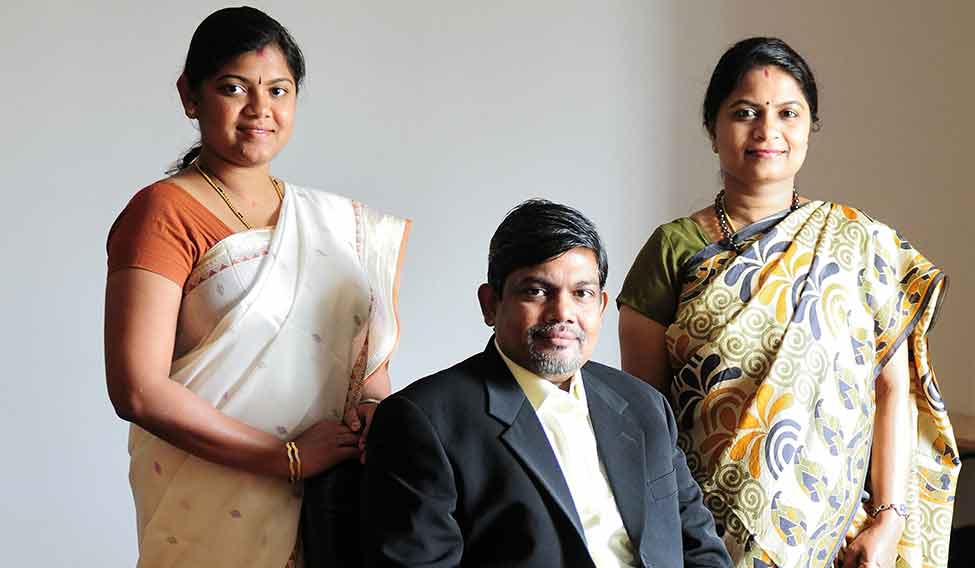 Suresh noticed that many of his colleagues were facing the same problem. He gave up his job to coach them and others in corporate jobs and founded a company called Elan Tattva. "The one who conquers stress, conquers the world," he says.
Two more of his kind have joined him—Archana Krishnamurthy and Piyush Sharma. Archana was with Assocham for ten years, before she quit to become a serial entrepreneur. But she soon realised that it was not her calling. To deal with her bad marriage and stress associated with it, Archana turned to spirituality. Now she organises workshops as well as one-to-one coaching sessions to help people deal with life issues, of which stress management is a major part.
Piyush, a software engineer with a multinational, also conducts mind and body workshops. "We practise many forms of meditation and integrate other de-stress techniques to make it more effective. It is a good way to get rid of stress," he says.
Dr Usha Mohandas still practises as a dentist in the mornings but most of her day is spent researching on various forms of mindful meditation. She has found that specific sounds at certain frequencies can calm an agitated mind. She calls it frequency modulated meditation.
Usha has developed sound tracks that she uses in her meditation sessions. She says vibrations of the music developed by her are so powerful that they can change one's life. "These frequencies can actually help activate the right side of the human brain," she says. "They help emit positive thoughts deep inside the human brain, which then works like medicine and motivates people to work towards realising their ambitions. It relaxes you to the core and helps you exploit the power of stress."
Usha's workshops are free for students and the elderly. She places a lot of emphasis on the ambience, and prefers to hold her sessions in five-star resorts. She controls the environment inside the hall with the help of special candles and incense and claims that when people come out of this hall, they are closer to nature.
"People are constantly flooded with thoughts, ideas and information coming through the five senses, and our environment," she says. "They penetrate the mind. This flow of thoughts affects our behaviour and reactions. It influences the way we think, our preferences, likes and dislikes." The ability to control the mind, she says, is key to success in life.
Sunita Ghorpade, a Bengaluru-based HR consultant, was introduced to alpha meditation three years ago. At first she was attracted by the soft music, which was soothing. But soon she realised she was undergoing a transformation within. An introvert all her life, Sunita says she now opens up to strangers easily. She has also started reacting to situations in a more balanced manner. "I believe that meditation has helped me remove blockages caused by stress," she says.
Experts say that your brain receives up to 60 lakh message units in a minute, of which around 700 get filtered. Once the brain takes note of these messages, emotions form. If they are negative, they generate stress. Sainirmala Raghunathan Perumall, founder of Tranquil Gardens, Bengaluru, teaches people to get rid of stress before it consumes them. "Stress relieving techniques such as Silva have a scientific basis," she says. "When you are stressed or agitated, your mind activity is over 21 hertz. Through these meditation techniques, it can be brought down to 14, which can be considered normal. They also improve the efficiency of the brain."
Sainirmala, an engineer, was a group leader at Yahoo when she was first introduced to meditative techniques. Impressed by the change they brought about in her life, she launched Tranquil Gardens. Her husband, a marketing professional, and daughter Preethi, an architect, later joined her. They charge from 11,500 to 2,500 for an hour-long session.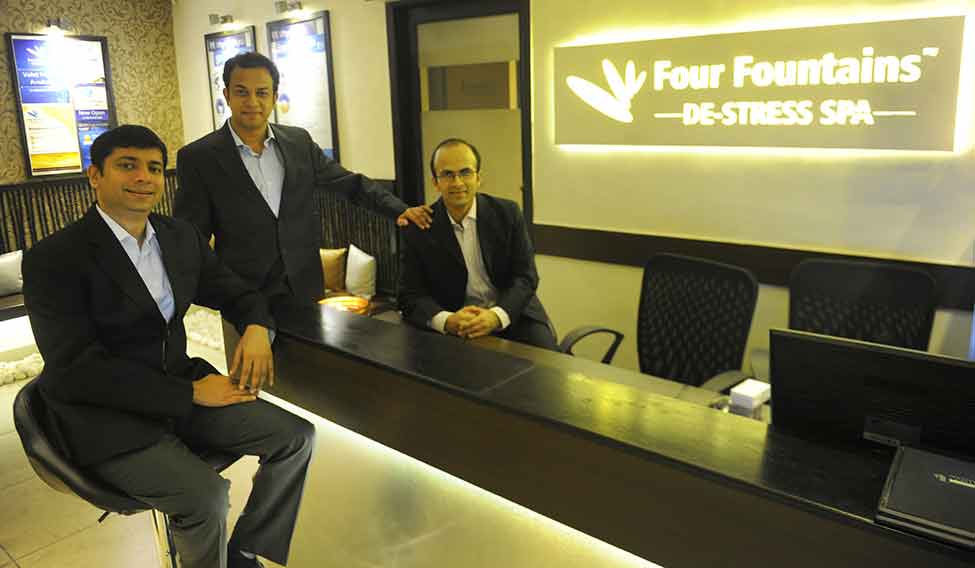 The nature of stress may vary from person to person. So do the ways to deal with it. There are those for whom de-stressing starts with their body, and not mind. Sunil Rao's Four Fountains Spa chain caters to such people. Sunil, a management professional, and his partners Anurag Kedia and Sourabh Garg, both IITians, had high-flying jobs. The three found that spa therapies were a quick way to refresh after a hectic day. "We couldn't afford spas at top hotels on a regular basis, so the entrepreneur in us pushed us to open our own variety of spas. We quit our jobs to start what we call a neighbourhood spa," says Rao. They launched their first spa in Pune in 2009, and now has 30 centres across the country.
They gave their clients the services of a doctor who measures the level of stress in their body with the help of a small device that can plugged into the ear. Then, with the help of a questionnaire, the doctor identifies the cause of the stress and designs a 12-week or longer programme. The therapies are a blend of Sirodhara and Swedish massage.
And then there are destination spas. "We should not be compared with the day spas, for we help people know their bodies, mind and soul better," says Mahesh Natarajan of Ananda in the Himalayas. "We integrate food, yoga, vedanta and therapies."
Reiki uses touch to activate the body's natural healing ability and achieve holistic health.

The Silva method ups the creative power of the mind by the use of visualisation, imagination, positive thinking and meditation. It reduces stress, headache and physical pain.

Alpha meditation taps into the state of consciousness. Here, one inhales and inhales deeply. It improves memory and helps release worries.

In anchor method, the breath is the main anchor. To anchor, one has to see what one sees through one's eyes, hear what one hears and feel what one would feel. It is highly relaxing.

Emotional shedding technique helps one lose internal blocks. It relaxes the whole body and clears emotional debris.