"We want our medical devices to be certified by an Indian regulatory authority. But the corrupt and cumbersome system makes it difficult" - Dr Ghanshyam Das Agarwal, director, G. Surgiwear
The 'Make in India' initiative has provided a much-needed impetus to the manufacturing sector, which contributes around 17 per cent to the GDP. But, the medical device industry has failed to catch up, contributing only 0.2 per cent. India imports more than 70 per cent of medical devices, though its 800 medical device manufacturers export equipment worth 07,000 crore to the US, Europe and the Middle East. This dependence on imports could, however, change as the Union government plans to set up industrial parks for manufacturing medical devices. Andhra Pradesh, Gujarat and Maharashtra have come forward to set up such parks, which will also have research centres. Also, the finance ministry has increased customs duty on medical devices to 7.5 per cent from 5 per cent, reimposed special additional duty of 4 per cent and brought down import duty on raw material required to make medical devices.
Though experts say these moves are a step towards making India self-reliant on the medical devices front, there is a huge need to streamline its regulation. A major grouse comes from manufacturers, who face difficulties in acquiring licence for their units as well as certificates for their devices. "We want our medical devices to be certified by an Indian regulatory authority. But the corrupt and cumbersome system makes it difficult," says Dr Ghanshyam Das Agarwal, director, G. Surgiwear, one of the world's largest manufacturers of hydrocephalous shunts. "Ironically, it is easier to acquire a European CE [Conformité Européene] or a United States FDA [Food and Drug Administration] certification, mandatory to sell products in their respective markets."
In India, there is no separate regulatory body to certify medical devices. Only 22 medical devices including stents, orthopaedic implants, bone cements and valves are regulated by the Drug Controller General of India (DCGI). However, equipment such as blood pressure monitors, surgical equipment, endoscopy equipment and glucometers do not require any regulation. The DCGI, say manufacturers, does not have the expertise to regulate medical devices. "Medical devices are different from pharmaceutical compounds. Their sterilisation, their composition, is different," says Rajiv Nath, joint managing director of Hindustan Syringes and Medical Devices. "Even the guidelines required to set up a medical device manufacturing unit are different from those for a drug unit. So, how can they certify and give licence to our products and factories?" Even multinational companies find it cumbersome to set up their manufacturing units in India. Omron, a Japanese company, decided to put up a factory in 2010, but it has been on hold since then.
Though there has been a proposal to amend the Drugs and Cosmetics Act to include medical devices with appropriate testing guidelines, experts say what the country needs right now is a national medical device policy for industrial promotion, which is the responsibility of the department of pharmaceuticals. Then, there is a need for a regulatory mechanism for medical devices manufactured in India to ensure patient safety—a responsibility of the ministry of health and family welfare. "The department of pharmaceuticals has already drafted a new national medical device policy, which has to be reviewed by the cabinet," says Dr Jitendar Sharma, senior consultant, health care technology, National Health Systems Resource Center.
Also, there are not many takers for indigenous medical devices in India, even though they are sold at prices 30 per cent higher than that of Chinese devices in the foreign markets, which prefer Indian devices for their better quality. "The main problem is India doesn't promote its own manufacturers," says Nath. "Many doctors, especially those who have studied abroad, are familiar with multinational companies' products. They find it difficult to trust locally made products, especially when they are not accredited by any regulatory authority."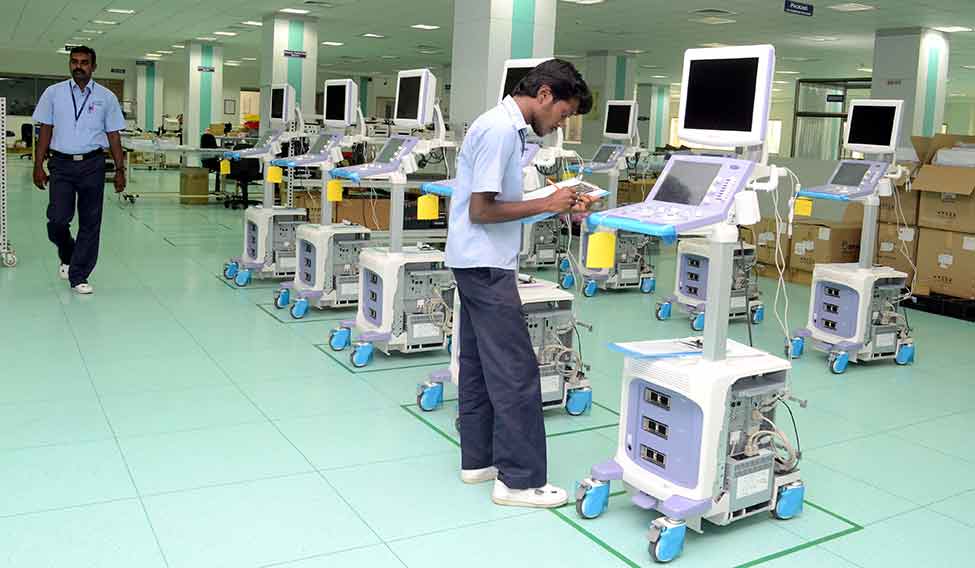 Reportedly, China gives 25 per cent preferential pricing to its domestic suppliers over foreign suppliers; it goes up by 5 per cent in cases where companies have no foreign stake. "India does not give any such benefit to its manufacturers," says Nath. Even the government tenders demand US FDA-approved or CE-certified devices. Private hospitals prefer imported devices for their huge profit margins—with no maximum retail price on unit packs, they can charge as much as they want. "The department of pharmaceuticals has issued an advisory to declare MRP on stents, valves, pacemakers, orthopaedic implants and hearing aids," says Sharma.
It was not always so. Beginning with the 1990s, for two decades, India saw a boom in medical device manufacturing. The country was one of the leading manufacturers of cochlear implants, surgical gloves and hydrocephalous shunts. But then the government reduced the import duty on all medical devices, which discouraged Indian manufacturers. The reimposition of import duty will, however, help Indian manufacturers a great deal, says Nath.
There have been initiatives to boost the domestic medical device industry. The government is planning to launch a biomedical maintenance programme, with a budget of 0500 crore, for maintenance of medical devices to promote the spare parts industry. Also, the soon-to-be launched diagnostic initiative, which will give citizens the right to get free medical tests, may help boost the industry. It will be done under a public-private partnership, wherein private companies will provide diagnostic facilities at all government hospitals.
The Quality Council of India is creating a voluntary framework based on international standards like ISO 9001 and ISO 13485 to enable the domestic device industry to demonstrate its capability through a third-party independent system. The National Accreditation Board for Certification Bodies (NABCB) is also coming up with its own accreditation programme, equivalent to international certification. Says its CEO Anil Jauhri: "This would facilitate international acceptance of certified medical devices."