"The idea of signing to communicate in public was forbidden. If I ever tried to talk to them [parents] outside, they used to hold my hands. I was taught that signing was somehow shameful"- Anuj Jain, who is part of the National Association of the Deaf
A.S. Narayanan has never had a conversation with his family. He spent the first 15 years of his life in silence. Narayanan is like over a million Indians who are defined by their inability to hear. But if you are hearing impaired in India—it is worse than children of a lesser god that all differently-abled are lumped in with—the discrimination is a little more fundamental: it is the denial of a language.
Standing in front of the flea market lane of Janpath at Connaught Place in Delhi, Narayanan, much older now, laughs. "I grew up alone,'' he says. "At most, they would ask me if I had eaten. Or, if I was okay? I brought myself up.'' Surabhi, a student of Jamia Millia Islamia, is his translator. Signing came naturally to her. "It was the first language I learnt,'' she says. "My parents are deaf. I learnt English later."
It was years later that the idea of conversation, even communication that wasn't just functional, came into being for Narayanan. He is now the office-bearer of the National Association of the Deaf (NAD) in India and is off to Chandigarh for the weekend to hold a workshop on training with young students. It has become easier to communicate with cellphones and computers, but the language is still borrowed.
So far, the Indian sign language is still at a nascent stage. "There are millions of words in a language. In India, we only have a few thousands," says Narayanan. "The language has not even evolved." The Indian sign language comprises rudimentary signs, mostly instinctive, but it is far from the codified recognised language like the American sign language.
For the past few months, the NAD has been advocating for an autonomous Indian Sign Language Research and Training Centre. The idea is to explore, expand and foster the Indian sign language. This centre was allotted in the 11th Five-Year Plan but is yet to see the light of day. The project was moved to the Indira Gandhi National Open University. Eighteen months ago the government chose to move the centre from IGNOU to the Ali Yavar Jung National Institute of the Hearing Handicapped. This, as one activist from NAD put it, is like "asking a wolf to raise a lamb''. The institute believes in an oral approach to deaf education, virtually denying the deaf a chance to build a language that is rooted in their own culture.
The idea that the deaf need a separate language is alien in India. Instead, children are discouraged from signing. Anuj Jain, who is also part of NAD, grew up with his four sisters who were all deaf. His fifth sibling, a sister, is not. "She used to feel left out,'' he says, laughing. "We would have these conversations and she couldn't keep up.''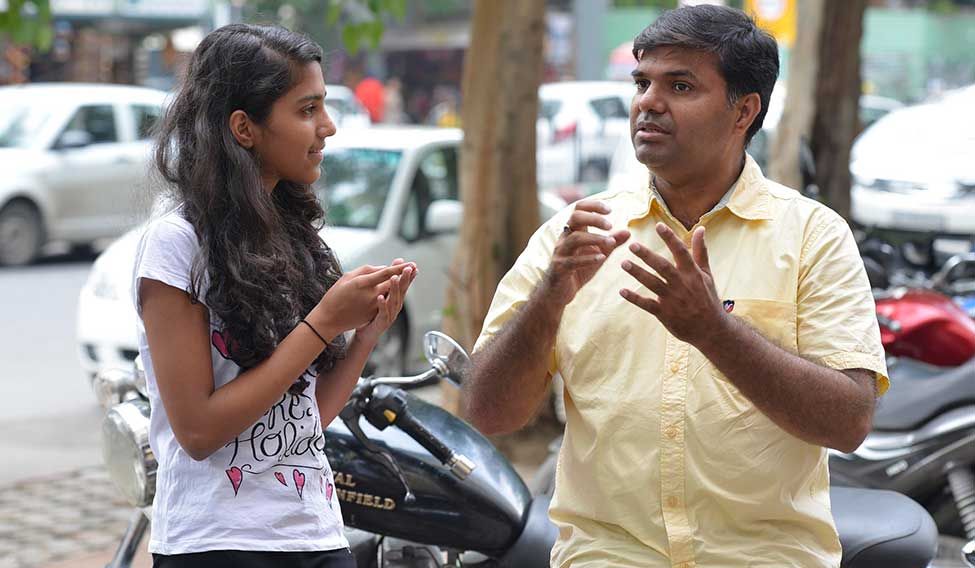 Children who are born deaf are still 'taught' how to speak. They are given hearing aids to amplify the sound. Geeta Sharma remembers being forced to speak as a child. She spent years being shuttled from school to school. "The approach was oral,'' she says. "They tried to get me to talk." Forcing children to talk and hear isn't unusual. Sharma is in her 40s. But even now, this is standard practice.
The Lady Noyce School is one of the biggest institutions for the hearing impaired in Delhi. There are 600 students who flock into the cramped classrooms to learn. At the centre of the school is a courtyard. This, open-to-the-sky bit of paved brick, is probably the biggest space the children have. Once there was a cricket field, now the social welfare department occupies most of the area. Kids here spend years learning how to read and write. Knowing the sign language is not compulsory for the teachers. It is something that they pick up. The hearing impaired kids, of course, have to learn how to speak.
It is not unusual. Teachers in deaf schools are not trained in the sign language. Nor is it considered essential. There is a brief orientation of a day or so on sign language. For the most part, the idea is to integrate the kids and teach them, but in a language—English or Hindi—that is not their own. Nor are hearing impaired teachers hired to teach. The idea that sign language can exist even in the hearing world does not exist.
The emphasis, for four years, is on preparing the kids to learn how to speak or communicate in the same way as is done in the hearing world. "They want to fit cochlear implants so that we could hear," says Narayanan. "We are deaf. This is not communication.'' It is like forcing a left-handed person to write with his right hand. A bit medieval and cruel.
For women, being hearing impaired means literally being invisible. "Girls are often never allowed to leave home,'' says Sharma. "They have no opportunities and no one to communicate with. Imagine a life where there is no entertainment, no conversation, nothing."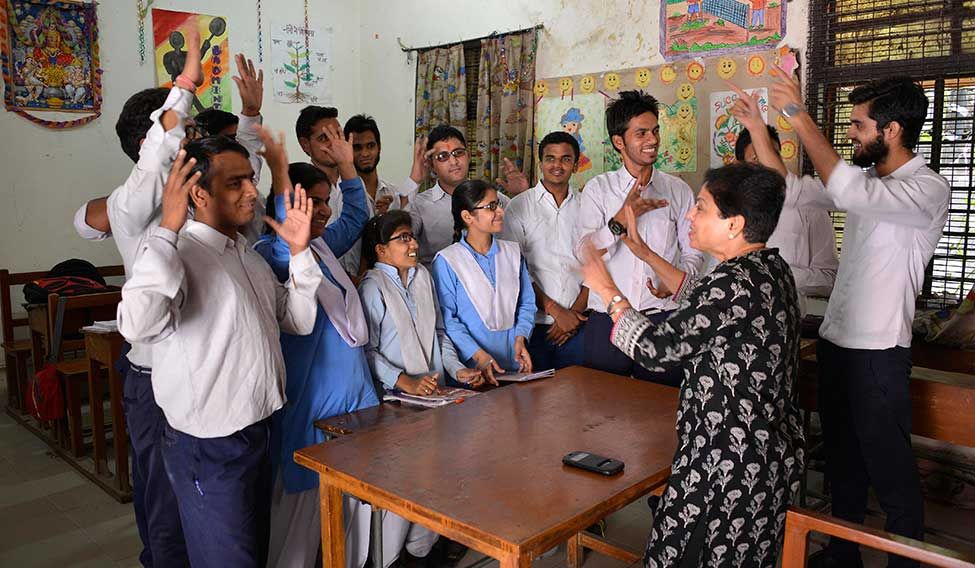 Technology has brought in a revolution. The cell-phone and the internet has made the world a smaller place and for the deaf it has brought with it the gift of communication. Text, Facetime, Skype chats, Hike, video chats have made it possible for the sound barrier to be breached. Meeting people who don't know sign language, asking for directions, even talking with each other has become possible. "I remember when I used to get a phone call from a friend,'' says Anuj. "My sister would pick up the phone and seem to speak for ages. When I would ask what the other person said, she would always give me just the gist. I would think why she would talk for so long when the answer was monosyllabic,'' he laughs.
Over the years, Ananta, his daughter has become the voice he never had. Jain remembers the time when his parents spent a year trying to clap loudly to get his daughter's attention. "They were convinced she was deaf,'' says Jain. "She would never react when they clapped their hands. But when she turned one, she started talking. Then they knew,'' he laughs. His son, a toddler, is also learning the language.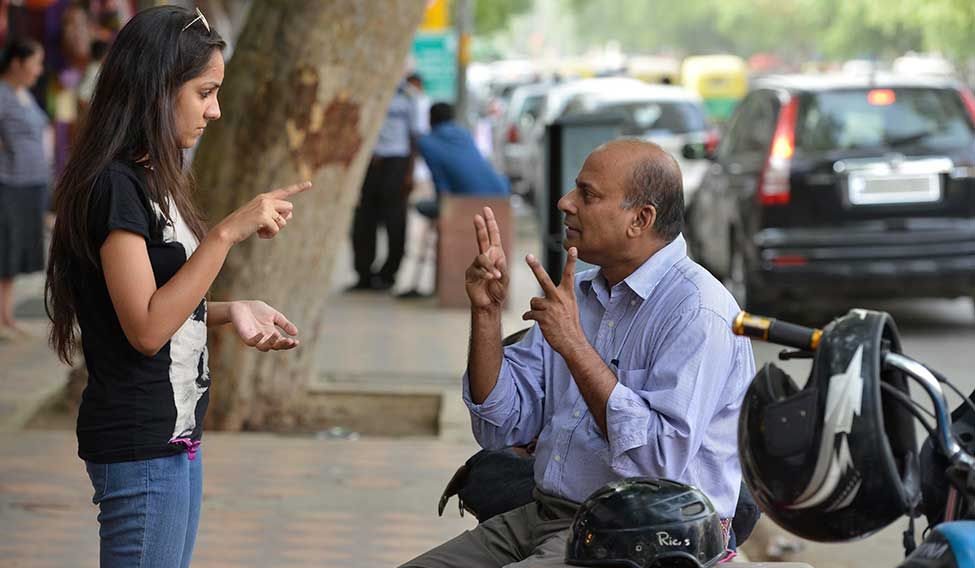 Ananta can speak the sign language fluently. It came easily to her. Even now when Jain's sister visits, she is the outsider, for she hasn't learnt the sign language yet. "She communicates through me," says Ananta. "She will call and ask me to pass on a message to my father.''
The idea of signing to communicate in public was forbidden, says Ananta, translating for her father: "If I ever tried to talk to them [parents] outside, they used to hold my hands. I was taught that signing was somehow shameful.'' He apparently retorted in sign that they should then ask the people who can hear to never speak.
Sitting in McDonald's in Janpath, the father-daughter duo is having an animated conversation. Things have changed. In several countries today, the sign language has gained legal recognition, but in India, it is still not recognised as anything but a few gestures for the hearing impaired to communicate.
It isn't a language. It needs to be. Language is much more than just communication. It is about being heard; about laughter; about the triviality of life; it is about poetry; it is about anger; fear; joy; disappointment and the shades in between. Even blue has more colour in other languages. Growing up as a hearing impaired person in India, where 18 million people are still waiting to talk, it is more than just about being mute, it is being deprived of expression—forever.
TECH SUPPORT
New devices that are making life easier for the hearing impaired
A bluetooth-enabled hearing aid that is small and discreet. The device can be connected wirelessly to a smart phone, TV or computer.

A pen-like microphone which can be placed near the person who is speaking. The hearing-impaired person would wear a compatible hearing aid that would pick up the voice.

A caption phone that displays the conversation in text form. People who either have cochlear implants or a hearing aid use this to pick up words they might not have heard.

Entertainment access glasses that superimpose captions on to a movie screen so that the person can read onscreen dialogues.

A hearing loop or wire that circles the room and is connected to a sound system. The loop transmits sound electromagnetically and the signal is picked by the telecoil in the hearing aid.