There is Beenaji who does astrology, there is a pandit who does havans and there is even a satsang group on WhatsApp.... Hindi classes, classical music classes and Indian food, too, are available.

Every year, the Waikars celebrate Ganesh Chaturthi, although with a few modifications. Amit's wife, Aparna, says there is no immersion of the idol.
With its glass pyramid structure, the museum of arts in Shanghai looks a bit like the Louvre. Opposite to it stands the NIIT office. Prakash Menon, who heads NIIT in China, is one of the first Indian professionals who ventured out to China, just when SRK had begun to woo the desi NRI. "Taxi drivers would at that time sing Awara songs if you talked to them," says Prakash. But the move to China was not an easy decision for him. "There was a lot of mistrust between the two countries. People asked me why I was going to strengthen the competition," says Prakash, who is one of the co-founders of the Indian Association of Shanghai.
Although India and China are still dealing with trust issues, things have changed. The Indian economy has opened up and the country has become an IT superpower. "We don't register with the Chinese. But if you insist on asking them, they will say two things, IT and beauty," says Prakash.
Jugaad, the Indian spirit of making home with all the desi trappings of the NRI life, which is straight out of a Karan Johar production with a liberal sprinkling of the Sooraj Barjatya movie Hum Saath Saath Hain, has made Shanghai less foreign. There is Beenaji who does astrology, there is a pandit who does havans and there is even a satsang group on WhatsApp. Gita classes that help transcend the moh maya of the glittering shopping malls, which are filled with original fakes, are just a phone call away. Hindi classes, classical music classes and Indian food, too, are available.
The expats celebrate all festivals and everyone is invited. The Waikars' home in Minhang at the Racquet Club, with its 12 tennis courts and picturesque bridges, represents the NRI dream. Amit Waikar is present president of the Indian Association. Every year, the Waikars celebrate Ganesh Chaturthi, although with a few modifications. Amit's wife, Aparna, says there is no immersion of the idol. "I keep the same statue every year. We put him out during the festival and pray. On the seventh day, we immerse a supari (betel nut) symbolically," she says. Fifteen other Indian families live nearby, making it a close-knit group.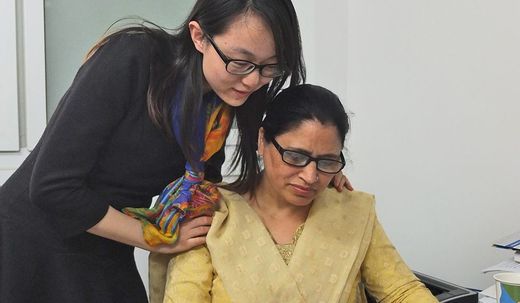 Over the years, settling down has become easier for expats. In the areas dominated by them, there are clubs which have counsellors to guide the needy through the transition. There are a few who have assimilated well. Sanjib and Tan Ming are one such couple. They met and fell in love in France. They waited for two years to get married. The couple had an Indian as well as Chinese wedding. "My parents weren't thrilled," says Sanjib. But his in-laws were even tougher to woo. "He is a nice guy," says Tan. "And we are in China. I am an only child and my parents wouldn't want me to move overseas," she says.
Madhav Sharma, who heads the Confederation of Indian Industry in China, fell in love in China . Madhav's daughter Radhika from his first marriage is 16. "I don't know what would it be like if I was in India," says Kristina, his wife. "It works because we are in China." This is one difference, the social structure in China is smaller. There is an inner circle of family that you don't ever leave. Then, there are your close friends. "Equality is essential," says Madhav. "It is not like I can go home and expect my wife to cook. She will cook one day and I do it the next day."
Most Indians, however, have found it easy to fit in. Roop Rani from Chandigarh, who teaches Hindi at Shanghai International Studies University, has been in China for less than a year. The first day she walked into her class, slightly nervous, her twelve students burst into a Hindi film song. "They were holding sheets of paper and were singing loudly," she says. Her students have progressed from singing film songs to being able to hold conversations in Hindi and even find a government job.
For Roop, food was the biggest problem. The first few days were very tough. "I couldn't eat for two days," she says. "I lived on fruits." Roop, who is from the land of aloo parathas, looked for three months for the right flour. "There was everything else, even karela (bitter gourd)," she says. Three months of intensive testing and tasting later, parathas are no longer a problem. The problem with milk has been resolved with the Australian variety. They have started exploring China. They have been on the bullet train as well. But the biggest lesson has been something else. "They are like us only," says Roop, with a smile.
Milind Pant, the chief marketing officer of Yum Foods in China, lives in an impossibly tall building district in Shanghai. He has moved 11 countries in 18 years. "We only keep our clothes and our art," he says. He has picked up some Mandarin. Learning the language is important for his business. "Soon, the Chinese will be self-sufficient and won't need expats. Our confidence and our paranoia are both misplaced," he says, eager to dispel the myths about his adopted country.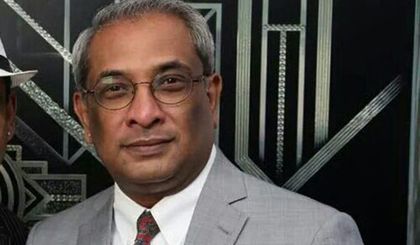 Jagdish Bhagwani could be the blanket king of Shanghai. Soft-spoken and unassuming, Jackie, as he is popularly known, had started with a textile company. Today, from his two factories in China, he exports blankets to all parts of the world. He came to China in 1997. At that time, there were just about 30 Indians in China. "I was in Korea for many years. My parents were ageing and I wanted to come home. I did try to set up in India. I tried Varanasi, even Tiruppur, but no one could do the volumes that I was looking for," he says. It was then that he turned to China. "Here people talk less and do more," he says. Today, China is home for him. His kids are global citizens. They speak fluent Mandarin, study in an American school, eat Korean food, but they cannot speak Hindi.
For most expats, life in China is comfortable. Help is easily available. Ayis (local maids) are well-dressed, hardworking and honest. They learn quickly to make the perfect chai with the right amount of ginger. They look after kids with the zealousness of Indian grandmothers.
Indians in China are expats, not immigrants. While Indians in the US are quite influential, the expats in China are largely outsiders. They are unlikely to influence policy or remain highly visible. Giving back to the country and striking stronger bonds are what they hope to do.
"We need to get our house in order. We are hung up about 1962. The Chinese don't even teach this in their history books. Ask them how they won the war and they will say, 'We didn't. It was a ceasefire.' This is how differently the two countries view it," says Prakash. This different view is perhaps something that the Indian community hopes to convey as Modi comes calling.