An office in downtown Yangon―in the heart of its gold street, which is chaotic, choked with traffic and hot―has been kept unusually busy since the great vanishing act, the kind of magic trick worthy of a Houdini. Rahul Gandhi has gone underground before, but the departure has never been so deliberate, defiant or public. The Delhi gossips got what they had been longing for: a vintage Gandhi mystery, complete with suspense and delicious clues.
In Myanmar, B.L. Goenka aka BLji has suddenly found himself at the centre of the public's hunt for the young Gandhi. BLji is the son of S.N. Goenka, the man who brought Vipassana to India. The Goenkas have been in Myanmar for at least a hundred years. And, BLji is a trustee of the Goenka Trust founded by his father.
So, is Gandhi at the Vipassana centre managed by the trust? One thing is sure, Gandhi is no stranger to Myanmar. He has, according to sources, come here before. It is believed that he has been visiting around June or July in the past two years, taking care to remain incognito. After the Lok Sabha elections, unconfirmed reports claimed that Gandhi was recuperating at a small island in Thailand, with a group of close friends. This time, his leave of absence seems to be longer, even if it is to gather strength.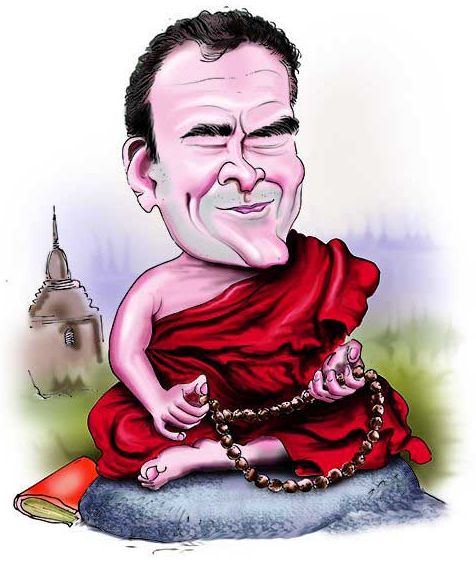 THE WEEK is in BLji's office on a hot Monday. A mythological serial is running on the television on his desk. The traffic outside is at a standstill. There is a shiny box of chocolate éclairs lying in front of him. He does not touch them, but generously invites me to indulge.
"There was only one Indian during the period he [Gandhi] is supposed to have come," BLji says. "He is a Gujarati. The other people in that course were a Korean and a Japanese." Well, he could have come under an assumed name. Or, he could have checked himself at one of the other centres that the Goenka Trust runs in Upper Myanmar.In Myanmar, Vipassana centres are almost at every junction. The government here has made it easy for tourists who come for meditation or pilgrimage―they get a visa on arrival.
The Dhamma Joti in Yangon is almost desolate in its silence. Off a quiet road, the centre has a new dining hall. Funded completely by donations, it is a sort of a Mecca for serious Vipassana followers, and it offers intensive courses for them.
The rooms are basic; no air conditioning and you have to borrow bedding. The food is simple and vegetarian. Like in all Vipassana centres, there is the strict code of silence. And, a long list of nos―no cellphones, no food after 11am, no reading and no writing. The focus is on discipline, meditation and breath control. "It gets easier after the first three days," says BLji soothingly. Priyanka Gandhi's bond with Buddhism is part of the family folklore. A Vipassana practitioner, Priyanka is known to have visited BLji. Sources claim it has helped her keep her fiery temper in check. She is believed to be pursuing her masters in Buddhism, and her dissertation is apparently on Buddhism and women.
At Dhamma Joti, a wooden bridge framed by coconut trees leads to the office. The administrators say there are very few students here at the moment. The heat is unbearable. Only advanced practitioners dare take the course here, a guide says. Sources on the ground, however, claim that it is much more likely that Gandhi would have gone to Mahasi Meditation Centre in Bahan, a quiet, leafy Yangon neighbourhood.
Things are a bit more relaxed in this sprawling campus dotted with gnarled frangipani trees. The vow of silence is not binding. After the meditation sessions, you can talk, read and even check your email. No Wi-Fi though. You are encouraged to not eat after lunch at 11am, but you are certainly forgiven if you do fail.
Each student has his own room, which has a ceiling fan, a bed and a spartan bathroom. At the Goenka centre, students sleep on the floor, on mats.
Founded by Mahasi Sayadaw in 1974, the centre is quite popular among foreigners; it has a separate section for foreign yogis. A source said BJP leader Arun Shourie and other political heavyweights prefer the centre. So, did Rahul turn up here?The air conditioned information office has trained guides who speak English. There is an Indian at the centre, but, according to officials, he is a monk. So far, no Indian woman has ever come to take the course. The centre offers a daylong sample course, just so that you can test the waters.
Women dressed in pink shirts and brown sarongs sit quietly in the meditation hall. There are some who walk around outside in the sun, purposefully putting one foot before the other. "Sitting meditation is alternated with walking meditation," says the guide Aung Mon, a young boy who was born on the estate. The idea is to increase awareness, so that all the tasks are done with deliberation. The meditation teacher interviews students at regular intervals to "report their experiences."
The individual meditation cubicle for foreign yogis has a cushioned mat, a sort of meditation pod with its own mosquito net. "We do not want students to get bitten," says Aung Mon with a laugh.
The book shop is close to the hostel. There is an entrance fee for foreigners. Here you can stock up on meditation books by the Mahasi and on old fashioned grub. There is Coke, mosquito patches, Veet and even Pringles.
Food rules, too, are relaxed here. Breakfast and lunch are served at the dining hall near the centre's golden entrance gate. It is possible to get pork, chicken or fish dishes. "You have to specially ask for vegetarian food," says Aung Mon.
Across the polished floor of the dining room is a picture of Jawaharlal Nehru with the Mahasi, taken when the monk visited India. The question, of course, is: did Rahul see it?