In 2013, a family in Nagercoil, Tamil Nadu, was in the news for living with a dead body for ten months to ward off ghosts.
If you talk to God, you are praying; If God talks to you, you have schizophrenia. If the dead talk to you, you are a spiritualist; If God talks to you, you are a schizophrenic.
Thomas Szasz, psychiatrist
Partha De will never be able to lead an ordinary life. Or open a bank account. He probably will never be home alone again. He will always be Norman Bates (central character in the novel Psycho). The story of 3 Robinson Street in Kolkata, though macabre, is like a reality show. And, the nation is hooked.
Over the years, there have been cases that have shocked and intrigued. In 2013, a family in Nagercoil, Tamil Nadu, was in the news for living with a dead body for ten months to ward off ghosts. In Chennai, a man lived with the body of his wife after she committed suicide, hoping that she would come back. Delhi has the Malcha Mahal family—the erstwhile royals of Awadh—who live in a house that has no electricity or running water.
Bizarre, strange and eerie, these are tales of madness in myriad shades. But could these people be called sick? "The Bauls of Bengal claim to hear voices. They live in a small community. Could you label them as delusional?'' asks Ratnaboli Ray, who runs a mental health rights organisation called Anjali. "Madness is a phenomenon. Mental illness is not the same. Just because there is something beyond the corpus of our knowledge doesn't make it insanity."
THE WEEK explores two dark stories of urban India that reveal as much about society as they do about the people in them. They are about voyeurism, isolation, loneliness and not being able to cope with life. And also love, a fierce, protective, suffocating and even unhealthy kind.
On June 11, the news of a man living with the dead body of his elder sister and the carcasses of two dogs shocked the nation. It was a chance revelation. The police were called after neighbours noticed smoke coming out of Partha De's house. They discovered the charred body of Arabinda De, Partha's father, who set himself on fire inside the bathroom. A suicide note was found next to his body. The skeleton of his sister, Debjani, and the two dogs were discovered in the next room. She apparently died six months ago.
The De family's story eerily mimics fiction. It was a close-knit family. Debjani was a music teacher in Don Bosco. Partha, an engineer, was an introvert. They were religious. Debjani is believed to have starved to death in a bid to "attain God" and Partha hid the news from his father. Till one day, according to a friend, he stumbled upon it. "Two days later, Arabinda went to see his lawyer,'' says a friend. "He wanted to give him the power of attorney in case something happened to him."
Arabinda wanted the children to be taken care of after he was gone and so he was planning to form a trust. "He was a perfect gentleman,'' says a friend of his. "He always had a smile on his face."
The rambling red house with green shutters is where the family lived for years. First as a happy foursome; then after the mother succumbed to breast cancer in 2007, they started living independently within the house.
A doting father, Arabinda would slip in money through the gap in the door on birthdays. The father and children hardly talked and used notes to communicate with each other. The police found several notes scattered across the house. Partha was reportedly very close to his sister and he didn't want her body to be taken away. After her death, Partha used to play recordings of her singing to keep alive the delusion that she was still there.
The siblings were close. The police have hinted at more, but so far it is nothing more than a wild and unsavoury speculation. While Debjani was quiet, a friend of the family describes Partha as "hyper''. "But that doesn't mean he is mad,'' says the friend.
Having lived in Bengaluru for many years, the family didn't have a large social circle in Kolkata. Arabinda fought a legal battle with his mother and brother, and his children helped him in preparing the case. "Arabinda's father had left his property in a trust with the mother as a trustee. He always felt that the property was being let out for less,'' says a friend. He won the case. A year later, he even made up with his brother. The two wanted to sell the property before they died because their children could never manage it.
However, today, Partha is spending his days in Pavlov Mental Hospital while the police are investigating his father's death. His diaries are being used to reconstruct his life in isolation. Partha is believed to have expressed concerns over his personal thoughts being circulated for entertainment. "I have not committed any crime against the law. Or in the eyes of God,'' he said.
It is a still Saturday in the capital. The ISRO-run Earth Station off Chanakyapuri, buried deep in the Thomas Daniell-sketched version of the city with sturdy thorny kikar trees strewn across the dusty hilly outcrop of the ridge, is deserted. Malcha Mahal—Firoz Shah Tughlaq's hunting lodge—nestles in the midst of the jungle. The 14th century 'palace' in beige and green is home to prince Ali Raza, his sister princess Sakina and their dogs. Entry is forbidden for outsiders.
Raza would keenly feel the heat of the afternoon—over 40 degrees Celsius on that day. There is no electricity. Not because of power failure. The palace has neither electricity nor water supply. Every morning at 8:30, water is fetched from a plastic tank close to the ISRO station.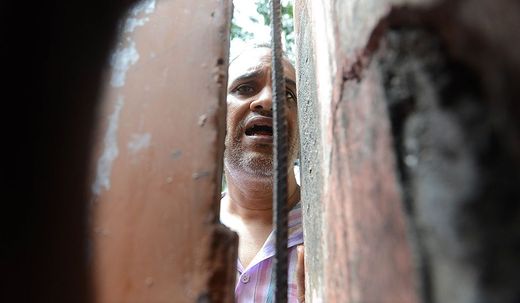 The stories about Raza and Sakina are widespread, exaggerated, bizarre and voyeuristic. In the 1970s, begum Vilayat Mahal, the last descendant of the Awadh dynasty, arrived mysteriously at the Delhi railway station with an entourage. Her demand: the government allot her a suitable accommodation. Her dogs, her liveried servants and children occupied the VIP waiting room number 1 for seven years. Finally, Malcha Mahal, which was in ruins, was picked. The family moved in with baggage, servants and the canine brood never to mingle with the public again.
On October 12, 1993, the begum committed suicide by swallowing crushed diamonds. And, her body lay on her desk for ten days while the children mourned her death. They later buried her after embalming her with jewels, it is said. When treasure hunters dug up her body in the hope of stealing the jewels, the children cremated her.
The dogs—they once had 28—are their loyal companions. Raza has a bicycle bent out of shape, which he keeps behind a bush. It is their only vehicle. He rides it almost every day to get meat for his dogs and essentials for himself and his sister. Food is basic. Their only servant left allegedly after not being paid for months.
The family has clung stubbornly to its reclusiveness. Their isolation is as much mental as it is physical. "You know we have no electricity. We don't even desire it now,''says Raza over the phone, making it clear that the interaction is not an interview. "There were people who were shouting outside only an hour ago. This is not the way to behave. We don't desire to be part of this society. People come in their Mercedes Benz, but they are so uncultured they abuse us."
"We are an ancient dynasty. We are not Muslims,'' says Raza, who claims to be a Zoroastrian Shia from Iran. His claim, however, is disputed. Khalid Umar, a genealogist, has spent years trying to find a connection, without any luck.
Raza speaks flawless English. He claims to be born in England and being taught by a governess at home. Talking about his relationship with his sister, Raza says: "We don't talk much.'' The relationship with his mother, too, was a formal one. The begum never ate with the children. The only time they slept in the same room with their mother was after she died.
In the last available photograph of Sakina, one would notice her gaunt face, piercing eyes gazing in the distance and messy hair. After her mother died, Sakina, who must be in her 60s, never stepped out.
Disturbing the peace of the mahal residents comes with its price. Trespassers are warned they would be shot. Then there is the threat of the dogs being set loose on any unwelcome visitor. Guards at the gate assure visitors that it has happened before. Revellers, however, refuse to be deterred. Earlier, servants were questioned when they came out for supplies. Even the sweeper appointed by the municipality is pumped for information. "He [Raza] is not mad,'' says a frequent visitor. "He is knowledgeable. He just doesn't have any contact with the outside world."