I was 12 when I first stayed at the Fairlawn Hotel in Calcutta during the shooting of 36 Chowringhee Lane. We had a wonderful time and made Fairlawn our home for about a month.
But my parents' relationship with Fairlawn goes back many years. Ever since the 1950s, my grandparents, while on tour with Shakespeareana, would stay at Fairlawn. The Smiths, who owned the hotel, became the foster family of Shakespeareana. As did the staff, who today have been working there for over four generations. It is the only place in the world where my father is called Shashi baba, as the staff have known him since he was 18.
Fairlawn is this little haven tucked away on Sudder Street. Always painted green, it is covered with creepers and plastic plants dripping with plastic flowers and fruit! The cane furniture at the entrance entices you to linger and chat with Mrs Smith, the owner who used to sit downstairs every morning chatting with her customers. People from all over the world would pass through Fairlawn, bringing their little world into this enchanting oasis, this watering hole, this adda, this meeting point and home away from home.
As you walk up the staircase, you pass the gallery of Fairlawn memories. Every inch of the wall is filled with photographs, letters, posters and newspaper cuttings of all the famous people who have visited the hotel. A great deal of them are my family! My grandparents, parents, aunt Felicity Kendal and Karan, who stayed here often during his photo-journalistic days. Mrs Smith used to call him badmaash! The affection was mutual.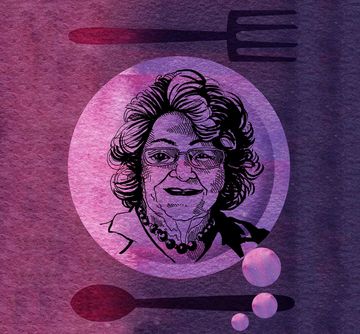 I had the good fortune of visiting Calcutta last month, invited by Usha Uthup for an awards function for backstage workers. I gladly accepted not only because the award was a wonderful idea but Ushadi said I could stay at Fairlawn! And I am truly delighted that I got to meet Mrs Smith again, now 94 years old! But she was sharp as nails and as dynamic as always. I felt overwhelmed with emotion at her welcome and the warmth that everyone greeted me with. As I walked upstairs and into the room that my parents always stayed in, I burst into tears. Calcutta and Fairlawn Hotel mean so much to me.
My grandfather was also staying at Fairlawn during 36 Chowringhee Lane and after his 11 o'clock beer, he would walk me down to New Market to have a special egg-roll and through to the enchanted British cemetery, which I believed was where Romeo and Juliet were laid to rest!
My parents first met in Calcutta. My mother arrived with Shakespeareana for their run of shows at the theatre. After checking into Fairlawn, the group got a rude shock as the theatre manager told them that Shakespeareana's shows had been postponed as the run of a superhit production had to be extended. But every night the Shakespeareana team would sit in the first row and watch these lavish productions by Prithvi Theatre. And every night my father, who was 18 and the third assistant stage manager, would peep through the curtain to see if the audience had all been seated. And he would gape at the beauty who sat in the first row, my mother! And, of course, they were introduced and the rest is history.
When my father joined Shakespeareana as an actor and came to Calcutta, he was put up in the pretty grotty Salvation Army with a few other newcomers, while the rest of the company enjoyed the luxury of the Fairlawn Hotel! He soon made his way up the pecking order and got his own bed at Fairlawn!
Many years later I came to Calcutta as an actor in the theatre production of Rashomon. We were put up at Fairlawn and some of the bearers came to see the show. I felt blessed!
How grateful I am for having met Mrs Smith just a month ago to pay her my deepest gratitude for keeping this gem alive. Sadly, she passed away a few days after I met her. But her spirit will always live on in our hearts and in the walls and memories of the Fairlawn Hotel.