One of the first things humans learn after coming into this world is how to laugh. Learning when one shouldn't laugh, however, takes a lifetime. Laughing when you shouldn't may leave you with egg on your face. The recent episode involving Renuka Chowdhury, whose hysterical cackle during Prime Minister Narendra Modi's reply on the vote-of-thanks motion in the Rajya Sabha, is one such example.
Parliaments, unlike courtrooms, are certainly not a place where you must hold back your laughter. Rather, with rising acrimony and with waning spirit of bipartisanship among politicians, we need more humour in Parliament. The PM is a strong votary of infusing humour and laughter in parliamentary debates. In August 2014, Modiji opined during a programme, "Humour and wit are gradually fading away from parliamentary proceedings, because members are apprehensive as to what colour the 24x7 media would give to even one proverb they utter." Going by the twists and turns one saw in media in its reporting on the Chowdhury episode, I find his words prophetic.
However, we have a long tradition of parliamentary humour. I wish to quote an incident involving Jaswant Singhji, who asked a question on Pakistan's nuclear programme in Parliament. The then prime minister commented, "In my view, the US government was almost winking at Pakistan's nuclear programme." At this Jaswant Singh intervened: "Mr chairman, the prime minister has said that in his view the US government was 'almost' winking at Pakistan's nuclear programme. Now, this is like saying that somebody is almost pregnant. You are either pregnant or you are not."
In older days, when Piloo Mody, an MP from Godhra in Gujarat in the fifth Lok Sabha, sat talking to someone with his back to the chairperson, Sitaram Kesari joked that Mody was insulting the chair by showing his back to it. At this, the chairman quipped: "Don't worry about Piloo Mody; he has no front or back, he is just round." The house had a hearty laugh as Piloo Mody, with his plump build, turned back swiftly.
Coming back to the Chowdhury episode, I believe her laughter was uncalled for. No sooner did the PM mention a 1998 statement of home minister L.K. Advani that revealed the origin of the idea of 'Aadhaar', than the members heard a crazy, demented laughter. It took everyone by surprise, and led the chairman of the house to intervene.
However, in an unusual display of quick wit, Modiji stopped his speech, and said he last heard such a cackle in the serial Ramayan. A stunned Chowdhury found the table turned badly on her. When she and her party found their tongues, they took recourse to the hackneyed route and labelled the PM's remark as "sexist, disrespectful and downright distasteful".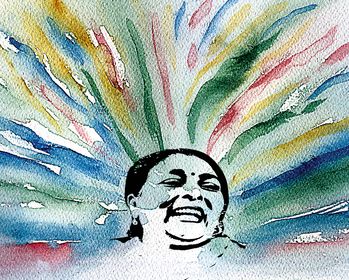 However, what was bemusing was the turn that some columnists gave to the incident. They tried to link the PM's remark with a male chauvinistic worldview that discourages a woman from laughing loudly. The argument was not only deceptive, but a clever ploy to deflect attention from the real issue. The real issue is not the mindset of the PM, who always displays a liberal, progressive and deferential mindset as far women are concerned, but the mindset of the Congress and their inveterate hatred towards Modi. They still treat him as an usurper who not only took away the right of the Congress to control the cozy ecosystem of Lutyens Delhi, but also gradually dismantled it. The Congress not only lost the Lutyens ecosystem, but also failed miserably in regaining its ideological superiority.
The unprovoked laughter of Renuka Chowdhury was nothing but a mocking repudiation of Modi's authority and his undefeated aura. Renuka seems to take a cue from Gorgias's maxim: "We ought to worst our opponents' earnest with mockery, and his mockery with earnest." However, what she failed to gauge was the ability and swiftness of the PM to get back at her.
The bottom line is that such successive outbursts from Congressmen work as a safety valve that keeps them going with their deep-seated rancour.
Lekhi is a member of Parliament.
forthwriteml@gmail.com