Despite Brexit being a ludicrous proposition, countries across the world must address the contingency. If Britain's exit from the European Union does happen, it would have wide-ranging repercussions for every country that is even remotely connected with the global financial market.
India is the second biggest source of foreign direct investment for Britain. One of the main reasons for this is India's historical and cultural ties with it. Also, for India, the UK has been a gateway to Europe. Indian companies that set up their factories in the UK could sell their products to the rest of Europe under the European free market system. After Brexit, however, it will not be as attractive a destination for Indian FDI as before.
Hurt by an overvalued exchange rate as well as a weak global economy, the Indian economy has seen its exports declining for 18 months straight. With Brexit, the uncertainty that will likely unfold in major EU countries will add to the headwinds for a recovery in India's exports.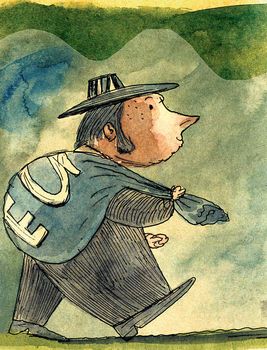 The impact on India will depend on the policy response by China, Japan and other countries to counter their own economic slowdown. After all, the EU is China's largest export destination, and with China's currency already facing depreciation, capital outflows will be under pressure. Any Chinese move to allow its currency to depreciate further will hurt India's domestic industry, unless reciprocated via a weaker rupee.
Exports from the US, China and India are on the cusp of seeing positive growth, and exports from Japan have seen a healthy pickup in recent months. Prolonged global risk aversion and a strengthening yen will have their own set of consequences for the Japanese economy and policy responses.
India expects a stalled recovery in its exports to the eurozone. The ongoing slowdown in China is impacting the global economy, especially commodity exporters from emerging market countries. More than half of India's exports are to emerging market countries, so the ensuing uncertainty will further weigh on India's external sector.
Progressively weaker data out of China will add to the depreciation pressure. With uncertainty clouding the EU, China may allow yuan to depreciate at a faster pace, which would be detrimental to Indian industry. Chinese exports to India grew around 7 per cent in 2015. Among the major economies exporting to India, China was the only one to record a positive export growth. In 2005, imports from China stood at around $10 billion; in 2015, imports from China were around $60 billion. This amounts to around 15 per cent of India's manufacturing sector. (Though not an apple-to-apple comparison, the value added in manufacturing in India is around $320 billion at 16.2 per cent of the GDP). It is only likely to increase in the coming years, hurting Indian manufacturing.
If India is to sustain a growth rate of around 8 per cent in the long run, it will need not only policies that will help the country counter the risks in the global economy, but also policies that will boost productivity and increase the competitiveness of Indian companies.