The Gujarat elections are over, and so are the heat and dust generated by it. The past month had witnessed one of the fiercest political campaigns ever seen in India. However, it leaves us with grim and nagging questions still begging for answers. The questions pertain to the Congress party and its dubious ways in dealing with the matters of national security.
Amidst the razzmatazz of the Gujarat campaigning, everyone was surprised by a dramatic news-break on December 9 that on the evening of December 6, the now-suspended senior Congress leader, Mani Shankar Aiyar, had held a meeting with Pakistan High Commissioner Sohail Mahmood and former Pak foreign minister Khurshid Mahmud Kasuri—in which former prime minister Manmohan Singh and former vice president Hamid Ansari had participated, along with some other high profile persons.
The news kicked up a storm. Meeting of a former prime minister and vice president of India, with officials and diplomats from a not-so-friendly nation, in the midst of a crucial election campaign, raised its share of suspicion. The suspicion became more pronounced when the Congress went initially into denial mode and later, acquiesced to the meeting, terming it to be a "social event". However, the next day, Prime Minister Narendra Modi took up the issue with the electorate of Gujarat. The Congress came out with a curious explanation that nothing else was discussed in the meeting except India-Pak relations and Kashmir, and that no one had a word on Gujarat elections. It's like being in Rio de Janeiro during the carnival, and not discussing the samba!
The meeting raised suspicion, as the host had been none other than Aiyar, whose visceral love for Pakistan and hate for the nationalist Modi government, is on record. Why should Congress politicians meet Khurshid Mahmud Kasuri, whose tenure as foreign minister had seen one of the worst phases of the cross-border infiltration? He had been privy to developments that led to the 2008 Mumbai terrorist attack. What benefit did Aiyar want to derive meeting such a person?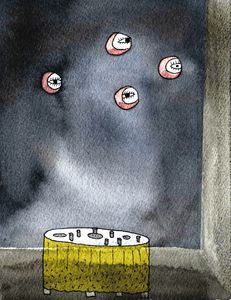 Hamid Ansari has been of particular interest to Pak policy makers as he's remained on the forefront of the 'intolerant India' narrative. Just before his retirement, Ansari had tickled the ears of the Pak administration by grieving that all across India "there is a feeling of unease (among Muslims)... (and) a sense of insecurity creeping in". No one is casting doubts on the integrity of Manmohan Singh. But, being a former prime minister of India, he should have acted according to protocol. One can argue that legally there was nothing wrong in Singh socialising with "friends" from Pakistan. But, the fact is, Singh is not just another citizen. As a former prime minister, he is privy to confidential and restricted information. Hence, he should be discreet in choosing invitations. It's a matter of national security, and a code which a former prime minister can't shrug off. He came up with a strong-worded response to the charges of Prime Minister Modi. But, this is a serious issue, and cannot be diluted with such undue smugness and contempt that he showed in his response.
Offence is the best means of defence. The Congress as a political party tried to deflect the nation's attention by demanding an apology from the prime minister. However, rhetoric apart, proprietary demands that senior politicians and those who have held constitutional positions must avoid dubious interactions with foreign diplomats, especially those which can lead to unwanted interpretations.
Lekhi is a member of Parliament.
forthwriteml@gmail.com