Chhattisgarh's well-known and much-loved 'lok shayar' (people's bard) Faguram Yadav died on May 7. He was 68. In the heyday of the Chhattisgarh mine workers' movement led by Shankar Guha Niyogi, Faguram wrote, composed and sang hundreds of songs about the struggles of the toiling people of Chhattisgarh, which inspired thousands. He was a founder member of the Nawa Anjor cultural team, which took the theatre performance on Veer Narayan Singh―one of the leaders of the 1857 anti-British struggle from Chhattisgarh―to many villages and towns, receiving great popular acclaim.
Born in a landless family in a village that was submerged by the Gangrel dam on the Mahanadi river, Faguram was an early witness to both poverty- and development-induced displacement. Unable to continue schooling beyond class five, he was forced by circumstances to work as a cattle herder, but his real passion was always music. At an early age, he became well-known as a singer at village weddings, and an accomplished player of the Mohri baja. He moved to the Dalli Rajhara mines in the mid-1970s and found work as a truck loader. It was here that the workers created the organisational platform called the Chhattisgarh Mines Shramik Sangh, which became famous for its combination of struggle for workers' rights and creative experiments in development.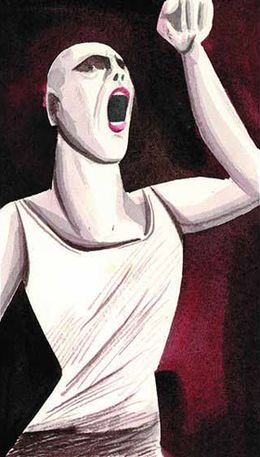 Beginning in 1977, the new organisation successfully defended the rights of the unorganised workers, supported struggles of the poor, mobilised women for social justice and equity, and created a workers' hospital called the Shaheed Hospital. It continues to deliver low-cost, high-quality health care to the people of the region. Under the influence of the new organisation, a period of extreme creativity gave birth to cultural and social activities at many levels, leading to its signature slogan, sangharsh ke liye nirman, nirman ke liye sangharsh (build a future for the struggle, struggle to build a future). In particular, the genius of Niyogi's organisational politics combined with the creative genius of Faguram to produce songs and drama of incomparable power that often had a mesmerising effect on viewers and listeners. Faguram's experiences contributed to the sharpness of his political understanding that flowed into his songs.
Our friendship with Faguram developed through listening to him at practice sessions and travelling with him for outstation shows. We saw him in many avatars―leading the processions of workers during public rallies, singing at programmes and teaching colleagues from the Nawa Anjor team. It is unfortunate that because of day-to-day compulsions, no significant attempt was made to record and archive his music. Scraps of recordings do exist, but he was never professionally recorded. Niyogi's murder was a major setback for the movement, and later the epicentre of the struggle moved beyond Dalli Rajhara. Faguram became emotional in his later years, and often wept openly while meeting old friends and associates. Perhaps, the distress at not being able to create a lasting alternative to the exploitative system bothered him.
His music and lyrics live in the minds and hearts of the workers of Chhattisgarh, particularly of Dalli Rajhara and the surrounding areas of south Chhattisgarh. An entire generation and their descendants have found meaning in life through his creations.
editor@theweek.in