"How wonderful it is to be able to write someone a letter! To feel like conveying your thoughts to a person, to sit at your desk and pick up a pen, to put your thoughts into words like this is truly marvellous."- Haruki Murakami
Keeping in touch is hardly a task these days—one just has to 'poke' on Facebook or post a WhatsApp message to 'connect' with a dear one. The postman belongs to a league of people who are rarely sighted, and,  if you spot one, he is there to deliver the drab, unwelcome stuff—bills and circulars. Rarely does he bring a treasured gem—a handwritten letter from a loved one. Only one who has held a letter from a friend can relate to that delightful mix of feelings that cannot be contained in a single word—right from the feel of the envelope, the sound of pinching it open, the faint smell of paper and ink, the handwriting and the thought that someone slowed down in this frenetic world to find a pen and paper, sit down, and immersed themselves to put out thoughts on paper, all for you. 
We are children of the paperless digital age where love is expressed as an instant message or within character limits. And that is why they say letter writing is a dying art. What brings solace, however, is the fact that there are still many who breathe life into this art, in ways of their own.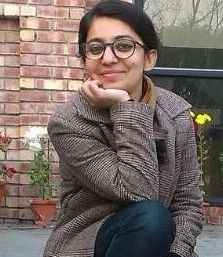 Afshan Majid may be a busy young woman, but that doesn't keep her from writing letters to her best friend in another city. Afshan, who now works as a visiting faculty for history at Symbiosis School of Liberal Arts, Pune, started the ritual of writing letters as a child when her best friend moved to another school. At a time when emails were just making an appearance, short notes of love which they exchanged through a common friend, kept the bond strong. These short notes transformed to long letters, and continue to this day. "These days it's cumbersome to write letters. But this is like our personal tradition," says Afshan. Sometimes, her letters flow over to pages, like diary entries of what happened, and who said what. 
History, too, would not have been the same had there been no letters, says Afshan. Letters give a persona to history without which it would merely be a set of recorded events, be it the historically important collection of insha letters from the Mughal era or the Lekhapaddhati from early medieval Gujarat—a collection of letters where a wife complains about the daily chores to her husband, expresses anger over his prolonged absence; the complains of a husband who is unhappy with his wife and secret love messages which give us rare insight into the daily lives of common people.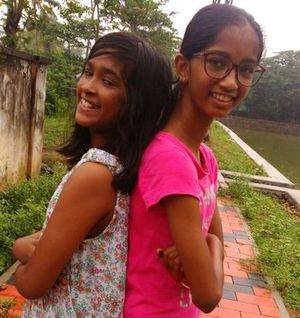 Like Afshan and her childhood friend, letter writing needs to be encouraged among children, feels Nandita Pranoj, an English teacher with a government-aided school in Kochi. Nandita feels today's children lack the art of putting their feelings to words. "It is true short, instant messages are packed with fun and wit, but most children fall out on the art of writing long pieces, and vocabulary is stunted." Recently, Nandita's 12-year-old daughter Mithravinda received a handwritten letter from her cousin Gouri. The child was excited, like she had gotten hold of a rare treasure. "Getting such a letter is something extremely uncommon. So, she felt it was something very exceptional and was all excited," says Nandita.  This excitement further inspired the little girl to sit down and write a two-page letter back to her cousin. The kids' initiative even motivated their grandfather to write to them, adding to all the fun. "Parents should take a step forward to initiate such letter writing circles within the family, and keep it going, before kids get too tied down by the digital age of messaging."  And this is probably what motivates Nandita to organise letter writing days at school where her students are encouraged to write to each other, and also to popular personalities.
Letters are channels of love and have immense power to make people feel grounded. The idea of having someone out there who acknowledges you, and takes time out to write to you, is a liberating feeling in itself. And this is what often makes letters healing and therapeutic, both for the writer and the receiver.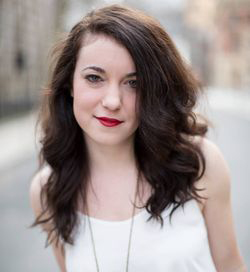 Hannah Brencher was the only student in college who would wait for her mother's letter every week. Her mother, unlike other parents, was not fond of the digital ways of sending love. After graduation, she moved to New York City and the vivacious young woman slipped into depression when life didn't take off the way she had anticipated. As she struggled to pull her self back together, all she could do was what she knew best—write letters. So she started writing love letters and dropping them in various parts of the city— at coffee shops, libraries and even coat pockets in department stores—for strangers to find. It is these random notes of love that blossomed into The World Needs More Love Letters, a worldwide movement to bring comfort to those in need, through the old-fashioned way of handwritten letters.
At an inspiring TED talk in 2012, she said: "The mere fact that somebody would even just sit down, pull out a piece of paper and think about someone the whole way through, with an intention that is so much harder to unearth when the browser is up and the iPhone is pinging and we've got six conversations rolling in at once, that is an art form that does not fall down to the Goliath of 'get faster', no matter how many social networks we might join."
A similar venture to take the comforting effects of letters to those in need, is happening closer home. When Nivendra Uduman was pursuing higher studies in Bengaluru, he teamed up with few of his friends to write letters of love to anonymous people. This random act of kindness has now grown into a bigger network—Letter Earthlings—a gathering of letter lovers who use handwritten letters to spread the warmth of love. For its founder Nivendra, letter writing comes naturally. During his college days, he would write letters to his family back home in Sri Lanka to tide over the stress and homesickness.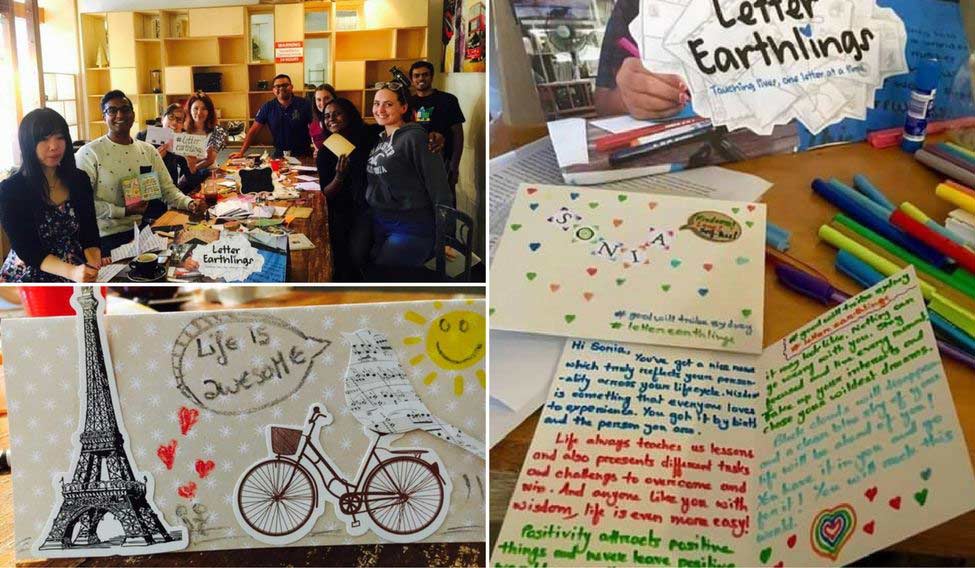 Founded in 2015, Letter Earthlings organises letter writing circles once a month in Colombo, Sydney, Dubai, Bengaluru and Chennai where volunteers get down to pen inspirational letters, and sometimes even draw pictures and make cards for strangers. Through their Facebook page or Google form on the website, you could request letters for yourself or for someone else in need of a boost. "You start to realise that it's not only you in this world who is going through whatever it maybe and it's always comforting to know that you have someone that you can confide this in," says Senashia, a team member.
Ten-year-old Shrushti was upset. She wasn't getting to spend quality time with her working mother, and the little girl had the perfect plan to fix it. All that she needed to do was send a sweet letter to her mother's boss asking him to let her mother come home early and have lunch with her. The greater question was who would get it done. So, she sent out a request to The Indian Handwritten Letter Company who keenly carried out the innocent plea, that too in style.  A thoughtful, handwritten letter to her boss weaved magic. Now, her mother gets to take a break in the afternoon and come home for lunch with Shrushti.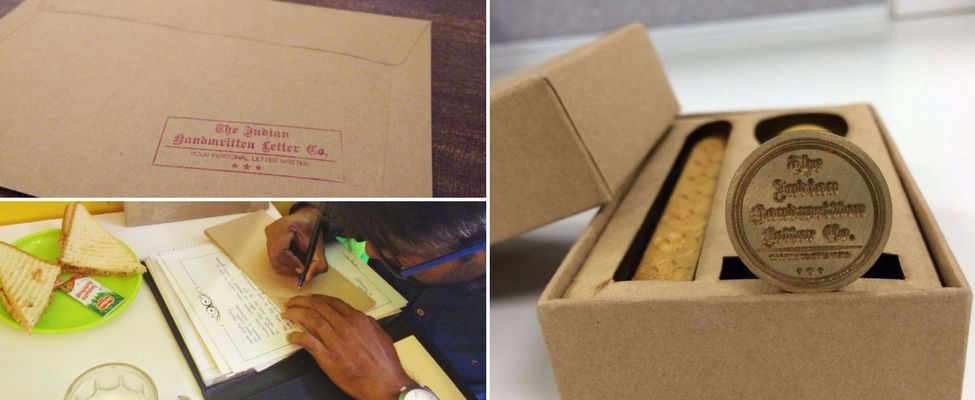 "Handwritten letters will never go out of style, and they are still the sexiest way of communication," says Anubhav Ankit, co-founder of Bengaluru-based The Indian Handwritten Letter Company which is all about adding a professional touch to the art of letter writing. TIHLC, founded by Anubhav and his friend Jashwanth Cheripally, both passionate letter writers, sends personalised handwritten letters. They cater to all sorts of letter requests—love letters, apology letters, letters to bosses and job cover letters.  What started off as a blog in October 2015 took off so well that they went on to launch a website this year. The interesting team of letter writers and sub editors has written letters in English, Hindi, Bengali, Punjabi, Odiya, and Marathi, and is set to take the love to more languages as well.  
As Senashia puts it, "Letters are a long-lost art of connecting people. They give people a lost sense of tangible relationships."