"When most Indians experience something, they associate it with superstitions or paranormal activity." - Hitesh K. Yadav
It was past midnight. Krishna Devi was working by the window at her Chandigarh home when, she claims, she saw a levitating alien entity right outside. Terrified, she watched as the greyish alien figure, about four feet tall, moved around the house and appeared near the front door. And then it vanished. About 15 years down the line, her son Hitesh K. Yadav is a UFO enthusiast.
Taking his passion one step ahead, the engineering student launched UFO Magazine India, a bimonthly e-magazine in January this year. "I started this magazine to create awareness and clear misconceptions," says Hitesh, 20. He has also developed a ufology app and founded Disclosure India—a team of 200 members that investigates alien sightings and encounters.
Unlike in the west, stories of alleged alien encounters and UFO sightings are not widely reported in the Indian media. This, however, should not mean alien entities have not been visiting India, says Hitesh. "There is a general lack of awareness in India. When they experience something, most people associate it with superstitions or paranormal activity," he says. Even if they identify it as an extraterrestrial activity, people do not know where to report or how to go about it. The most recent report of alien activity in India was from Karnataka. In July, some villagers in Gadag district found unusually huge footprints which they said were caused by aliens. Forest officials dismissed the claim, though they could not explain the footprints.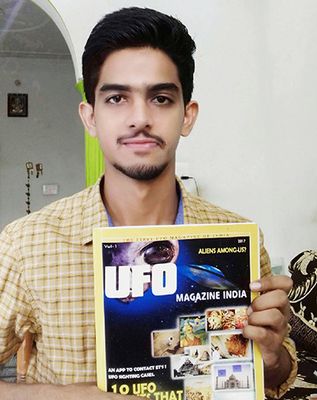 Unexplained occurrences such as these set off an adrenaline rush in Ramkrishan Vaishnav who likes to identify himself as an inventor, entrepreneur and ufologist. An electrical engineer, Ramkrishan, 28, runs two companies in Naguar in Rajasthan. In 2008 he founded The Other Planet (TOP) research group for ufologists across India and set off on an investigation of a UFO sighting in Banwara village, where villagers had seen bright lights and a strange flying object. "After scanning the area, we found a spot where the UFO could have landed and also recovered a light-emitting crystal-like object," he says.
Kamal Pant, 36, is no investigator or abduction theorist; he is a communicator. "When I look upwards, the open sky attracts me," says the computer science lecturer from Dehradun. "I am just preparing to upgrade myself to hear those messages, those that they want to tell me." He was lured into the world of ufology when he was five. "No, it was not a helicopter or aircraft. It made no sound," he reaffirms as he recalls seeing bright red and blue beams of light in the night sky outside his home.
In a bid to bond with the beings out there, Kamal specialises in a different realm—CE5 or close encounters of the fifth kind. These are encounters in which alien entities communicate with humans, mostly through telepathy. It could remind one of the random flashes of visions experienced by Louise, the protagonist in Arrival (2016), during her communication with alien heptapods.
Kamal refuses to believe in alien abductions, assault or implants. "They are a very advanced civilisation and all they want is to help us, not hurt us," he says. Extraterrestrials are no new phenomenon; they have been here for thousands of years, he says, urging us to look deeper into Indian mythology for proof. Ufology is a mix of Vedas and science, he concludes.