I am not inferior to anyone, I shall never give up." These words kept 13-year-old Poorna Malavath going, as she braved the chill of the Himalayan air to achieve a dream, for herself, her family, her teachers, her tribal community and other girls in her remote village in Telangana. The icy resolve saw her enter the record books in 2014 by becoming the youngest woman to scale Mount Everest.
In Pakala, a small village in Nizamabad district, her parents Devidas and Lakshmi, were toiling in the fields to make ends meet. "Yet they have been supportive of all my activities," said Poorna, who just finished class XII at the Telangana Social Welfare Residential Educational Institutions Society (TSWREIS).
Poorna, 16, said, through her feat, she wanted to inspire the marginalised sections of society to dream big. "I wanted to prove to the world that there is nothing a girl from a backward caste cannot do," she told THE WEEK. "I had once thought I would never step out of my village or school, but now I am seeing the world."
If Everest brought mountains of joy to this teenager and her family three years ago, this year it is something else—the story of her life playing on the silver screen. Inspired by her story of endurance, actor Rahul Bose directed Poorna, which released on March 31. "Now more people will get to know my story," she said, calm and composed. She also spoke of having struck a good rapport with 14-year-old Aditi Inamdar, the girl who played her role in the film. Eyeing new peaks, Poorna climbed Mount Kilimanjaro in August 2016 to unveil the first look of her biopic.
The wind beneath her wings is R.S. Praveen Kumar, an Indian Police Service officer of the 1995 batch. He is the secretary of TSWREIS, which was set up for the education of students from backward castes and poor families. "He is my role model," she said.
Motivating young minds like Poorna is Kumar's way of "paying back" to his state and alma mater. Kumar, himself a product of Andhra Pradesh Social Welfare Residential Educational Institutions Society (now TSWREIS), gave up a lucrative police career to work for the improvement of the "absolutely depressing" government education system in the state. A fellowship programme at Harvard University led to several job offers, but he turned them all down and, instead, sought a posting at TSWREIS. "Here the canvas is much bigger. I get a chance to touch lives and to inspire parents and children to look at the world differently," he said.
Bose reprises the role of Kumar in the biopic.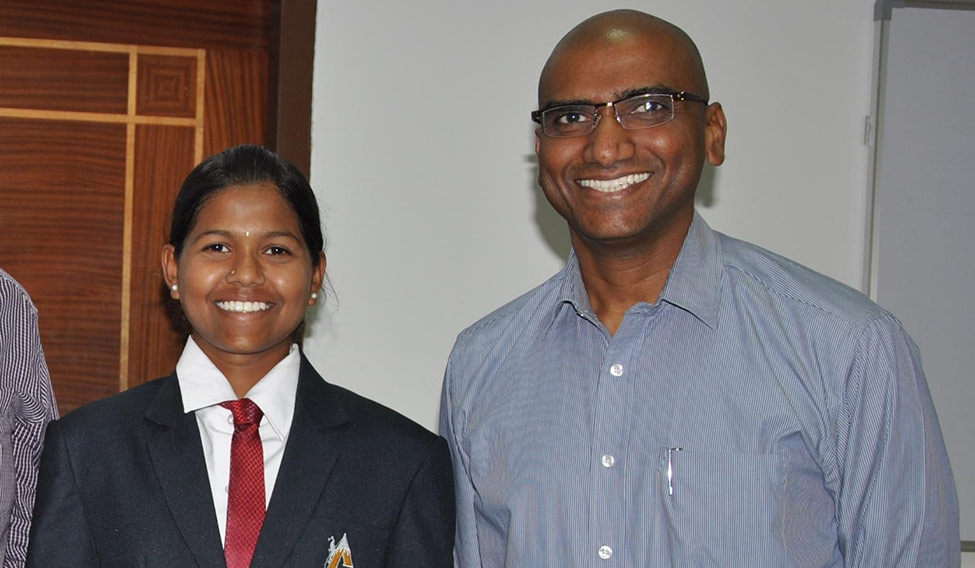 For Poorna, mountaineering just happened, a serendipitous journey. Her life turned around when a summer camp—Summer Samurai—was introduced for students of TSWREIS in 2013. The camp, started by Kumar, was also intended to preempt potential dropouts. Till then, many students who went home for summer vacations never returned—girls were married off and boys dropped out of school—said Kumar.
Poorna and her Everest teammate Sadhanapalli Anand Kumar, then 16, were among 110 students selected for the summer camp's rock-climbing course at Bhongir in Nalgonda district. "She is very bold and hardworking," said Shekhar Babu, her trainer at Bhongir. Babu had climbed Everest in 2007—he was one of the first from undivided Andhra Pradesh to do so—and he later led Poorna's Everest expedition.
"It was very difficult to convince parents to send their children for something as dangerous as rock climbing. Poorna is a normal girl, but very aspiring—one who wants to grab every opportunity," said Kumar. After getting an A+ grade at Bhongir, she was selected, along with 19 others, for a 15-day course at the Himalayan Mountaineering Institute in Darjeeling. Later, they underwent another course in Ladakh, in minus 30 degrees Celsius, to tackle Everest's forbidding terrain and the numbing weather.
In May 2014, Poorna and her team scaled Everest from the Tibetan side. In spite of all the training, the climb was not easy for Poorna. "I developed vomiting and uneasiness on the first day. After a day's climb, we went down to the base camp, and climbed back the next day," she recalled. She reached the summit in 52 days. Poorna's record of being the youngest woman to scale Everest has not been broken, and will never be, thanks to a change in rules. Babu explained: "The year after Poorna's expedition, the minimum age to scale Everest was raised to 16 years. And so, the young girl will remain unbeaten."
Her feat broke conventions, and changed mindsets. "Now every parent wants his daughter or son to become like Poorna, to join the government residential schools, and see the world," Kumar said. "Now, parents look beyond marrying off their young children." After her feat, the Nizamabad district collector adopted her village and developed basic amenities, Poorna said proudly. Before that, she said, the closest shop was 7km away.
After schooling, Poorna hopes to become an IPS officer, like 'secretary sir'.