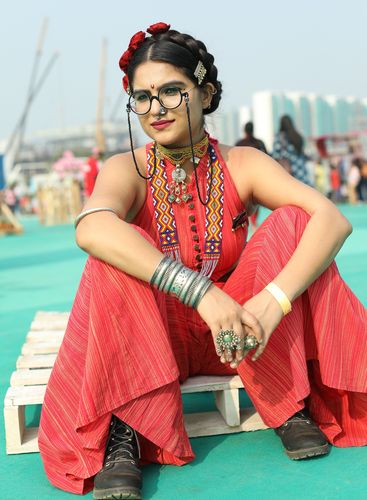 Three years ago, Jaipur-based artist Lyla FreeChild secretly experimented with a new medium in the bathroom, during 'those days of the month'. Friends loved her work; some wanted it for themselves. "Had they known what I had used as a medium, it would have grossed them out,"says Lyla. "I didn't even tell my mother for fear of how she would react."
Today, her work is no secret. Lyla, who uses her menstrual blood to create paintings, is the only artist in India known for this form of 'period art'. Using a combination of blood and paint on acrylic, her works which celebrate nature, the female body and menstruation, attempt to deal a blow to traditional, sexist practices. One of her controversial Instagram posts even showed her using her menstrual fluid to 'fertilise' plants.
As Bollywood films like Padman, and Phullu which released last year, attempt to bring the taboo subject of menstruation into mainstream conversation, those like Lyla have been doing their share to give periods its pop culture moment.
"Bollywood has barely acknowledged this basic physiological phenomenon,"says Sharib Hashmi, who essayed the titular character in Phullu. Sharib played a man who tries to improve menstrual hygiene standards in his village. Perspectives have surely changed for Sharib, before and after the film. "Earlier, I was highly embarrassed to buy sanitary napkins for my wife. That's probably because I grew up in a home where the subject was never discussed. My mother would change the channel when a sanitary napkin advertisement came on television," he says. It was ironic that the film was given an 'A' rating by the CBFC, then led by Pahlaj Nihalani. The 'Adult' rating for Phullu meant it didn't reach family audiences and adolescent children. "That kills the whole purpose of the film,"Sharib adds. And, that's why he is glad Padman got a U/A rating.
In recent times, many have made attempts to take periods beyond the blue ink representation in sanitary pad adverts. Singer Sofia Ashraf's quirky music video Period Paatu, in which she used the 'villu-paatu' story-telling tradition of Tamil Nadu to address menstrual hygiene, was widely discussed. Not to forget, Mumbai-based spoken word poet Aranya Johar's Periods Do Not Limit Me video, in which she says she hopes to live in a world where 'we celebrate the only blood that bleeds without violence, where pads aren't wrapped and monologues aren't silenced'.
While these artistic initiatives are appreciated, they also trigger debates and draw flak. In 2015, London-based musician Kiran Gandhi became a subject of global debate when she ran the London marathon during her periods, sans the tampons, staining her pants.
The same year, popular Instagram poet Rupi Kaur posted a picture of herself with period-stained sweat pant and sheet, as part of a menstruation-themed photo series. Instagram took it down twice 'for violating community guidelines'. That speaks volumes about the global stigma. Rupi reposted the picture, with a scathing criticism of Instagram's hypocrisy. "I will not apologize for not feeding the ego and pride of misogynist society that will have my body in an underwear, but not be okay with a small leak. When your pages are filled with countless photos/accounts where women (so many who are underage) are objectified. pornified. and treated less than human. thank you (sic),"she wrote. Instagram gave in, and apologised for the mistake.
Talking to media about Padman, her maiden production, actress Twinkle Khanna had said: "I am hoping that it will start a conversation within homes". Such conversations are imperative, says Lyla. "I do not paint with menstrual blood to push others to take up the same. All I want is people to talk about it,"she says.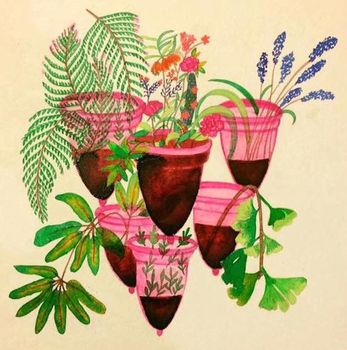 Another one of her works involved an installation of a giant menstrual cup made from over 400 menstrual cups. An advocate of eco-friendly alternatives like menstrual cups, she caught eyeballs for her menstrual cup earrings, at her stall at the Jaipur Lit Fest last year.
We need to start reviewing menstruation through a different lens which can filter beliefs from facts, says Sonal Jain, co-founder of Boondh, a social enterprise in the menstruation space that promotes eco-friendly alternatives like the menstrual cup. On World Menstrual Hygiene Day last year, Boondh organised Crimson Wave—India's first travelling art show on menstruation. It exhibited works of artists from across the world—digital art, poetry, paintings and photographs. The exhibition which was showcased in Chennai, Bengaluru and Goa will reach more cities in May this year.
Eight of 10 Indian girls are not allowed to enter religious shrines when they are on their period. Six of 10 girls are not allowed to touch food in the kitchen. Three of 10 are asked to sleep in a separate room. These were some of the findings from a UNICEF-funded study by the Tata Institute of Social Sciences, published in 2016. Half of adolescent girls who were part of the study had no idea what menstruation was, when they got their first period. While poetry and abstract art could be used to address adults, how can awareness be taken to children? How can they be liberated from humiliating myths?
Menstrupedia Comic, an illustrated comic book for children, offers an engaging solution. Told through three girls in different stages of puberty—Jiya (13), Mira(11) and Pinki (9)—and their experiences, fears and queries about periods, Menstrupedia is the brainchild of Aditi Gupta, a National Institute of Design graduate. In 2012, Aditi launched the website with friend and co-founder Tuhin Paul, whom she later married. The comic was first published in 2014.
"When I got my first periods, I was told to keep it a secret from others; even from my father or brother. Later, when the chapter appeared in our textbooks, our biology teacher skipped the subject,"Aditi said at a TEDx Talk in 2015 on experiences that drove her to create Menstrupedia. The comic, aimed at girls aged 9 and above, has been translated into 13 languages and integrated into curriculums of more than 200 schools across India. Now the book has been translated to Bulgarian and Russian, because the 'stigma is everywhere' says Tuhin.
In their 2017 video 'Hello Periods', which has garnered over 1 million views, the characters talk about how periods work, human body, puberty changes, and much more.
"This process is inherent to the identity of a woman. Young girls need to understand that so that they grow into women who feel confident about their bodies and themselves,"says Tuhin.