Sources say the CBI charge-sheet would have two lists, containing names of people directly and indirectly involved in the scam. But, will Mamata's name be on the list?

"Yes, it is tough, but mark my words, we will come out as a big player in the coming election" - Dilip Ghosh, state BJP president
In November, Trinamool Congress general secretary Shankudeb Panda was summoned by the Central Bureau of Investigation. He was the sixth Trinamool leader—after Rajat Majumdar, Madan Mitra, Mukul Roy, Srinjoy Bose and Tapas Paul—to be called for interrogation in the Saradha chit fund case.
Panda tried to put off his interrogation a few times citing his busy schedule. But, when the CBI threatened him with a legal notice, he promptly reached the agency's office on December 2.
Panda was a reporter for Channel 10, one of the television channels owned by Sudipta Sen, owner of Saradha Group. Apart from his monthly salary, Panda allegedly received large sums of money and additional perks from Saradha Group. He was close to Chief Minister Mamata Banerjee who, apparently, handpicked him to lead the student wing of the party in 2013. In fact, the main reason for summoning Panda was the allegation by arrested Trinamool MP Kunal Ghosh that Panda was recruited to the channel at the behest of Mamata. "Shankudeb Panda was recruited by me after [I was] instructed by Mamata," Ghosh wrote to the CBI from jail.
However, it was not a loyal party man who turned up for the interrogation. Panda, instead, admitted that he was part of a group (within the party) that associated itself closely with Sen. He denied having made money from the association, but named many party leaders who were close to Sen and had pressed him to finance their "functions and celebrations".
"I saw many things in the party," a CBI source quoted him as saying. "Many senior leaders of my party were closely in touch with Sen and his company. I only followed them as they were my seniors."
Sources said that, during his two-hour interrogation, Panda named three MPs, two ministers and two senior party leaders. He said that though there was regular interaction between Mamata and Sen, he was not part of it. He admitted that he had been recruited at the behest of the chief minister.
Panda apparently pleaded with the CBI not to arrest him and said he was ready to cooperate. He corroborated what Ghosh, his boss at the channel, had told the CBI about many Trinamool leaders. Satisfied with his answers, the agency let him go. That evening, however, he was stripped of all political responsibilities. Said party general secretary Partha Chatterjee: "Shanku has been relieved of all party responsibilities for the sake of investigation."
For about a year, the CBI has investigated the case thoroughly and has interrogated two dozen people, including political heavyweights. Now, prodded by criticism that it is going slow because of political pressure, the CBI wants to file its final charge-sheet by April. Interestingly, this would coincide with the state assembly elections, and the Trinamool Congress had said that the BJP was using the CBI to harass its leaders before the elections. Sources say the charge-sheet would have two lists, containing names of people directly and indirectly involved in the scam. But, will Mamata's name be on the list?
The CBI now plans to interrogate Sen and Ghosh. It recently questioned a senior West Bengal police officer who had been in charge of the investigation earlier. Sources said the CBI would also interrogate a few government officials.
Apparently, it was the letters from Sen and Ghosh that formed the base of the the investigation. When the Saradha group collapsed, Sen wrote to the CBI, admitting that he had paid large sums to many politicians. And, in his letter to the CBI, Ghosh said he was constantly in touch with Trinamool leaders when Saradha was collapsing. "I informed Mamata di, Mukul Roy and Madan Mitra about the impending collapse," he wrote. "Mamata di called up Sen and assured him of all cooperation to survive the tough situation. Mukul Roy played a mysterious role. He did not give much importance to it. I met Madan Mitra at Yuva Bharati stadium (Salt Lake). He told me he had already spoken to Sen about this and nothing would happen."
After the group shut down, Ghosh called up Sen, who said he was resting at home. "I then asked police officer Bharati Ghosh to track Sen's mobile," he wrote. "The officer told me Sen was in Uttar Pradesh. All three I had spoken to earlier [Mamata, Roy and Mitra] kept mum [about it]." This information apparently helped the CBI find out who helped Sen flee Kolkata or turned a blind eye to his departure.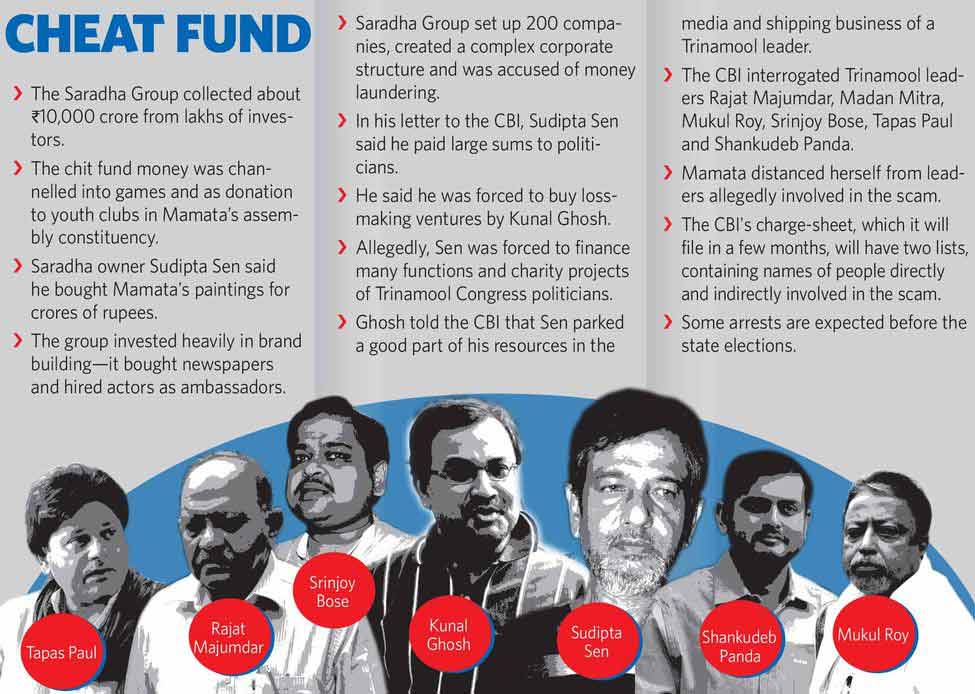 Said state CPI(M) secretary Surya Kanta Mishra: "If the investigation goes in the right direction, Mamata Banerjee would have to be questioned. She is the prime accused in the Saradha scam."
On December 8, Mamata met Prime Minister Narendra Modi in Delhi, but neither has divulged any information about the meeting. However, within a few days, Mamata took a few major steps. At a huge rally, she said she was not worried about the investigation and was ready to go to jail. "If they arrest me, I will find some time to take rest," she said. And, while in Delhi, she invited an estranged Roy to dinner and asked him to return to the party. "Don't be afraid of that [case]. If needed, we will all go to jail," a source quoted Mamata as saying.
In Parliament, she sided with Congress president Sonia Gandhi on The National Herald contoversy and told her MPs to create a ruckus. She also came out in support of Delhi Chief Minister Arvind Kejriwal when the office of one of his ministers was raided.
The BJP has upped its ante against Mamata. A day after the Modi-Mamata meeting, the BJP replaced state party president Rahul Sinha with a former Rashtriya Swayamsevak Sangh pracharak, Dilip Ghosh. "Yes, it is tough, but mark my words, we will come out as a big player in the coming election," he said. The following day, the new president called for protests across the state, and thousands of RSS and BJP members started rallies and marches. BJP national secretary Sidharth Nath Singh and general secretary Kailash Vijayvargiya led from the front. They told THE WEEK that they were "on the ground as instructed by our president Amit Shah".
Said Vijayvargiya: "Mark my words, Mamata will be in the CBI net." This was in sharp contrast to what he had told THE WEEK in an interview a few months ago. "The BJP would not be interested in taking up the Saradha issue on the ground as the party thought it would not be proper to raise the same issue all the time," he had said. The U-turn indicates that all is not well between Modi and Mamata, especially in the run up to the elections.
Mamata, meanwhile, has been trying hard to woo the minorities in the state. She attended religious meets of two big Muslim organisations—Jamiat Ulama-i-Hind and Furfura Darbar Sharif—and called the BJP a communal party. However, she has been careful not to launch any personal attacks on Modi. In 2014, Mamata had said: "Had I been prime minister, I would have sent him [Modi] to jail by tying a rope around his waist." Now, political pundits say it is the other way round—Mamata would have to appease Modi to stay out of jail.