A police officer said the police department was vitiated by caste politics, punishment transfers and harassment.
On July 7, Mangalore Deputy Superintendent of Police M.K. Ganapathy, 51, walked into a television studio in Madikeri, Coorg, and said he wanted to give an interview. In the interview, he spoke of "harassment" by Bengaluru City Development Minister K.J. George, Additional Director General of Police (Intelligence) A.M. Prasad and Inspector General of Lokayukta Police Pranab Mohanty.
"Please telecast this right now," he told the channel. "I don't know what will happen to me after this moment. But whatever happens, those three people are responsible." A few hours later, the police found him hanging from a ceiling fan in his hotel room in Madikeri.
By late evening, the interview was flashing on several news channels. The Karnataka government immediately ordered a CID investigation, while the opposition demanded George's resignation and a CBI investigation, and disrupted the legislative assembly. The government action smacked of a cover-up, they said.
George was earlier linked to the death of IAS officer D.K. Ravi, who was found hanging from a ceiling fan in his house in Bengaluru in March 2015. Ravi had cracked down on real estate companies that had evaded taxes. One such company was partly owned by George. The Karnataka government had then stated that Ravi committed suicide because of a family dispute. This time, too, the government defended George saying there was no evidence against him in the case of Ganapathy's suicide.
On July 8, the case got murkier when Ganapathy's brother, Deputy Superintendent of Police M.K. Thammaiah—with Inspector General of Police B.K. Singh by his side—told the media that Ganapathy suffered from severe depression. "He had no problems in his professional life. He used to imagine that some people were harassing him," he said.
An interim CID report said Ganapathy was "depressed" and was undergoing treatment. His psychiatrist, however, said he suffered only "mild depression and there was no visible suicidal tendency". Ganapathy's service record, too, said he was in good health.
IGP Singh said a written complaint filed by Ganapathy's father, M. Kushalappa, had mentioned "marital discord" as the reason for his death. Kushalappa, however, denied writing such a complaint. "I only signed on paper shown to me by the police. I did not read it as they told me it was getting late and they had to remove the hanging body," he said.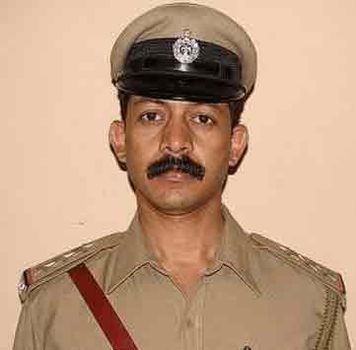 On July 10, Ganapathy's wife, Pawan, along with her family, went to the Kushalnagar rural police station and filed a six-page written complaint. The police, however, refused to file an FIR against George. Said Pawan: "My husband suffered extreme harassment by George and senior officers Prasad and Mohanty. The government should initiate action against them."
Said former deputy chief minister R. Ashoka: "There are many loopholes in the probe. Where are the death note and papers found near the body? The television visuals captured in the room showed hotel keys, pen drives and some notes. The government is trying to prove Ganapathy was mentally unstable. If that were true, why did the government promote him as DySP?"
Ganapathy's "bad days" started in 2008, after Hindu extremist groups attacked churches in Mangalore. He had filed cases against some miscreants to prevent a communal flare-up after the attacks. The Catholic community, however, alleged that he had manhandled their innocent brethren. Apparently, George held this against him and, when he became home minister in 2013, the harassment allegedly intensified.
Ganapathy faced a departmental inquiry after the church attacks and was suspended. However, the case was closed and no evidence was found against him. When the Congress came to power, in 2013, it reopened the case, and kept it pending. The church attack case, a suspension after an alleged fake encounter of a rowdy-sheeter Pachchi in 2010, and alleged misappropriation in a theft recovery case in 2014 cost him two increments and were responsible for the delayed promotion. And, apparently, seniors used the inquiry to arm-twist him when he did not toe their line. Said Janata Dal (Secular) president H.D. Kumaraswamy: "The departmental inquiry was kept pending for six years though rule states no inquiry should take more than six months. It is clear, Ganapathy was being harassed."
A police officer said the police department was vitiated by caste politics, punishment transfers and harassment. Resignations and suicides of upright officers, he said, were often attributed to "personal issues".
A sound bite from the Ganapathy interview: "George has hoarded so much land and property and the monthly rentals run into lakhs. George ensured that Prasad and Mohanty are appointed to crucial posts to help him with tip-offs and case adjustments (extortion). I would never cooperate and yield to their demand for money. So I am being targeted."
Departmental worries

On July 5, Deputy Superintendent of Police Kalappa Handibag committed suicide after he was suspended from duty for his alleged connection in an abduction case.

In June, Deputy Superintendent of Police Anupama Shenoy resigned, alleging harassment by minister Parameshwar Naik (later dropped from the cabinet).

IPS officer Sonia Narang, who unearthed an extortion racket in the state Lokayukta, was transferred to the CID and then to the National Investigation Agency.

Police Inspector G.N. Mohan, who had filed a case against Chief Minister Siddaramaiah's son, Rakesh, in a rioting case during the 2013 state elections, has alleged harassment. He was suspended for 18 months and was later assigned to a non-executive post in Karwar.