Pul's position had weakened. It is said he was dismayed at being "let down" by the BJP and feared the "revenge" of the Congress.
The seven states in the northeast are often called seven sisters, as they share several common aspects. One of them is that they do not elect sisters (women, actually) as chief minister—with the exception of Anwara Taimur in Assam for six months. Another is that chief ministers often serve multiple, and even consecutive, terms. Pawan Kumar Chamling has been Sikkim chief minister for almost 22 years; Manik Sarkar in Tripura for 18 years; and Okram Ibobi Singh in Manipur for more than 14 years. Lal Thanhawla has been Mizoram chief minister for more than 20 of the past 32 years, while Tarun Gogoi was chief minister of Assam for three full terms.
Until sometime ago, the tradition in Arunachal Pradesh had been no different. Gegong Apang, who was in power from 1980 to 1999, and then from 2003 to 2007, holds the record for serving as chief minister for the longest time in the northeast. His successor, Dorjee Khandu of the Congress, died in a helicopter crash in 2011.
Khandu was succeeded by Nabam Tuki, who lost his chair in January this year because of a rebellion within the Congress. The man who raised the banner of revolt was Kalikho Pul, who was finance minister in Apang's cabinet. After Governor Jyoti Prasad Rajkhowa brought about president's rule on the state, Pul broke way from the Congress. He became chief minister in February after proving his majority in the assembly with the support of fellow dissidents in the party and the opposition BJP. His term, however, was cut short in July, when the Supreme Court reinstated Tuki's government, saying the way it was shown the door was unlawful.
The months of political unrest in the state came to an end after Pema Khandu, whose father died in the crash, took over as chief minister. Pul, 47, was the last of the rebels to agree to return to the Congress fold.
On August 9, less than a month after he was removed as chief minister, his body was found hanging from a ceiling fan in a bedroom of the chief minister's official residence in Itanagar, which he had not vacated.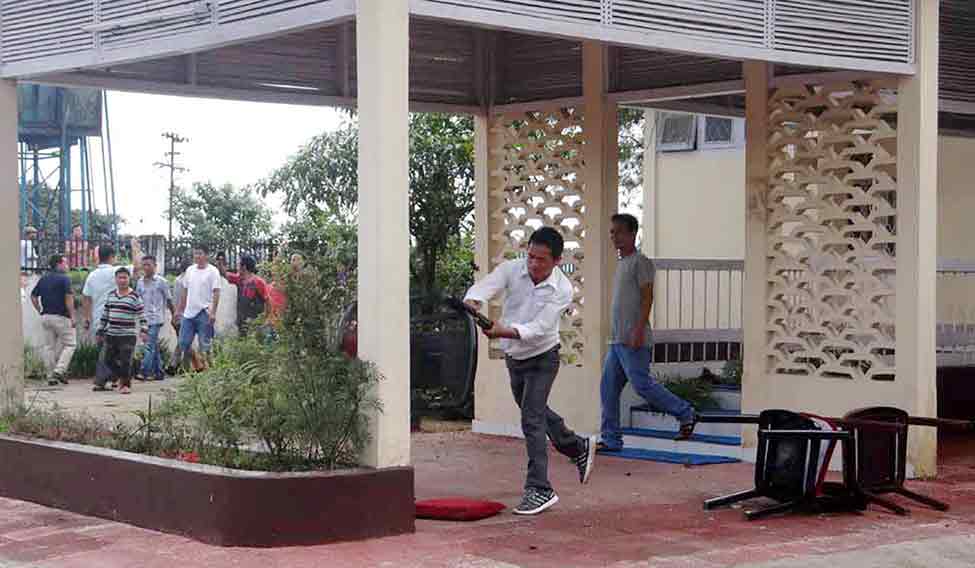 His followers and party colleagues were shocked. "There are ups and downs in politics," said Congress MLA Techi Kaso. "He should not have thought of the chair always. We have chief ministers and politicians who have gone to jail, but none has taken such an extreme step."
Pul had been a hardworking politician who rose from a humble background. He lost his mother when he was just a year and a half and his father, when he was 11. He worked in a tea stall and as a carpenter to pay for his studies and graduated in economics. He married thrice, as is common in his Kaman Mishmi tribe.
It was in college that he had entered politics. Hailing from the remote Anjaw district that borders China, Pul was among those leaders who regularly voiced their concern over China's growing influence in the region.
Pul first stood and won elections in 1995. He won four more times and became one of India's youngest finance ministers in 2003. He was dropped from the cabinet when Tuki became chief minister. Pul's followers say Tuki saw him as a rival.
Pul was close to Apang, who quit the Congress and joined the BJP in 2014. Apparently, Apang played a key role in bringing about a split in the Congress by luring Pul with an offer to make him chief minister. A section of Congress legislators had been demanding the removal Tuki as chief minister. When the party high command continued to support Tuki, the rebel legislators joined hands with the BJP and rallied behind Pul. "We were amazed that the BJP made him chief minister, when he had not formed a party and had only a few Congress MLAs with him," said Kaso.
Those who were close to Pul say he was shocked by the Supreme Court decision to reinstate Tuki and his government. The verdict invalidated Pul's tenure as chief minister, even though he had proved his majority on the floor of the house. "He was extremely disappointed and frustrated," said Bamang Felix, Congress MLA and spokesman. "How could such an intelligent and qualified man fall into the trap laid by the BJP?"
According to Kaso, Pul was blackmailed by the BJP. "He was frustrated with the BJP," he said. "Being a former colleague of his, I could say that, at last, he understood the BJP's political plot to isolate him. I heard that he wanted to go in appeal in the Supreme Court."
According to a confidant of his, Pul said a few days before his death: "If it was wrong not to allow Tuki to prove his majority, then it is also wrong to pull down my government, which proved its majority on the floor of the house."
BJP legislator Tamiyo Taga said Pul had considered joining the BJP and had talks with its leaders. "But he was not ready," Taga said. "He was dithering about joining our party."
Pul's position had weakened because of his role in the split in the Congress. It is said he was dismayed at being "let down" by the BJP and feared the "revenge" of the Congress. Felix told THE WEEK that there was no plan of re-inducting Pul into the party.
The uncertainty about his political future could have driven Pul to the edge. After the news of his death broke, Pul's followers burnt Congress offices and government bungalows in several places. Some of them also demanded the resignation of Pema Khandu as chief minister.
Felix said the state government had ordered a "high-level inquiry" into Pul's death. "We have lost an able politician," he said, "one who could have made it big in the future."