"Look at the situation in Bengal today. We have a woman chief minister who abuses rape victims" - Deepa Dasmunsi
Though Deepa Dasmunsi and Roopa Ganguly are on the diametrically opposite sides of the political spectrum, they have more similarities than differences. Both of them are in early fifties, they left their careers as performing artistes for politics and they are the mascots of their parties in the state. And, they have a common enemy—Chief Minister Mamata Banerjee.
It was Deepa's husband, Priya Ranjan Dasmunsi, who brought Mamata into politics. In 1984, Rajiv Gandhi wanted a young candidate against CPI(M) heavyweight Somnath Chatterjee in the Jadavpur Lok Sabha constituency. Dasmunsi suggested Mamata's name and Rajiv accepted. Deepa, however, never got along with her.
Deepa was the lead actress in Kumar Roy's Bohurupee theatre in Kolkata. She entered politics 15 years ago, and lost her first contest in 2001 in the Goalpokhar legislative constituency. But, five years later she won the seat. Her political career took a sharp turn when Dasmunsi suffered a stroke and paralysis in 2008. In the 2009 Lok Sabha elections, Deepa won from Raigunj, which her husband had represented. Though the Congress was in alliance with Mamata's Trinamool Congress in the elections, Deepa refused to hobnob with Mamata. "Yes, I never supported her brand of politics," said Deepa. "I thought she was more about gimmick than substance. I was proved right when she became chief minister. Look at the situation in Bengal today. We have a woman chief minister who abuses rape victims."
Bengal Congress president Adhir Ranjan Chowdhury wanted a strong candidate against Mamata this time in Bhawanipur. When the BJP decided to field Chandra Bose, grandnephew of Subhas Chandra Bose, in the constituency, Chowdhury feared the Congress would be relegated to the third spot. He alerted Congress president Sonia Gandhi, and Deepa agreed to contest at Sonia's insistence. "To be honest, I was not at all interested in contesting from Bhawanipur," said Deepa. "I would have liked north Bengal. But when the high command told me that Mamata had to be challenged, I agreed to fight. I am a challenger and fighter."
Challenges are nothing new for Deepa. Her husband has been bedridden for eight years. "I wish he is here to advise me on what to do and what not to while fighting against Mamata," she said. Despite the prolonged treatment, there has been no improvement for Dasmunsi. "No improvement, but no deterioration, either, which keeps my hope alive. I meet him regularly. I don't know whether he recognises me but there is head and neck movement," she said.
The Congress organisation is an embarrassing relic in Bhawanipur. "But I must say that the response of people has been very positive," said Deepa. In fact, she is banking more on the CPI(M) than her own party. The Congress and the CPI(M) have an electoral understanding against Mamata in West Bengal. After her candidature was declared, Deepa went straight to the CPI(M) office in South Kolkata and met local leaders. That surprised many because she had vehemently opposed the alliance. "Yes, I opposed it. But I put the condition that the Congress should not be treated as a small partner in the alliance and must get its due share. I also said the same thing in 2011 when we had a meeting for an alliance with the Trinamool Congress," said Deepa.
Deepa's biggest advantage is, nothing much is at stake for her. If she loses, she would be branded as a fearless fighter; if she wins, it will change the course of politics in the state.
While Deepa is trying to create history, just about a kilometre away Roopa Ganguly is least bothered about history. Though not a candidate in Bhawanipur, she leads the BJP's charge against Mamata. "I was never interested in politics. In fact, I stayed away from all political activities. I thought it was not my cup of tea," she said. Roopa began her career as Draupadi in the television serial Mahabharata, but soon became a favourite of Bengal's thinking middle class. She acted in several-award winning films directed by Mrinal Sen, Aparna Sen and Rituparno Ghosh.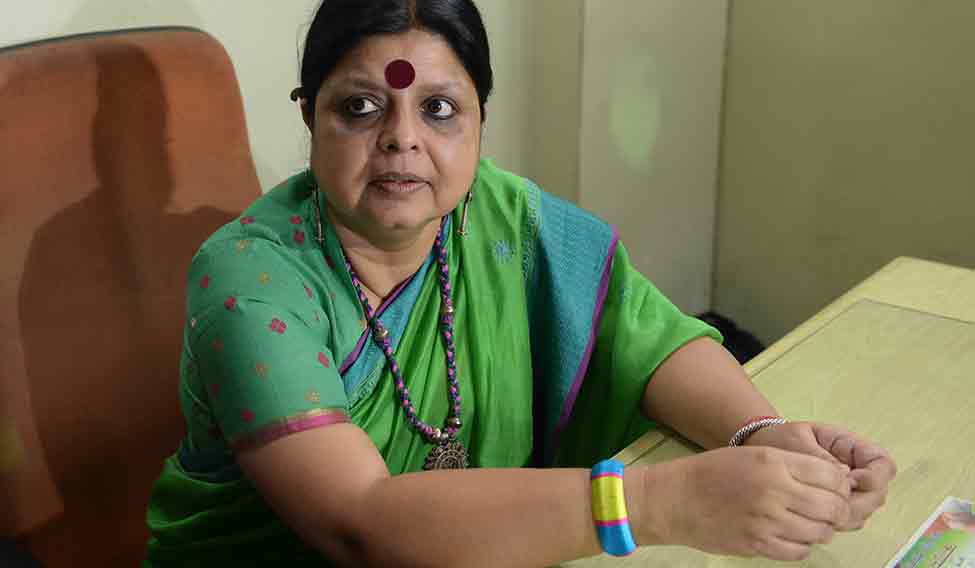 Roopa entered politics in 2014, "seeing Mamata's misrule". "She was more into theatrics than doing good for people," she said. "I did not believe her from day one. And it turned out to be true, shortly after she became chief minister." But, what drove her to the BJP while she was seen as part of the left-backed intellectuals? "Only because the BJP is the only hope for our state," she said. "Time is ripe that we think of the situation in the state rather than what our ideology is." Does that mean she set her ideology aside before becoming part of the saffron party? "I am in the BJP because I find only the BJP can give good governance in West Bengal. We have seen the Congress's dynastic rules and the CPI(M)'s misrule for 34 years. Lets now give the BJP a chance," she said.
Since she joined the BJP, Roopa has been the face of the party in Bengal. She hit the street almost every day, travelling across the state during the protests against the Saradha scam. The party rewarded her with the Howrah North seat, where it is a strong force. She has been pitted against Trinamool candidate Laxmi Ratan Shukla, a former cricketer, and the Congress's Santosh Pathak. In 2011, the BJP bagged around 14 per cent votes in the constituency. In the 2014 Lok Sabha elections, it increased the share to 20 per cent. The leftist votes in the constituency (28 per cent) are unlikely to go to the Congress candidate. This gives Roopa some advantage, though she declined to get into the maths. "Let's see how things unfold," she said.
While Roopa gave up some prestigious movie contracts to enter politics, Deepa let go of a fine career in theatre. Both are at the crossroads in their chosen roles. Will Roopa end the BJP's long wait? Can Deepa defeat Mamata? Both women have already won eyeballs. But beating Mamata and her party would be an altogether different game.