The Maoists admitted they had executed most of the missing CPI(M) leaders and apologised for the killings.

"Yes, some ultras are trying to create disturbance. We have alerted the forces" - Mamata Banerjee, chief minister, West Bengal
Deben Singh, a primary school teacher in Kankrajhor of West Midnapore district in West Bengal, went missing in December 2010. Singh, a CPI(M) leader, was allegedly abducted by Maoists from his school. His family lodged a police complaint, but the probe stayed on paper. There was no acknowledgement from Maoists either. It was presumed that he was punished by Maoists for being a member of an 'enemy party' and for refusing to pay them the monthly extortion money. Three years later, his body was dug out by labourers working under the Mahatma Gandhi National Rural Employment Guarantee Scheme in Jhargram. The family could identify his body from the clothes stuck to the skeleton. The body was sent for a DNA test only recently.
Singh's is not a one-off case. About 2,000 CPI(M) leaders in Purulia, Bankura and West Midnapore districts, which constitute Jangalmahal—home to Maoists—are feared dead. They went missing in the eight years of Maoist dominance—from 2003 to 2008. Many skeletons have been recovered by the Bengal police and they are all lined up for DNA tests.
With the change of political guard in West Bengal in 2011, Maoists trained their guns on Trinamool Congress leaders, their former ally, for refusing to listen to their diktat. An angry Mamata Banerjee, the Trinamool supremo who had sought Maoists' help in Singur and Nandigram agitations, decided to end their tyranny. With the killing of Mallojula Koteswara Rao aka Kishenji, chairman of military commission of the CPI (Maoist), in November 2011, gun-toting Maoists disappeared from the forested Jangalmahal. While many Maoist leaders were killed, some of them surrendered.
Almost four years after Kishenji's death, Maoists are staging a comeback in their old strongholds. The home department has alerted the police in the western parts of the state and requested the Union home ministry not to withdraw the 5,000 Central Reserve Police Force jawans who were deployed here when Operation Green Hunt against the Maoists began five years ago. A home department official told THE WEEK: "Yes, we have intelligence reports from both the state and the Union government that they are trying to regroup and create disturbances in the state. We have posted our police on high alert." Though senior police officials are tightlipped, Chief Minister Mamata Banerjee told the media at the state secretariat: "Yes, some ultras are trying to create disturbance. We have alerted the forces."
THE WEEK is in possession of documents where the CPI (Maoist) leadership has reached out to its members and hinted at a comeback, sans the guns. They said this time they would have a more humane approach, and not resort to violence unless needed. They admitted that they had executed most of the missing CPI(M) leaders and apologised for the killings. "If they can offer an apology for their past wrongdoings, it means a new leadership is replacing the old guard in the organisation," said I.M. Khan, a former CRPF officer who played a key role in tackling Maoist insurgency in Odisha and Jharkhand.
As part of its comeback plan, the CPI (Maoist) recently reactivated its eastern regional bureau under the central committee. When Kishenji headed the organisation, the ERB was defunct and the military commission had full control of the Bengal operations. This time, the ERB, headed by politburo member Prashanta Bose, has directed its militia wing, the Bengal unit, which is headed by Akash, to reconstitute its military squads with new objectives. Also, instead of the central military commission, the ERB would see the spread of the party in the eastern region, particularly West Bengal.
The document, written in Bengali, stated that the group had lost its mass support long before it was decimated by the security forces in Bengal. The group admitted that it had made a big mistake by allying with Mamata in Singur, Nandigram and Jangalmahal movements to oust the CPI(M). "We did not have any clarity about which class Mamata belonged to," read the document. "We thought that if we could defeat the CPI(M), then security forces would be withdrawn from Jangalmahal and our people would be released from jail as part of amnesty policies of the new state government." But Mamata only used them for political gains, the document stated.
The ERB has called Mamata its biggest enemy and has sought revenge for Kishenji's killing. Instead of a sympathiser, she is now seen as a "great betrayer", who wanted to lure Maoists in the name of peace talks. "We had refused to participate in the talks arranged by the Central government earlier. But we accepted Mamata's plea for a talk. We fell into the trap as it was a fake call," the document stated.
The document said Kishenji was killed using a clever ploy. "He was called to Bengal for talks and then was trapped. Mamata Banerjee became a tool of the Central government to finish off Kishenji." A leader of the People's Committee Against Police Atrocities (PCAPA) said Suchitra Mahato, chief of the Maoists women's squad, was captured and used to lure Kishenji to the peace talk trap. "A Trinamool Congress MP had coordinated with the state government to invite Kishenji for talks in Jhargram," the leader said.
Abhishek Banerjee, MP and Mamata's nephew, had recently said that Kishenji was killed by the Mamata government. His statement has found a place in the document—"We appreciate the comment of the unofficially biggest leader of the Trinamool Congress after Mamata for telling the truth. The time has come that Mamata should face punishment for it."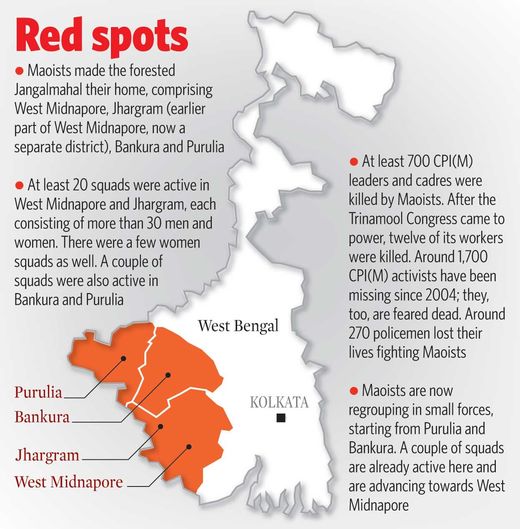 However, Mamata has not made it to their hit list, unlike former CPI(M) chief minister Buddhadeb Bhattacharjee, which points to the change in the party's ideology under the new leadership. After Kishenji's death, his brother Venugopal Rao has taken over the military commission. An intelligence officer said: "It was not clear who all are in charge of the eastern bureau apart from Akash and Jayanta, a squad member. However, we have information that surrendered leaders like Narayan Sanyal, who was released from jail last year, have been guiding the party in West Bengal." Sanyal, one of the founder members of CPI (Maoist), recently visited Bengal and gave a report to the central committee.
With party chief Muppalla Lakshmana Rao aka Ganapathy, who sources said is in China, now issuing a diktat to win people's hearts, party leaders have asked the cadre to visit every house in Jangalmahal and offer unconditional apology. "Our operation in West Bengal was nothing short of a revolution. But we executed people without disclosing what their crime was. We beheaded them, which definitely was against our mode of work and ethics," read the document.
But the families of the leaders who were killed by Maoists are in no mood to accept the apology. "Forgive? What forgiveness do they want? They acted like beasts," said Deben Singh's son Chandra Sekhar Singh, a paramilitary jawan. "Should we forgive them? No, never. My father's soul would cry if I forgive them."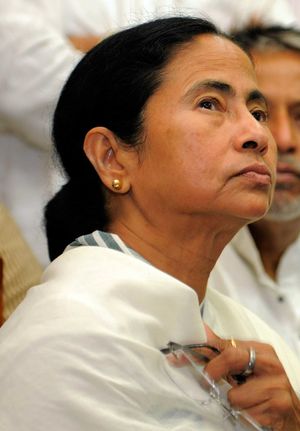 Intelligence sources, however, say the apology idea seems to be working as villagers have started attending small meetings of Maoists. Maoists have formed squads in the interiors of Purulia and Bankura districts, and are advancing towards West Midnapore and the newly set up Jhargram district. This time, Maoists are taking up social issues to come closer to villagers. For instance, in Purulia, they have asked people to demand the withdrawal of the hydro-power project in Ayodhya hills that would displace many people. In Salboni, where a Jindal Steel project is to take off, they have asked the villagers to demand their lands back a la Singur style. Moreover, they are instigating villagers against the Mamata government, which, they say, has done nothing substantial in the last four years.
But Maoists are being very cautious about their resurgence. Their local leaders were either unaware of the meetings or reluctant to talk about them. "It is difficult to know. We have no knowledge about it," said Manoj Mahato, former member of PCAPA, who is now out on bail. Will he lead another movement? "The violence did not bring us anything. Let's see how things progress. Hopefully, the one in the past was our last bloody movement," said Manoj.
But security officials are not very optimistic. They said it would be easy for Maoists to make a grand comeback if they could incite the villagers and gear them up to launch another protest.
"Things are not that easy this time. Even people of Jangalmahal have today realised that violence has no meaning," said Chunibala Hansda, Jharkhand Party (Naren) leader and former MLA. "But the present government has done nothing except give a little rice to poor people at Rs2. We fear once people get angry, they would turn to Maoists again."