It is a Saturday morning. Amandeep Singh Gill, a joint secretary in the external affairs ministry and India's key nuclear negotiator, has just finished a tall glass of milk and missi rotis—which his mother made using olive oil—and is trying in vain to bring Billu, the black kitten nursed to health by his children, into the house. Billu, dark as night, is lazing in the sun, but dashes off each time Gill swoops down to lift him. A bag with rackets lies next to the door. His books include a lot of memoirs, some spiritual titles and very little fiction; his music collection, eclectic, has The Beatles, Prince, Jethro Tull and chants. His favourite nowadays is an album by Snatam Kaur. "She's an American," he says. "But her pronunciation is perfect."
South Block has produced its share of literature, from the prolific parliamentarian Shashi Tharoor to external affairs ministry spokesperson Vikas Swarup. Gill, however, is the lone published poet. His first book, You are Never Too Far—Poems on the Path, has been published by Wisdom Tree. "In the modern world, poetry is the antidote to the excesses of the mind. It is better balance between the heart and the mind," he says. "There is a social view that normal people are afraid of coming out and wearing it [poetry] on their sleeve."
Written on long flights across time zones, continents and countries, where Gill switches from writing speeches, the book of poems brings to life the mundane as well the mystical. "Sometimes a fragment of a memory comes together as a poem," he says.
It started in Iran. Gill found himself in the country steeped with poetry, mysticism and beauty. And, poetry came to him. As an engineer, Gill was grounded in the world of science, but he found another side of himself. He talks about shakti (power), creativity, the muse, patience and a way of finding the positive. "I might have left these poems in a notebook just like my father did with a bunch of ghazals he wrote using a nom de plume," he says. However, he chose to lay it bare. The poem Life in 16 GB ruminates on life, which can now be stored digitally, while A Storm and a Quake chronicles the day when there was a storm in Delhi and a quake in Sichuan. Each poem is contextualised and personal.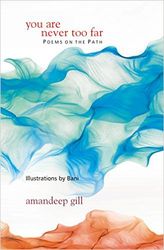 In one of the poems, he writes about finding faith again. His father died when he was 14 and he "became a fierce devotee of the likes of Voltaire and Henry Miller", till his daughter was born and his faith was restored. His hair, which he writes about in a poem titled Hole in My Sock, "is a source of great fun". Gill, a tall man, has been spotted after office with his waist length hair simply tied back.
Then, there is the sarkar-inspired My Name, in which he "arrived in the red stone corridors of power". You don't really arrive till you become a joint secretary, he writes. "It comes with a peon, a daftari, two secretaries in an outer office and a television set to the popular news channel of the week."
You are Never Too Far: Poems on the Path
By Amandeep Singh Gill
Published by Wisdom Tree
Price Rs204;Pages 80